SSG Advises Metal Partners Rebar, LLC and its Affiliates in the Sale of Substantially all of its Assets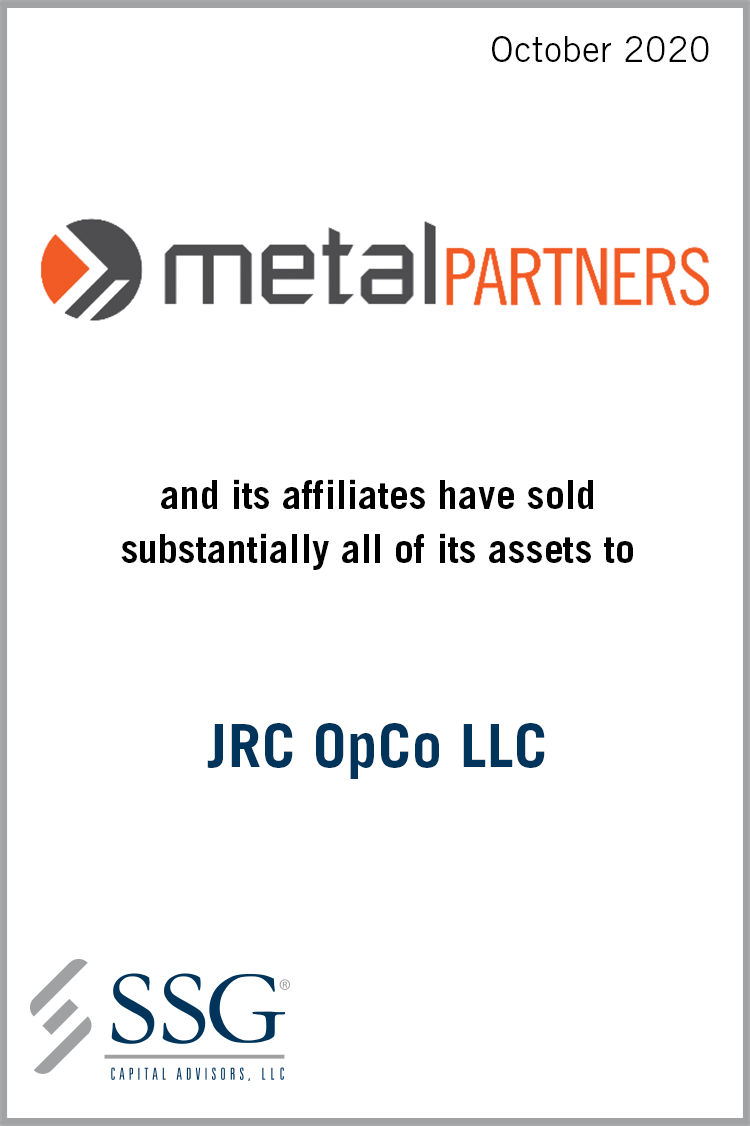 SSG Advisors, LLC ("SSG") acted as the investment banker to Metal Partners Rebar, LLC and its affiliates (collectively "MPR" or the "Company") in the sale of substantially all of its assets to JRC OpCo LLC ("JRC"). The sale was effectuated through a Chapter 11 Section 363 process in the U.S. Bankruptcy Court for the District of Nevada.  The transaction closed in October 2020.
Headquartered in Miami, Florida, and founded in 2008, MPR is one of the largest independently-owned fabricators of reinforcing steel bars ("rebar") and other steel products in the United States. The Company supplies steel and epoxy-coated rebar, wire mesh and dowel bars with custom fabrication and value-added services to a diverse customer base that includes large national construction firms as well as regional firms such as construction suppliers, pre-casters, contactors and other fabricators.
After growing into a nationally-recognized leader in the specialty construction market, MPR encountered a series of operational and financial challenges that affected its profitability and liquidity including rising tariffs on imported steel and increased competition. While the Company attempted to mitigate these issues by focusing on its higher-margin fabrication business, the global pandemic negatively impacted demand for its products and impaired its operational restructuring efforts. Additionally, MPR faced litigation from a former joint venture partner, vendor pressure and a significantly undercollateralized loan obligation. As a result, the Company determined that filing for Chapter 11 protection provided the best opportunity to effectuate a transaction and maintain the business as a going concern.
SSG was retained for the purpose of marketing the business and soliciting competing offers for a stalking horse bid, which was negotiated pre-petition. While the process attracted interest from several parties, the stalking horse bid from JRC was deemed the highest and best offer for the Company's assets. SSG's experience in conducting expedited Chapter 11 sale processes enabled all key stakeholders to maximize value while preserving jobs and the business as a going concern.
Other professionals who worked on the transaction include:
Michael L. Gesas, David A. Golin and Christopher S. Naveja of Saul Ewing Arnstein & Lehr LLP, counsel to Metal Partners Rebar, LLC;
Matthew C. Zirzow and Zachariah Larson of Larson & Zirzow, LLC, counsel to Metal Partners Rebar, LLC;
Michael J. Eber, Greg Apathy, Michael Dudek, Andrew George and Michael Zeit of High Ridge Partners, LLC, financial advisors to Metal Partners Rebar, LLC;
Brian D. Shapiro of the Law Office of Brian D. Shapiro, LLC, Sale Manager;
Jeremy M. Downs of Goldberg Kohn Ltd. and Robert R. Kinas of Snell & Wilmer LLP, counsel to the senior lender;
Peter J. Roberts and Michael P. Zanan of Cozen O'Connor and Brett A. Axelrod of Fox Rothschild LLP, counsel to JRC OpCo LLC;
Cathrine M. Castaldi and Max Schlan of Brown Rudnick LLP and Amanda M. Perach of McDonald Carano, LLP, counsel to the Unsecured Creditors Committee;
Curtis G. Solsvig III, Gary Polkowitz, Karthik Bhavaraju and Brian Hasegawa of Goldin Associates, LLC, financial advisors to the Unsecured Creditors Committee; and
James Patrick Shea and Bart K. Larsen of Shea Larsen, counsel to Traxys North America LLC.