SSG Advises Mid-States Supply Company, Inc. in the Sale of Substantially All of its Assets to an Affiliate of Staple Street Capital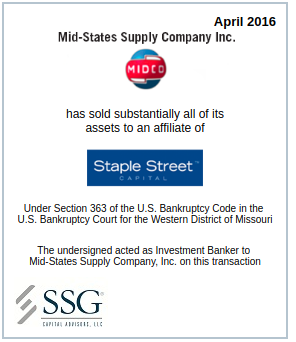 SSG Capital Advisors, LLC ("SSG") acted as the investment banker to Mid-States Supply Company, Inc. ("Mid-States" or the "Company") in the sale of substantially all of its assets to an affiliate of Staple Street Capital ("Staple Street"). The sale was effectuated through a Chapter 11 Section 363 process in the U.S. Bankruptcy Court for the Western District of Missouri. The transaction closed in April 2016.
Mid-States is a service-oriented, value-added distributor of industrial valves, pipe, automation products, fittings, steam specialty items and controls (collectively, "PVF") with locations throughout the United States. The Company's PVF products are sold to a myriad of customers, including large industrial plant operations, oil, gas and chemical refineries, oil and gas pipeline transportation, food, mechanical construction.
Mid-States steadily increased sales over the last 40 years and was profitable each year over that same period. As the Company experienced double-digit revenue and EBITDA growth from 2012 through 2015, significant investments in working capital drove an increase in the Company's outstanding revolving line of credit balance. A confluence of factors, including the demand for inventory, diversity in the customer base (meaning a broad demand for stocked product) and a rapid decline in the oil and gas exploration and production ("E&P") sector, kept inventory, payables and outstanding debt at unsatisfactory levels. Investments in inventory coupled with the decline in revenue from the E&P sector exhausted the Company's liquidity.
SSG and Frontier Investment Banking ("Frontier"), previously engaged by the Company since October 2015, were jointly retained by Mid-States in January 2016 to evaluate strategic alternatives. In February 2016, Mid-States filed for Chapter 11 bankruptcy protection to avoid further deterioration of its business and to attempt to effectuate a sale process to retain the value of its assets. The Company secured debtor-in-possession ("DIP") financing from its existing lender. SSG conducted a comprehensive, post-petition marketing process, contacting a broad universe of both strategic and financial buyers to achieve an optimal outcome for the Company and its key stakeholders. Staple Street's going concern offer was ultimately deemed to be the highest and best offer for substantially all of the Company's assets following the conclusion of an auction against a competing club bid for the assets and negotiations to improve the final bid of Staple Street.
Staple Street is focused on making control equity investments in North American middle market companies. Staple Street targets companies with revenues between $50 and $500 million that are seeking to pursue untapped market opportunities, enter or exit markets, make acquisitions, reposition certain business lines and/or implement other strategic or operational changes that will lead to greater profitability and long-term growth.
Other professionals who worked on the transaction include:
Stuart Noyes of Winter Harbor LLC, Chief Restructuring Officer to Mid-States Supply Company, Inc.;
Scott J. Goldstein, Michael L. McCann, Lisa A. Epps and Eric L. Johnson of Spencer Fane LLP, counsel to Mid-States Supply Company, Inc.;
Mason Hickman, Eric Glassman and Brian Regan of Winter Harbor LLC, financial advisors to Mid-States Supply Company, Inc.;
Patrick J. Trysla of Frontier Investment Banking, co-investment banker to Mid-States Supply Company, Inc.;
Michael S. Haynes and Marcus Helt of Gardere Wynne Sewell LLP, counsel to the Official Committee of Unsecured Creditors;
Brad Weiland and Hayley L. Smith of Kirkland & Ellis LLP, counsel to Staple Street Capital;
Mark V. Bossi of Thompson Coburn LLP, counsel to Wells Fargo Bank, National Association;
Kenneth Peters of Dressler Peters, LLC, counsel to Direct Capital; and
Mark T. Benedict of Husch Blackwell LLP, counsel to Cameron International Corp.