SSG Advises National Fish & Seafood, Inc. in the Sale of Substantially All of its Assets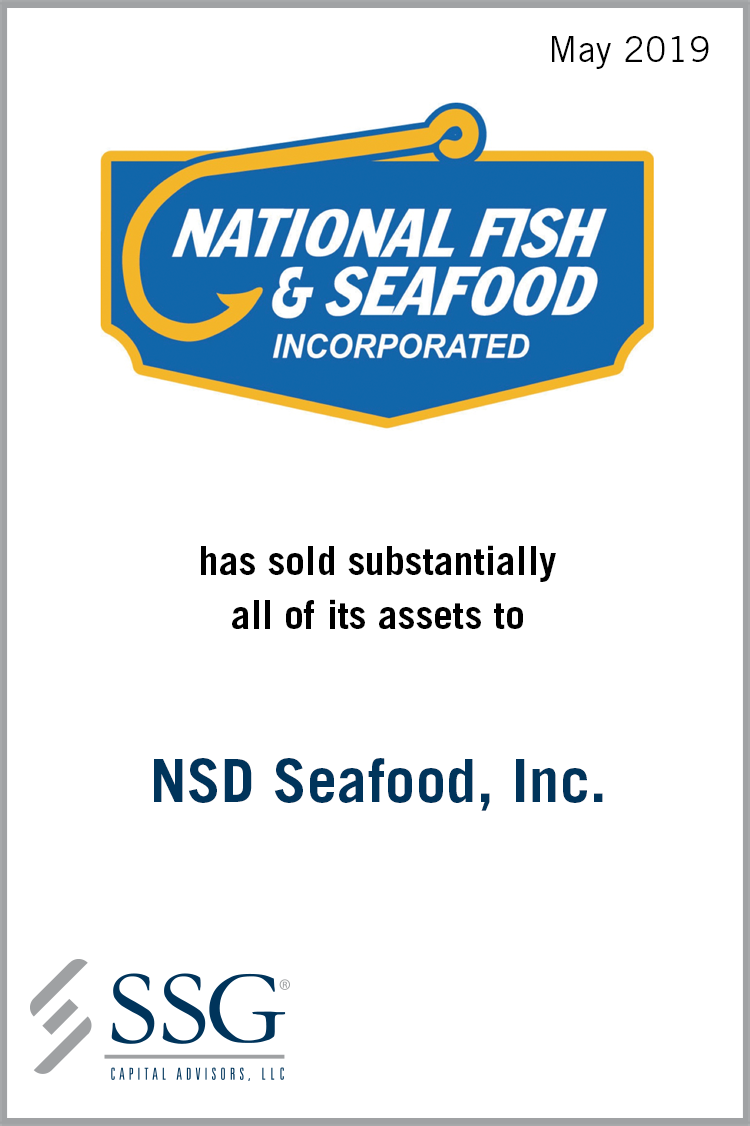 SSG Capital Advisors, LLC ("SSG") acted as the investment banker to National Fish & Seafood, Inc. ("NFS" or the "Company") in the sale of substantially all of its assets to NSD Seafood, Inc., an affiliate of NSDJ Real Estate, LLC. The transaction closed in May 2019.
Based in the coastal fishing town of Gloucester, Massachusetts and founded in 1979 as a seafood distributor that primarily served local customers, NFS is now a leading processor of value-added seafood products sold nationwide. Its product line consists of various cooked, breaded and stuffed products including clams, scallops, fish and shrimp. The Company sells its products primarily under its Matlaw's brand but also serves as a co-packer for other large domestic seafood companies. NFS also produces a specialty line of kosher products.
After growing into a nationally-recognized seafood brand, NFS encountered a series of operational and financial challenges resulting in the implementation of an operational restructuring plan. They made the decision to wind down the commodity business to focus on the higher margin value-added processing segment.
SSG was retained by NFS to assist in the exploration of strategic alternatives. SSG conducted a comprehensive marketing process and attracted interest from multiple parties who engaged in a thorough review of the business. NSDJ Real Estate, LLC, the Company's landlord, ultimately prevailed in purchasing the assets through a UCC Article 9 sale to continue operations as a going concern under the name Atlantic Fish & Seafood, preserving hundreds of jobs in Gloucester.
Other professionals who worked on the transaction include:
• William H. Henrich and Brian Mittman of Getzler Henrich & Associates LLC, Chief Restructuring Officer and financial advisor to National Fish & Seafood, Inc.;
• James A. Wright III, Stephen L. Palmer, David A. Mawhinney and Robert M. Tammero of K&L Gates LLP, counsel to National Fish & Seafood, Inc.;
• Charles A. Dale of Proskauer Rose LLP, counsel to National Fish & Seafood, Inc.;
• Bradley E. Scher of Ocean Ridge Capital Advisors, LLC, independent director to National Fish & Seafood, Inc.; and
• Matt O'Donnell of Luskin, Stern & Eisler LLP, counsel to the senior lender.