SSG Advises National Label Company and its Affiliates in the Sale of Substantially all of their Assets to an Affiliate of Resilience Capital Partners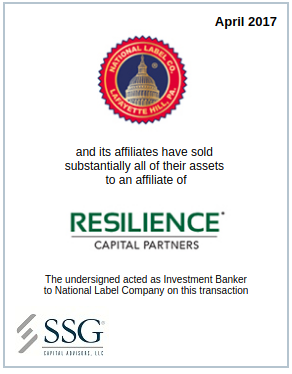 SSG Capital Advisors, LLC ("SSG") acted as the investment banker to National Label Company and its affiliates ("NLC" or the "Company") in the sale of substantially all of their assets to an affiliate of Resilience Capital Partners ("Resilience"). The transaction closed in April 2017.
Headquartered in Lafayette Hill, Pennsylvania, NLC is an industry leading printing and converting company that has operated successfully since 1914. The Company specializes in prime decoration (labels, sleeves, sachets and coupons) for branded consumer products primarily in the personal care, battery and pharmaceutical end-markets. NLC has manufacturing facilities in Pennsylvania, Puerto Rico and Singapore and has established a global footprint to better serve multinational customers. NLC's facilities are equipped with the latest production tools and its products are on the forefront of technological innovation.
After several years of profitable operations, the Company began to experience constrained liquidity stemming from its significant capital investment, domestically and abroad. SSG was retained as NLC's exclusive investment banker in late December 2016 to conduct a comprehensive marketing process and contact a broad universe of buyers to achieve an optimal outcome for the Company and its stakeholders. The process attracted strong interest from both strategic and financial parties with Resilience ultimately partnering with LBC Credit Partners to purchase the Company's assets and provide additional capital. This transaction enabled the Company to rationalize its balance sheet, preserve its key customer relationships and facilitate its go-forward growth strategy.
Headquartered in Cleveland, Ohio, Resilience invests in niche-oriented manufacturing, value added distribution and business service companies with sustainable market positions and a clear path to cash flow improvement. Resilience targets platform businesses with $25 million to $250 million in revenues across a broad range of industries where it can improve a company's operations, competitive positioning and profitability. Resilience manages in excess of $625 million for its global investor base which includes pension funds, insurance companies, foundations and endowments, fund of funds and family offices.
Other professionals who worked on the transaction include:
Lawrence G. McMichael, Roger F. Wood, Peter C. Hughes, James M. Matour, John W. Schmehl, Jared C. Leon, Erik L.
Coccia, Stephanie L. Searles and Elizabeth C. Roggio of Dilworth Paxson LLP, counsel to the Company;
Richard Infantino, Vipul Adlakha, Tim Morahan, Lance Miller, Nimi Alagba and Alexis D'Aversa of Deloitte,
financial advisor to the Company;
William H. Henrich of Getzler Henrich & Associates LLC, independent board member for the Company;
Regina Stango Kelbon, Lawrence F. Flick II, Michael C. Graziano, Erin O'Brien Harkiewicz and Gregory F. Vizza of
Blank Rome LLP, counsel to the senior lender;
Randall L. Klein, Danielle Juhle, Denise B. Caplan, Keith A. Sigale, Prisca M. Kim and Ross J. Friedman of
Goldberg Kohn Ltd., counsel to LBC Credit Partners; and
William R. Stewart Jr., Rachel L. Rawson, Thomas M. Wearsch, John E. Mazey, L. Erin Preedy, Sarah E. Whiteman, Ari
M. Friedman and Mark D. Tupa Jr. of Jones Day, counsel to Resilience Capital Partners.