SSG Advises New Hampshire Plastics in the Sale of Substantially all of its Assets to Grimco, Inc.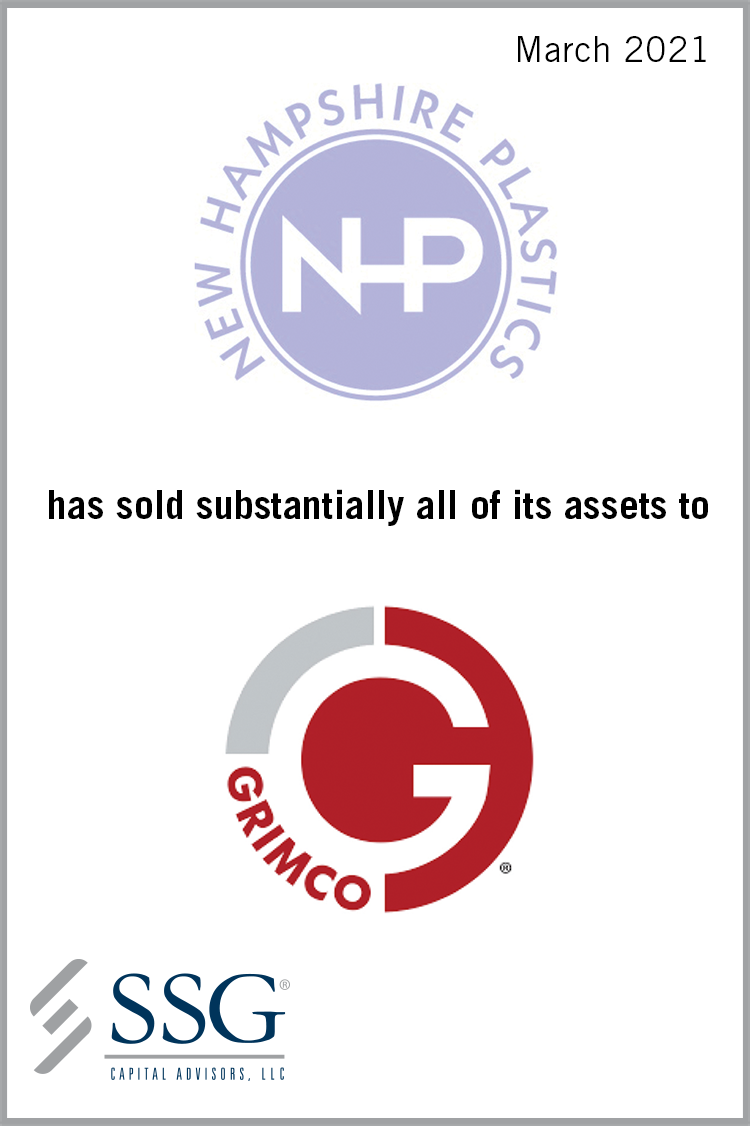 SSG Capital Advisors, LLC ("SSG") acted as the investment banker to New Hampshire Plastics, LLC ("NHP" or the "Company") in the sale of substantially all of its assets to Grimco, Inc. ("Grimco"). The transaction closed in March 2021.
New Hampshire Plastics is a leading manufacturer of High-Impact Polystyrene ("HIPS"). The Company primarily produces custom roll and sheet-extruded HIPS for several end markets. NHP's products are key components for graphics and printing, point-of-purchase displays, medical and food packaging, the aerospace industry, and agricultural markets. In addition to in-house lab capabilities that provide expert color matching and innovative custom blends, the Company maintains exclusive technology rights that allow for lightweight HIPS manufacturing, which provides up to 40 percent weight savings for mission-critical products.
Operating for nearly 50 years with a history of consistent revenue and profitability, the ownership of New Hampshire Plastics decided to explore a transaction to facilitate succession planning and ensure the business was well-positioned for the future. As a leader in HIPS manufacturing, the Company sought an acquirer that would be able to leverage their strong intellectual property and plastics manufacturing capabilities.
SSG was retained to explore strategic alternatives for the Company, including identifying a new partner to support NHP's next phase of growth. Leveraging its significant experience in the manufacturing industry, SSG canvassed a wide range of investors and attracted interest from multiple parties. The sale to Grimco was the best solution for NHP and its stakeholders. SSG's industry knowledge and expertise in running complex sale processes in volatile markets enabled a smooth transition to a new owner and maximized value.
Grimco, Inc. is one of the largest distributors of wholesale sign supplies and sign printing equipment with over 50 locations across North America. Grimco's product offering consists of equipment, wide format printing and laminating products, general and electrical sign supplies, and fully fabricated traffic signs.
Other professionals who worked on the transaction include:
Rue K. Toland and Patricia J. Ballard of Preti, Flaherty, Beliveau & Pachios, Chartered, LLP, counsel to New Hampshire Plastics, LLC;
Joseph D. Meddings of Hollis Meddings Group, financial advisor to New Hampshire Plastics, LLC; and
Howard H. Kaplan, Kyle E. Foote, Lisa Pool Byrne, Tessa R. Trelz, Maria G. Cardenas, and Rachel P. Peterson of Stinson LLP, counsel to Grimco, Inc.