SSG Advises NITROcrete in the Sale of Substantially all of its Assets to an Affiliate of Cryogenic Industrial Solutions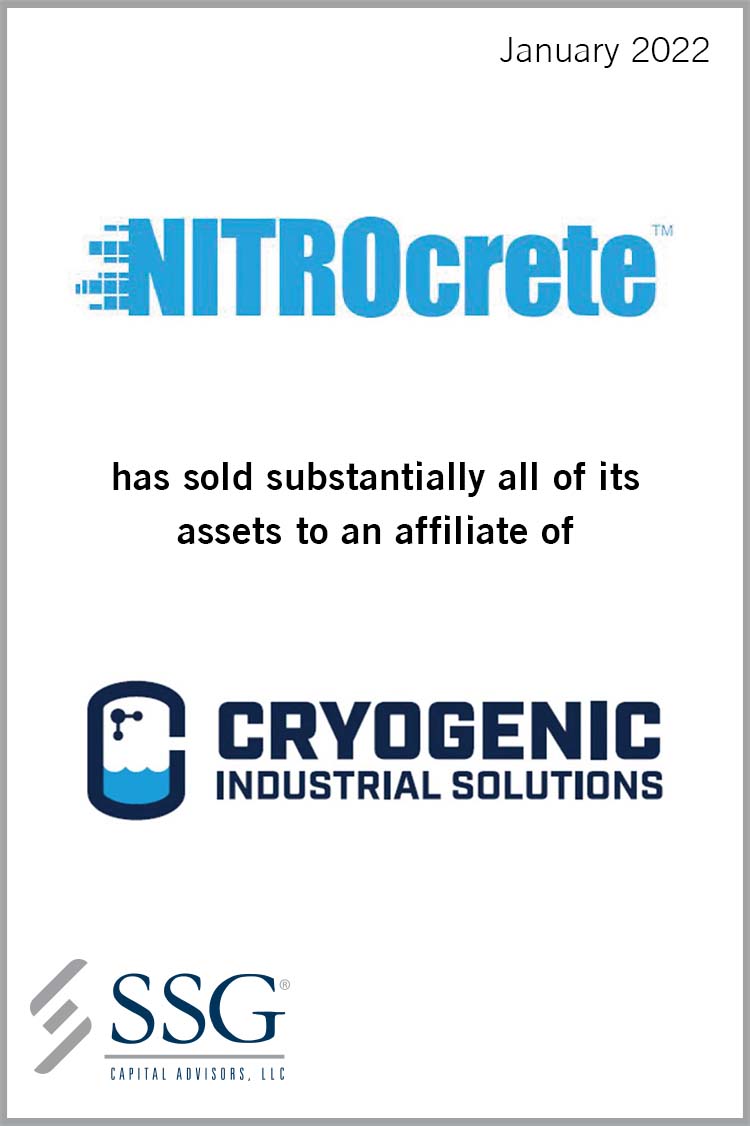 SSG Advisors, LLC ("SSG") acted as the investment banker to NITROcrete, LLC and its affiliates (collectively "NITROcrete" or the "Company") in the sale of substantially all of its assets to an affiliate of Cryogenic Industrial Solutions, LLC ("Cryogenic"). The sale was effectuated through a Chapter 11 Section 363 process in the U.S. Bankruptcy Court for the District of Colorado. The transaction closed in January 2022.
Headquartered in Fort Collins, Colorado, NITROcrete is an award-winning technology and service provider to the concrete and construction materials industry. NITROcrete's proprietary and patent-pending technology applies liquid nitrogen directly to concrete aggregate during the batching process. This technology provides a safe, sustainable, consistent and cost-effective cooling solution that results in cost and time savings for its concrete producer customers compared to traditional cooling methods. Batch-plant operators across North America depend on NITROcrete's cutting-edge approach to deliver high-spec concrete at specified temperatures for use in large-scale infrastructure and industrial projects.
Launched in 2017, NITROcrete experienced rapid growth. From 2018 to 2019, the Company expanded from nine deployed units to approximately seventy units. Despite strong interest in the Company's technology, the pandemic disrupted its normal sales and installation cycles. These issues, coupled with a historically high fixed cost structure and reduced site volumes, resulted in liquidity constraints. NITROcrete filed for bankruptcy protection in November 2021 to renegotiate supplier contracts, exit burdensome leases, restructure its balance sheet, and identify a strategic partner to support the business long term.
SSG was retained in November 2021 to conduct a comprehensive and accelerated marketing effort to solicit offers from strategic and financial buyers. Several parties expressed interest in the stalking horse position and NITRO Acquisition, LLC, an affiliate of Cryogenic, was ultimately selected as the stalking horse bidder due to its willingness to preserve the business as a going concern, provide the necessary liquidity and close within the court-approved timeline. SSG's approach created competitive tension and resulted in an auction with robust bidding. The final bid from NITRO Acquisition proved to be the highest and best offer for the Company's assets. SSG's special situations expertise and significant experience in the industrial services sector produced a transparent sale process that doubled the original stalking horse bid and enabled stakeholders to maximize value in a highly expedited timeframe.
Cryogenic Industrial Solutions, LLC, based in Magnolia, Texas, is a leading provider of cryogenic transport trailers, cryogenic equipment repairs, and lease fleets.
Other professionals who worked on the transaction include:
James T. Markus, Matthew T. Faga, Zachary G. Sanderson and William G. Cross of Markus Williams Young & Hunsicker LLC, counsel to NITROcrete, LLC and its affiliates;
Michael L. Staheli of Cordes & Company, financial advisor to NITROcrete, LLC and its affiliates;
Michael P. O'Neil and B. Ronan Johnson of Taft Stettinius & Hollister LLP, counsel to Cryogenic Industrial Solutions, LLC and affiliate;
Steven E. Abelman of Brownstein Hyatt Farber Schreck, LLP, counsel to the senior secured lender;
Robert J. Gayda, Catherine V. LoTempio and John R. Ashmead of Seward & Kissel LLP and Keri L. Riley of Kutner Brinen Dickey Riley, P.C., counsel to the Unsecured Creditors Committee; and
Sanjuro Kietlinkski and Harry Foard of Province, LLC, financial advisor to the Unsecured Creditors Committee.