SSG advises O.K. Industries, Inc. in its sale to Industrias Bachoco S.A.B. de C.V.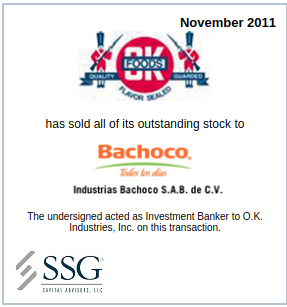 We are pleased to inform you that SSG Capital Advisors LLC ("SSG") acted as the exclusive investment banker to O.K. Industries, Inc. ("O.K." or the "Company") in the sale of all of its outstanding stock to Industrias Bachoco S.A.B. de C.V. ("Bachoco"). The transaction closed on November 1, 2011 for a purchase price of $93.4 million.
O.K. is one of the largest vertically integrated poultry companies in the world and generated approximately $610.6 million in revenue during the fiscal year ended April 30, 2011. The Company was founded in 1933 and is headquartered in Fort Smith, Arkansas. O.K. has nearly one million square feet of facilities from which it processes 140 million chickens per year. Through its two processing and two further-processing plants located in Fort Smith, Arkansas; Heavener, Oklahoma and Muldrow, Oklahoma, the Company produces value-added poultry products for customers ranging from national chain restaurants to grocery retailers.
Starting in the summer of 2010, the poultry processing industry faced a sharp increase in the cost of inputs such as corn and soybean meal. Futhermore, as a result of overcapacity, the poultry processing industry has been unable to pass on the increased cost of inputs to customers. This dynamic had negatively impacted the profitability of O.K. and the entire poultry industry. Facing liquidity constraints, O.K. retained SSG to pursue strategic alternatives, including a potential sale of the Company. Leveraging its prior transactional experience in the poultry processing industry as well as its relationships with domestic and international poultry processers and private equity firms with an interest in the poultry processing space, SSG was able to maximize value for all constituents, including the lenders, trade creditors, employees and shareholders.
Bachoco is the leader of the Mexican poultry industry and an important player in Mexico's food industry. Its main product lines are chicken, table eggs, balanced feed and swine. Founded in 1952, Bachoco is headquartered in Celaya, in the state of Guanajuato in central Mexico with operations that span the country, including 60 distribution centers and a growing export business. Bachoco trades on both the Mexican Stock Exchange and the New York Stock Exchange under the ticker BACHOCOB.MX and IBA, respectively. For the year ended December 31, 2010, Bachoco reported net sales of over US$2 billion.
Other professionals who worked on the transaction include:
Wayne N. Bradley and Jeffrey C. Phillips of McKenna Long & Aldridge LLP, corporate counsel to O.K. Industries, Inc.;
H. Thomas Gibbons of Frost, PLLC, accountant to O.K. Industries, Inc.;
Evan Blum of GlassRatner Advisory and Capital Group, LLC, financial advisor to O.K. Industries, Inc.;
Michael J. McGuinness and Tomas Arnaude of Shearman & Sterling LLP, counsel to Industrias Bachoco S.A.B. de C.V.;
Patrice H. Kloss of Oppenheimer Wolff and Donnelly LLP, counsel to the Bank Group; and
Daniel F. Dooley of MorrisAnderson, financial advisor to the Bank Group.
About SSG Capital Advisors, LLC SSG Capital Advisors, LLC ("SSG") is a leading independent boutique investment bank that assists middle market companies, as well as their stakeholders, complete special situation transactions. As a specialist in mergers and acquisitions, financial advisory, capital raises, financial restructurings and complex valuations, we offer the expertise our clients need in today's complex and fast-moving financial markets. As a partner-owned firm with a clear focus, we offer the personal attention of our senior partners, entrepreneurial spirit and agility in the marketplace that middle-market businesses require. Since 2001, SSG has successfully completed over 180 special situation investment banking assignments on behalf of clients in North America and Europe.