SSG Advises Papa Grande Gourmet Foods, LLC in the Sale of Substantially all of its Assets to an Affiliate of Mission Consumer Capital, LLC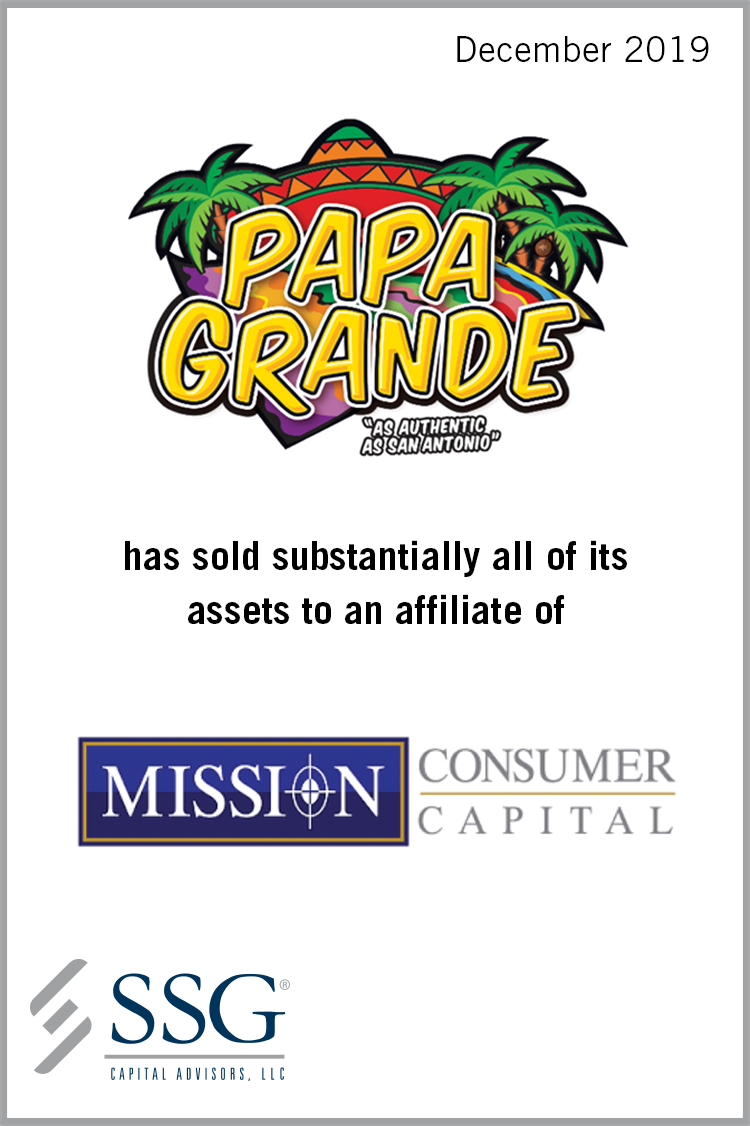 SSG Capital Advisors, LLC ("SSG") acted as the investment banker to Papa Grande Gourmet Foods, LLC d/b/a Garcia Foods ("Papa Grande" or the "Company") in the sale of substantially all of its assets to an affiliate of Mission Consumer Capital, LLC ("Mission Consumer"). The sale was effectuated through a Chapter 11 Section 363 process in the U.S. Bankruptcy Court for the Western District of Texas. The transaction closed in December 2019.
Founded in 1956 and headquartered in San Antonio, Texas, Papa Grande is a leading manufacturer and distributor of Mexican food products such as chorizo, barbacoa and tamales which are sold across the United States. The Company's brand names have generations of loyal customers through strong relationships with leading supermarkets, grocery stores, wholesale distributors and local restaurants.
While Papa Grande had a strong history of successful operations, it began to face profitability challenges and growing deferred maintenance needs, which resulted in losses. Constrained liquidity eroded the Company's ability to purchase raw materials and remain in good standing with their suppliers. As such, the Company was forced to seek relief under Chapter 11 to preserve the value of the business.
SSG was retained to conduct a comprehensive marketing process and solicit offers for the Company. The process attracted significant interest from parties that resulted in multiple bids sourced by SSG, including the stalking horse bidder for the Company's assets. After an active auction with numerous rounds of bidding, the bid from Mission Consumer was determined to be the highest and best offer for the Company. SSG's special situations sale expertise in the food and beverage industry enabled Papa Grande to continue operations as a going concern, preserve jobs and maximize value for all stakeholders.
Mission Consumer is an investment firm that focuses exclusively on the consumer packaged goods space, specifically, the manufacturing of food products sold through grocery, drug, mass, club and convenience store channels.
Other professionals who worked on the transaction include:
• William R. Patterson of Harney Management Partners, Chapter 11 Trustee for Papa Grande Gourmet Foods, LLC;
• William B. Kingman of William B. Kingman, P.C., counsel to the Chapter 11 Trustee for Papa Grande Gourmet Foods, LLC;
• Davis Jackson of Harney Management Partners, financial advisor to the Chapter 11 Trustee for Papa Grande Gourmet Foods, LLC;
• Morris D. Weiss, Mark C. Taylor, Andrea R. Cunha, Robert P. Felber and Blake M. Bernard of Waller Lansden Dortch & Davis, LLP, counsel to the Senior Lender; and
• Bruce H. Hallett of Hallett & Perrin, P.C., counsel to Mission Consumer Capital, LLC.