SSG Advises Paper Source in the Sale to an Affiliate of Elliott Investment Management L.P.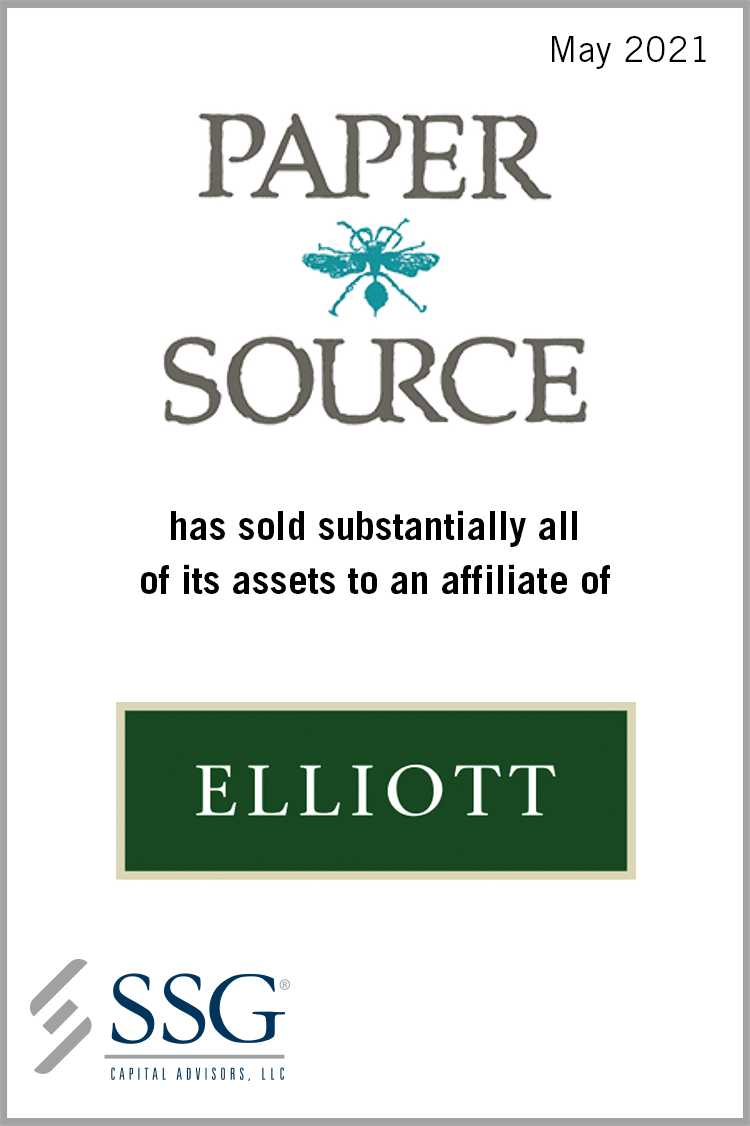 SSG Capital Advisors, LLC ("SSG") acted as the investment banker to Paper Source, Inc. ("Paper Source" or the "Company") in the sale of substantially all its assets to an affiliate of Elliott Investment Management L.P. ("Elliott"). The transaction closed in May 2021.
Paper Source, founded in 1983, is a leading lifestyle brand and omnichannel retailer headquartered in Chicago. The Company sells fine paper products, gifts, crafts, custom invitations, greeting cards, and personalized stationery for life's special moments. Through its 130+ retail locations, e-commerce website and wholesale network, Paper Source offers customers a changing selection of artisanal products and services that drives repeat traffic and customer loyalty.
Prior to the COVID-19 pandemic, Paper Source was rapidly expanding and prepared to capitalize on years of investment, including the acquisition of 30 Papyrus store leases in February 2020. However, in March 2020, the onset of the pandemic restrictions derailed the Company's growth initiatives. Following the government mandates to close all non-essential retail, Paper Source shuttered its stores and began restructuring operations while negotiating lease concessions and ramping up e-commerce capabilities.
Despite reopening all locations in early 2021, the economic shock of COVID-19 negatively impacted the Company's revenue, profitability, and liquidity. Paper Source filed for bankruptcy protection in March 2021 to rationalize its real estate portfolio and capital structure, identify a strategic partner to support the business long-term, and continue operations without interruption.
SSG's extensive Chapter 11 transaction experience and knowledge of the retail industry, combined with the support of Paper Source's dedicated management team led by CEO Winnie Park and CFO Ron Kruczynski, produced a process where value was maximized in a highly expedited time frame. SSG was retained in March 2021 to market Paper Source and solicit competing offers to the secured lender's stalking horse credit bid. A comprehensive sale process attracted interest from multiple strategic and financial acquirers. The Elliott bid, with a value exceeding $100 million, was the highest and best offer for substantially all the Company's assets. Elliott also owns book retailer Barnes & Noble and will continue to support Paper Source's strategic growth initiatives.
Elliott Investment Management L.P. manages more than $42 billion of assets. Its flagship fund, Elliott Associates, L.P., was founded in 1977, making it one of the oldest funds under continuous management.
Other professionals who worked on the transaction include:
Colin Adams, Christopher Good, Nicholas Weber, Colin Kopsky, and Colin Hart of M3 Partners, financial advisor to Paper Source, Inc.;
John C. Longmire, James H. Burbage, Weston T. Eguchi, Joseph Bretschneider, Christine Lee, Matthew A. Feldman, Marta Ferrari, and Donald P. Casey of Willkie Farr & Gallagher LLP, bankruptcy counsel to Paper Source, Inc.;
Christopher A. Jones and David W. Gaffey of Whiteford Taylor Preston, LLP, bankruptcy counsel to Paper Source, Inc.;
Emilio Amendola and Todd Eyler of A&G Real Estate Partners, real estate advisor to Paper Source, Inc.;
Brian M. Resnick, John (JW) Perry, William H. Aaronson, Jon Finelli, Welton E. Blount, Joanna McDonald, Michael Gilson, and Alex Yang of Davis Polk & Wardell LLP, counsel to Elliott Investment Management L.P.;
Aimee Molle, Colm Hannon, Brian Fenley, Jonathan L. Hess, Mani Muthappan, Alexander J. Wright, and Jacquie Price of Ernst & Young LLP, diligence advisor to Elliott Investment Management L.P.;
Charles A. Dale, David M. Hillman, Kristian M. Herrmann, Elliot R. Stevens, Zachary R. Frimet, and Tatyana Marugg of Proskauer Rose LLP, counsel to the secured lender;
Steven F. Agran, Keith Daniels, Jeffrey Pielusko, and Aidan Black of Carl Marks Advisors, financial advisor to the secured lender;
Janine M. Figueiredo, Mark S. Indelicato, Mark T. Power, and Aleksandra Abramova of Hahn & Hessen LLP counsel to the Unsecured Creditors Committee; and
Sanjuro Kietinski, Harry Foard, Derrek Drozdyk, and Taylor Christo of Province, Inc. financial advisor to the Unsecured Creditors Committee.