SSG Advises Path Medical, LLC in the Sale of Substantially all of its Assets to Physicians Group, LLC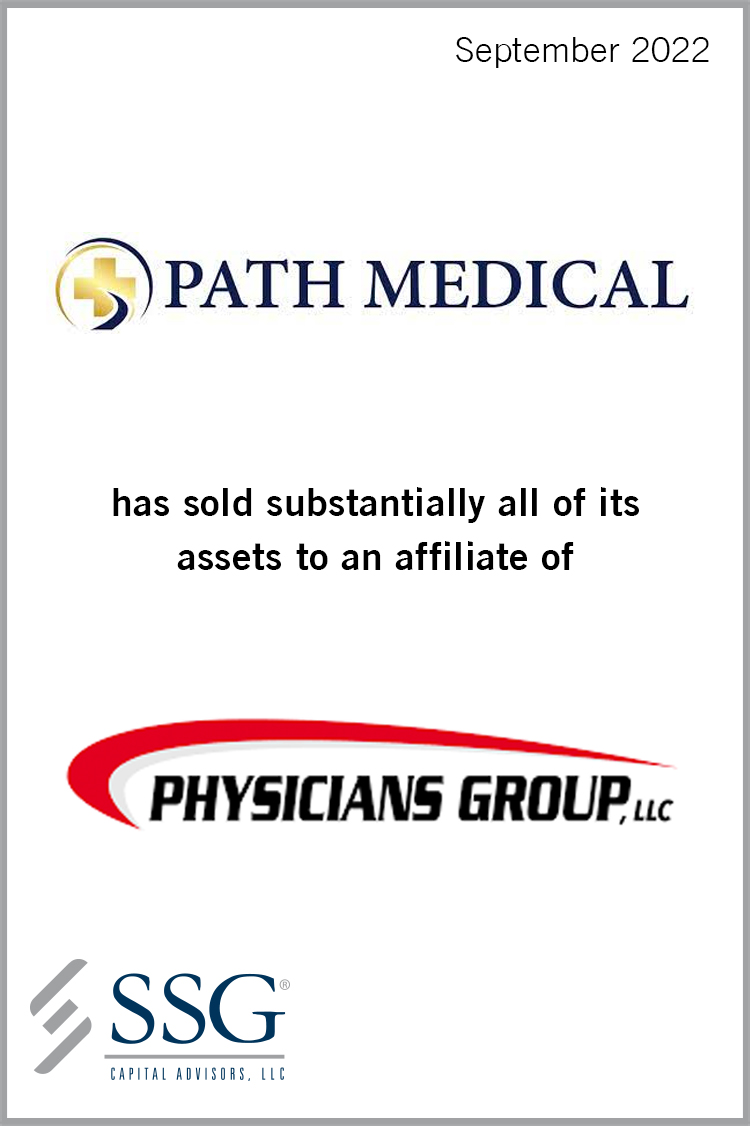 SSG Capital Advisors, LLC ("SSG") acted as the investment banker to Path Medical, LLC and its parent company, Path Medical Center Holdings, Inc. (collectively, "Path" or the "Company") in the sale of substantially all of its assets to an affiliate of Physicians Group, LLC ("Physicians Group"). The sale was effectuated through a Section 363 sale process pursuant to a confirmed Chapter 11 Plan of Reorganization in the U.S. Bankruptcy Court for the Southern District of Florida, Fort Lauderdale Division. The transaction closed in September 2022.
Path is a leading provider of acute trauma treatment and diagnostic imaging services in the State of Florida. With 28 medical offices, including 25 clinics, two of which also have diagnostic imaging technology (MRI), plus an additional three MRI-only locations, Path is among the largest multi-disciplinary medical practices in Florida. Path primarily treats patients who suffer acute injuries from, among other causes, slip and falls and automobile accidents. The Company is well-known for its strong advertising seen throughout Florida, namely its 1-800-411-PAIN and 1-800-PATH-247 campaigns.
In 2016, Path participated in an employee stock ownership plan transaction, which substantially leveraged the Company's assets. A payor dispute in 2018 resulted in decreased revenues and the Company's inability to service debt obligations to its senior secured lenders. The Company began to recover financially in 2019 but suffered a sharp decline in patient volumes and net revenue in early 2020 as the COVID-19 pandemic and associated stay-at-home orders limited in-office visits and reduced pedestrian and vehicular traffic. Path's patient visits were slow to rebound throughout the later phases of the pandemic.
Path filed for protection under Chapter 11 of the U.S. Bankruptcy Code in August 2021. In October 2021, the Company retained SSG as its exclusive investment banker to conduct a comprehensive sale process and solicit interest from strategic and financial buyers. The process attracted significant interest from multiple parties and resulted in several offers, with the bid from an affiliate of Physicians Group, LLC, proving to be the highest and best offer for substantially all of the Company's assets. SSG's special situations expertise and experience in the healthcare sector resulted in a competitive environment that maximized stakeholder value, preserved jobs and allowed the business to move forward under a new operator.
Other professionals who worked on the transaction include:
Brett D. Lieberman, Morgan B. Edelboim and Edan Weiner of Edelboim Lieberman Revah Oshinsky PLLC, counsel to Path Medical, LLC;
Kevin M. Shuler, Maureen M. Stewart and Matthew P. Deegan of Foley & Lardner LLP, counsel to Path Medical, LLC;
Jason N. Goldman of Davis Goldman, PLLC, counsel to Path Medical, LLC;
Barry E. Mukamal and Kevin P. McCoy of KapilaMukamal, LLP, financial advisor to Path Medical, LLC;
Gregory Gartland of Winston & Strawn LLP, counsel to the senior secured lenders;
John B. Hutton III of Greenberg Traurig, LLP, counsel to the Unsecured Creditors Committee;
Jonathan M. Sykes of Nardella & Nardella, PLLC, counsel to Physicians Group, LLC;
Eddie Fernandez and Kevin Rowan of Fernandez Legal, counsel to Physicians Group, LLC; and
Thomas L. Minick of Commenda, Inc., financial advisor to Physicians Group, LLC.