SSG Advises Peekay Boutiques, Inc. in the Sale of Substantially All of its Assets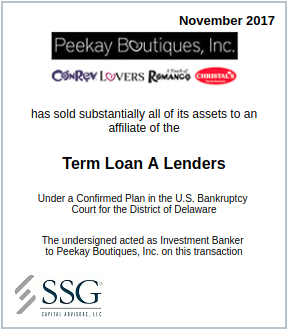 SSG Capital Advisors, LLC ("SSG") acted as the investment banker to Peekay Boutiques, Inc. ("Peekay" or the "Company") in the sale of substantially all of its assets to an affiliate of Peekay's senior secured lenders (the "Term A Lenders"). The sale was effectuated through a confirmed Chapter 11 Plan in the U.S. Bankruptcy Court for the District of Delaware. The transaction closed in November 2017.
Peekay, based in Auburn, Washington, is a leading operator of sexual health and wellness retail locations in the Southern and Western United States. The Company operates over forty stores under four banners including Condom Revolution, Lovers, A Touch of Romance and Christal's. Peekay's bespoke retail experience features a curated collection of products designed to promote intimacy and sexual wellness. This personalized experience is facilitated by highly trained and knowledgeable sales associates who educate consumers in a professional, fun and comfortable retail environment.
Through a combination of acquisitions and capital investments, the Company developed a profitable and industry leading retail network. However, its acquisitive strategy relied on a highly levered and unsustainable capital structure. The Company engaged in several unsuccessful restructuring initiatives and retained SSG in November 2016 to explore strategic alternatives, including a sale of substantially all of its assets.
In August 2017, Peekay filed for Chapter 11 protection in the District of Delaware. SSG conducted a comprehensive marketing process which resulted in a wide range of potential strategic and financial buyers. While significant interest was expressed, the stalking horse credit bid submitted by the Term A Lenders was determined to be the highest and best price for substantially all of the Company's assets. SSG's industry knowledge from prior transactions and experience with efficient Chapter 11 sale processes enabled the Company to maximize the value of the assets.
Other professionals who worked on the transaction include:
Adam G. Landis, Matthew B. McGuire, Joseph D. Wright and Kimberly A. Brown of Landis, Rath & Cobb LLP, counsel to Peekay Boutiques, Inc.;
Albert Altro, John Sharpe, Matthew Rocha and Mark Thompson of Traverse LLC, Chief Restructuring Officer and Financial Advisor to Peekay Boutiques, Inc.;
Steven J. Reisman, Shaya Rochester and Joshua S. Geller* of Curtis, Mallet-Prevost, Colt & Mosle LLP, counsel to the Term A Lenders;
Mark D. Collins and Brendan J. Schlauch of Richards, Layton & Finger, PA, co-counsel to the Term A Lenders;
James H. Millar and Steven K. Kortanek of Drinker Biddle & Reath LLP, counsel to the Term B Lenders;
Bonnie Pollack, S. Jason Teele and Nicole Stefanelli of Cullen and Dykman LLP, counsel to the Official Committee of Unsecured Creditors;
Christopher M. Samis, L. Katherine Good, Kevin F. Shaw and Aaron H. Stulman of Whiteford, Taylor & Preston LLP, co-counsel to the Official Committee of Unsecured Creditors;
Sheon Karol, Ari Fuchs and Claudia Levine of The DAK Group, financial advisor to the Official Committee of Unsecured Creditors; and
Jeremy W. Ryan and R. Stephen McNeill of Potter Anderson & Corroon LLP, counsel to Cortland Capital Market Services, LLC.
*As of October 2017, Chief Legal Officer at AxiomSL