SSG Advises The Picture People in the Sale of Substantially All of its Assets to Affiliates of Monroe Capital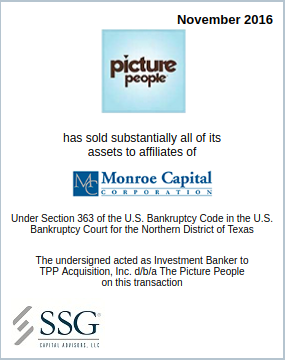 SSG Capital Advisors, LLC ("SSG") acted as the investment banker to TPP Acquisition, Inc. d/b/a The Picture People ("TPP" or the "Company") in the sale of substantially all of its assets to affiliates of Monroe Capital Corporation ("Monroe"). The sale was effectuated through a Chapter 11 Section 363 process in the U.S. Bankruptcy Court for the Northern District of Texas. The transaction closed in November 2016.
TPP is a premier operator of professional photographic portrait studios across the United States. The Company offers portrait studios located in malls as well as in select Buy Buy Baby, Walmart and Sears locations. TPP delivers quality photography and experiences while serving customers seeking professional portraits to mark special occasions or document a moment in time. In addition to photography services, the Company offers on-site photo processing and printing, framing and other related services.
TPP operates in a highly seasonal industry, but is dedicated to keeping its studios open throughout the year. Historically, the Company was primarily a mall-based operation and was subject to high fixed costs but only experienced consistent profitability during the peak holiday months associated with Easter, Thanksgiving and Christmas. In response to the high degree of seasonality, management developed and began transitioning to a more appropriate, variable cost operating model. While the transition plan provided an avenue for sustained profitability and growth, TPP faced constrained liquidity due to several years of financial distress.
TPP determined that a sale of the Company's assets would be the best method of maximizing value for its creditors and parties in interest. The Company filed for Chapter 11 protection in the Northern District of Texas in September 2016. SSG was retained as the Company's exclusive investment banker for the purpose of marketing the business and soliciting offers on an expedited basis to provide a potential buyer with the immediate cash flow benefit of the Company's two most profitable months. SSG conducted a comprehensive marketing process which resulted in a wide range of potential strategic and financial buyers. Monroe's stalking horse credit bid offer was ultimately the highest and best price for substantially all of the Company's assets. SSG's experience running efficient Chapter 11 sale processes enabled the Company to maximize the value of the assets.
Monroe, a business development company, is a specialty finance investor focused on providing senior, unitranche, junior secured, and subordinated debt financing and equity investments primarily to middle-market companies in the United States and Canada.
Other professionals who worked on the transaction include:
Stuart Noyes, Bruce Meier, Mason Hickman and Steven Sadowski of Winter Harbor, LLC, Chief Restructuring Officer and Financial Advisor to TPP Acquisition, Inc.;
Robert D. Albergotti, Ian T. Peck, Jarom J. Yates and David L. Staab of Haynes and Boone, LLP, counsel to TPP Acquisition, Inc.;
Donald E. Rothman, Steven E. Fox, Paul S. Samson, Lon M. Singer and Phillip J. Block of Riemer & Braunstein LLP, co-counsel to Monroe Capital Corporation;
Josiah M. Daniel, III and Rebecca L. Petereit of Vinson & Elkins LLP, co-counsel to Monroe Capital Corporation;
Samuel A. Newman and Michael S. Neumeister of Gibson, Dunn & Crutcher, LLP, co-counsel to the Official Committee of Unsecured Creditors;
Wade Emmert and Michele Sheets of Emmert & Parvin, LLP, co-counsel to the Official Committee of Unsecured Creditors; and
John P. Madden, Ryan O'Sullivan and Jack Allen of Emerald Capital Advisors, Financial Advisor to the Official Committee of Unsecured Creditors.