SSG Advises the Plan Administrator of KH Funding Company in the Sale of its Loan Portfolio to an Affiliate of Aspen Capital Partners, LLC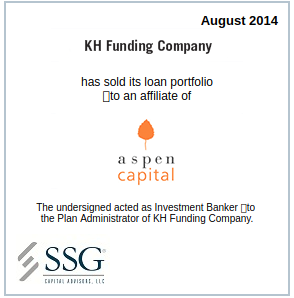 SSG Capital Advisors, LLC ("SSG") acted as the investment banker to Alfred Giuliano, the Plan Administrator of KH Funding Company ("KH" or the "Company") in the sale of its loan portfolio to an affiliate of Aspen Capital Partners, LLC ("Aspen"). The sale was effectuated through a Chapter 11 Plan of Liquidation, confirmed by the U. S. Bankruptcy Court for the District of Maryland and closed in August 2014.
KH is a mortgage company based in Silver Spring, MD that primarily originates, acquires and services loans. The Company's lending activities were primarily concentrated in Washington, DC and the surrounding Maryland and Northern Virginia counties.
As cash flow deteriorated and KH was unable to service its debt obligations, the Company filed a Chapter 11 bankruptcy proceeding in December 2010. As part of its Plan of Liquidation, the Plan Administrator determined that a sale of KH's outstanding loan portfolio was the best option for maximizing return to its stakeholders.
SSG was retained in March 2014 as the Plan Administrator's investment banker for the purpose of marketing the KH loan portfolio for sale and soliciting offers. SSG conducted a comprehensive marketing process which resulted in a wide range of interest from potential investors. Aspen Capital's offer was the highest and best price for the loan portfolio. SSG's experience in running an efficient and timely sales process enabled key stakeholders to maximize the value of the assets.
Aspen Capital is a private equity firm with expertise in residential, commercial, distressed securities and hospitality. Aspen provides a wide range of investment opportunities and services, including purchasing residential and commercial loans, loan servicing and asset management. With headquarters in Portland, OR and New York City, Aspen is active throughout the United States.
Other professionals who worked on the transaction include:
Alfred T. Giuliano and Dana Roach of Giuliano, Miller & Company, LLC, Plan Administrator of KH Funding Company; and
Bradford J. Sandler and Michael R. Seidl of Pachulski Stang Ziehl & Jones LLP, counsel to the Plan Administrator.