SSG Advises Pocono ProFoods in the Sale of its Assets to Driscoll Foods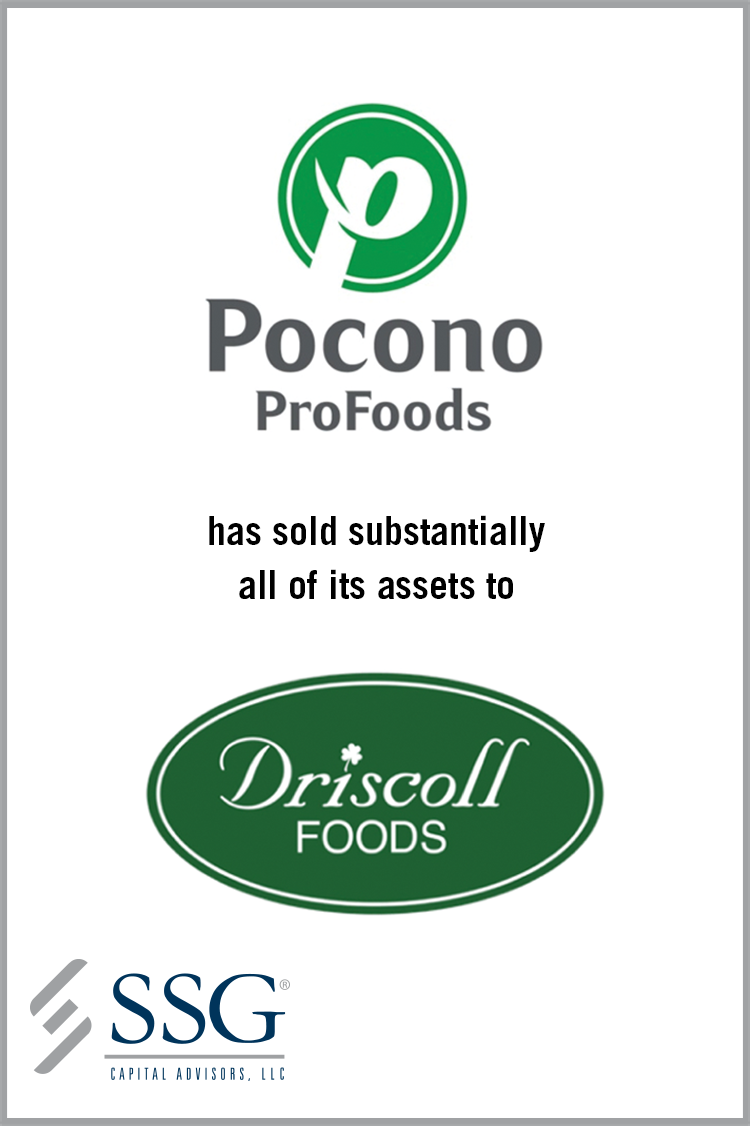 SSG Capital Advisors, LLC ("SSG") acted as the investment banker to Pocono Produce Company, Inc. d/b/a Pocono ProFoods ("Pocono ProFoods" or the "Company") in the sale of substantially all of its assets to Driscoll Foods ("Driscoll").
Headquartered in Stroudsburg, PA, Pocono ProFoods is an independent, broad-line foodservice distributor with customers throughout the Mid-Atlantic and Northeastern United States. Pocono ProFoods distributes over 8,000 products used in food preparation and service. Founded in 1940, the Company was originally a local produce wholesaler for Pocono Mountains resorts and has grown to serve restaurant and foodservice customers across 14 states. The Company's customers include independent fine dining and casual restaurants, country clubs, hotels and resorts, schools and the U.S. military.
Pocono ProFoods operated successfully for decades and experienced steady growth by providing customers with reliable service, quality products and value-added menu planning services. The Company became a leading foodservice distributor and developed a diverse and loyal customer base that led to expansion into several national chain accounts. Starting in March 2020, the wide-ranging effects of COVID-19 began to impact Pocono ProFoods' core business. Government restrictions and shutdowns of restaurants, schools and hotels led to an immediate and unprecedented decline in customer orders. Despite implementing cost-cutting measures, the Company experienced revenue and profitability declines, which severely constrained liquidity.
SSG was retained to explore alternatives to find a strategic partner to strengthen the Company's capital base and improve liquidity. SSG conducted a comprehensive marketing process to solicit offers from strategic and financial buyers to recapitalize the Company and provide the business with liquidity to support its rebound as pandemic restrictions soften. Leveraging its significant experience in the food and beverage industry, SSG canvassed a wide range of investors and attracted interest from multiple parties. Adding to the complexity of the transaction, Pocono ProFoods had outstanding Paycheck Protection Program loans that were forgivable but needed to be addressed in the context of a potential sale. The sale to Driscoll Foods proved to be the best solution for all stakeholders. SSG's industry knowledge and experience running complex sale processes in unstable markets enabled a transaction to be consummated on a going-concern basis.
Driscoll Foods is one of the largest broad-line foodservice distributors in New Jersey, serving the Mid-Atlantic and Northeastern United States. Driscoll's modern fleet of multi-temperature trucks delivers 10,000 stocked products, including fresh meat, poultry, milk, and dairy products, as well as frozen, grocery, beverage, equipment, paper, and cleaning supplies to customers across the tri-state region.
Other professionals who worked on the transaction include:
John T. Carroll, III, Anna M. McDonough and C. Gregory Patton of Cozen O'Connor P.C., counsel to Pocono ProFoods; and
Michael J. Brady of Harwood Lloyd, LLC, counsel to Driscoll Foods.