SSG Advises Polar Windows of Canada, Ltd. in a Sale to a Consortium of Management, Henry & Wallace and Morris Capital Management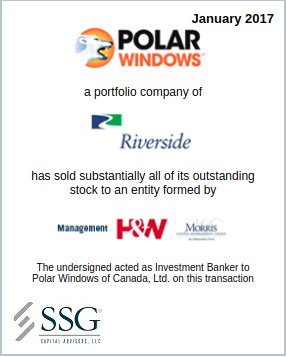 SSG Capital Advisors, LLC ("SSG") acted as the investment banker to Polar Windows of Canada, Ltd. ("Polar" or the "Company"), a portfolio company of The Riverside Company ("Riverside"), in the sale of substantially all of its outstanding stock to a consortium of management, Henry & Wallace, LLC ("H&W") and Morris Capital Management, LLC ("Morris Capital"). The transaction closed in January 2017.
Polar manufactures and sells premium window and door systems designed to provide energy efficiency, durability and comfort to residential customers living in climates prone to extreme weather. The Company offers its customers customizable window and door systems through a network of highly experienced sales agents.
After a challenging four-year period from 2010 to 2013, the Company grew substantially and the business returned to profitability after upgrading the management team, enhancing the sales force and streamlining operations to reduce costs. Additionally, the Company is in the process of implementing a number of strategic projects including expanding its geographic presence, enhancing the existing product line and implementing process improvement initiatives focused on production efficiency to further drive overall profitability. Polar's stakeholders supported the Company through the transition period and were seeking a new owner to provide the appropriate capitalization to support the strategic growth plan.
SSG was retained as Polar's exclusive investment banker to conduct a comprehensive marketing process, soliciting offers from a broad universe of strategic and financial buyers. The Company was ultimately acquired by an entity formed by Stephen Segal, the current Chief Executive Officer of Polar, H&W and Morris Capital.
H&W is a management company with a portfolio of products primarily focused on the real estate and building products industries. The firm has developed a principled approach, adequate scope of operations and fundamental differentiating factors which create an efficient deal management platform.
Morris Capital is a private equity firm focused on investing equity capital in turnarounds, non-distressed leveraged buyouts and businesses re-engineering in the middle market. The firm targets manufacturing and distribution businesses with annual revenues up to $75 million.
Other professionals who worked on the transaction include:
• Joseph D. Hatina of Jones Day, co-counsel to Polar Windows of Canada, Ltd.;
• Andrew Powers of Borden Ladner Gervais LLP, co-counsel to Polar Windows of Canada, Ltd.;
• Pamela E. Hilderman, Steven J. Kohn and Eric J. Buettner of Aikins MacAuley & Thorvaldson LLP, counsel to Management; and
• Walter N. Winchester of Winchester, Sellers, Foster & Steele, P.C., counsel to Henry & Wallace, LLC.