SSG Advises Punch Bowl Social in the Sale of its Assets to an Affiliate of CrowdOut Capital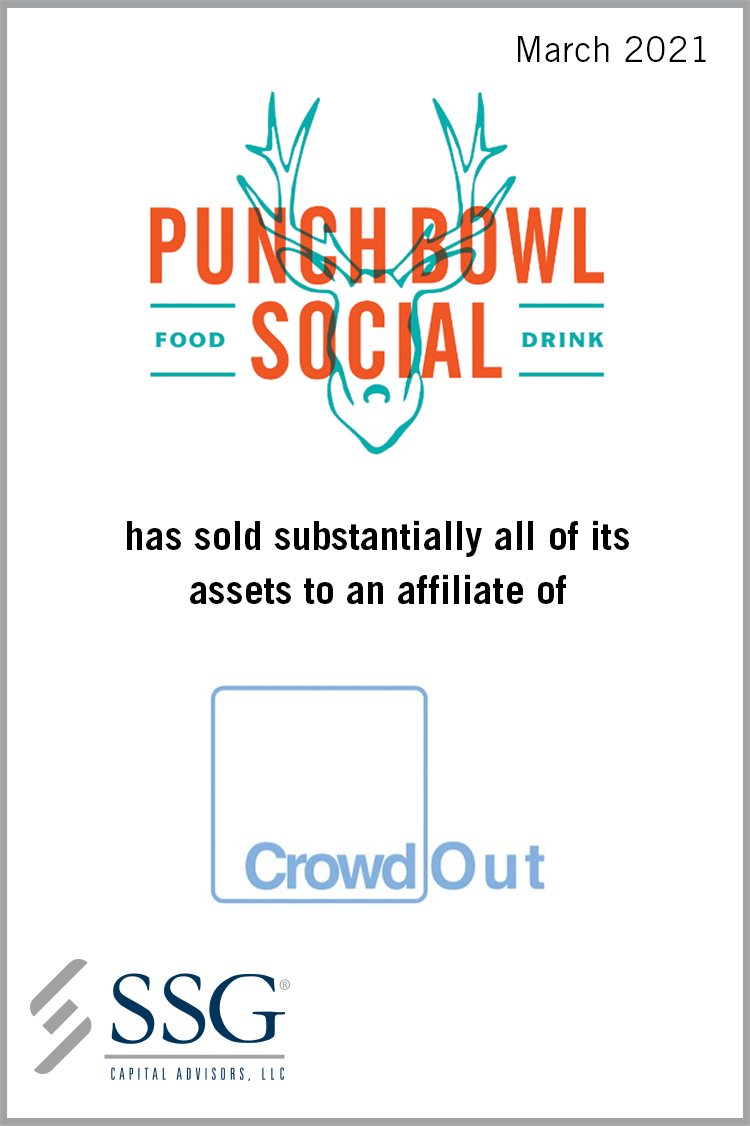 SSG Capital Advisors, LLC ("SSG") acted as the investment banker to PBS Brand Co., LLC, d/b/a Punch Bowl Social, and its affiliated entities (collectively, "PBS" or the "Company") in the sale of substantially all its assets to an affiliate of CrowdOut Capital, LLC ("CrowdOut"). The transaction closed in March 2021.
Punch Bowl Social is a scratch-kitchen restaurant chain that combines high-end food and cocktails with social activities such as arcade games, bowling, karaoke, ping-pong and shuffleboard. The Company operates multiple locations across the U.S. and serves lunch, dinner, weekend brunch, late-night snacks, craft beer, and cocktails in a modern and comfortable environment. Founded in 2012, Punch Bowl experienced years of considerable growth and financial success. By early 2020, PBS' footprint consisted of 20 restaurants and the Company earned significant recognition for its rapid growth and unique concepts.
Starting in March 2020, COVID-19's impact across the dine-in restaurant industry led to the shutdown of all PBS locations. In response, PBS began restructuring its operations to stabilize the business, including permanently closing several locations and shifting to a take-out model. As regulatory conditions improved, PBS was able to reopen several restaurants under guidance from local governments, however, the reopened locations were unable to operate at a profitable level due to continued occupancy and other restrictions. The Company filed for bankruptcy protection in December 2020 to secure the funding necessary to continue to operate on a limited basis, retain the value of its assets and explore available alternatives.
SSG was retained to conduct an expedited marketing process during the bankruptcy and solicit offers from potential strategic and financial acquirers. After extensive marketing and discussion with numerous interested parties, the stalking horse credit bid submitted by CrowdOut was determined to be the highest and best offer for substantially all the Company's assets. SSG's extensive Chapter 11 transaction experience and knowledge of the hospitality industry resulted in a process where value was maximized in an expedited time frame.
CrowdOut Capital is a private lending syndication platform focused on profitable, middle-market companies.
Other professionals who worked on the transaction include:
Edward T. Gavin, CTP and Stanley W. Mastil of Gavin/Solmonese LLC, Chief Restructuring Officer and financial advisor to PBS Brand Co., LLC;
Jeffrey R. Waxman, Eric J. Monzo, Brya M. Keilson and Sarah Ennis of Morris James LLP, bankruptcy counsel to PBS Brand Co., LLC;
Mark Shapiro and Paul Warley of B. Riley Advisory Services, Co-Chief Restructuring Officer and advisor to PBS Brand Co., LLC;
Gregory M. Wilkes, Daryl L. Lansdale and Jason L. Boland of Norton Rose Fulbright US LLP, Morgan L. Patterson and Matthew P. Ward of Womble Bond Dickinson (US) LLP, counsel to CrowdOut Capital, LLC;
Warren J. Martin, Jr., John S. Mairo, Kelly D. Curtin, Rachel A. Parisi and Cheryl A. Santaniello of Porzio, Bromberg & Newman, P.C., counsel to the Unsecured Creditors Committee; and
Sanjuro Kietlinksi and Harry Foard of Province, LLC, financial advisor to the Unsecured Creditors Committee.