SSG Advises Republic Storage Systems, LLC in the Sale of Certain Assets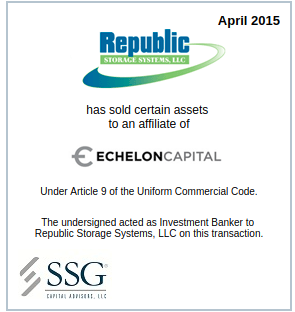 SSG Capital Advisors, LLC ("SSG") acted as the investment banker to Republic Storage Systems, LLC ("Republic" or the "Company") in the Article 9 sale of a substantial portion of Republic's operating assets to an affiliate of Echelon Capital, LLC ("Echelon"). The transaction closed in April 2015.
Founded in 1886 and headquartered in Canton, OH, Republic is a manufacturer of lockers, shelving and other storage products. The Company also maintains a warehouse facility in Statesville, NC. Republic's lockers are one of the most well recognized and reliable brands in the industry. The Company's manufacturing capabilities and powder coat and liquid paint lines enable the Company to create hundreds of configurations and produce lockers and shelving systems to its customer's exact specifications. Republic sells its products nationwide.
The Company retained SSG to explore strategic options, including a sale of substantially all of the Company's assets. Working under an extremely tight timeline, SSG began the marketing process, identified a strategic buyer, assisted in the negotiations of the Article 9 sale and closed the transaction within six weeks from initial engagement. SSG's experience in identifying buyers and running an expedited sales process were critical to the successful closing of the transaction.
Echelon is a manufacturing group focused primarily on metal fabrication, which owns companies that operate under the Lyon, Viking Metal Cabinet Co., Precision Quincy Ovens and Austin-Westran brands. The new company will be named Republic Storage Products, LLC and will operate as a separate portfolio company of Echelon.
Other professionals who worked on the transaction include:
Adam G. Landis and Matthew B. McGuire of Landis Rath & Cobb LLP, counsel to Republic Storage Systems, LLC;
Michael E. Jacoby and Mark Karbiner of Phoenix Management Services, financial advisor to Republic Storage Systems, LLC;
Lawrence F. Flick of Blank Rome LLP, counsel to the equity sponsor;
Jeffrey M. Wolf and Timothy P. Manning of Greenberg Traurig, LLP, counsel to the secured lender; and
Russell I. Shapiro, Laura Friedel and Jonathan P. Friedland of Levenfeld Pearlstein, LLC, counsel to Echelon Capital and its affiliate.