SSG Advises Retrotope, Inc. in the Sale of Substantially all of its Assets to RTMFP Enterprises Inc.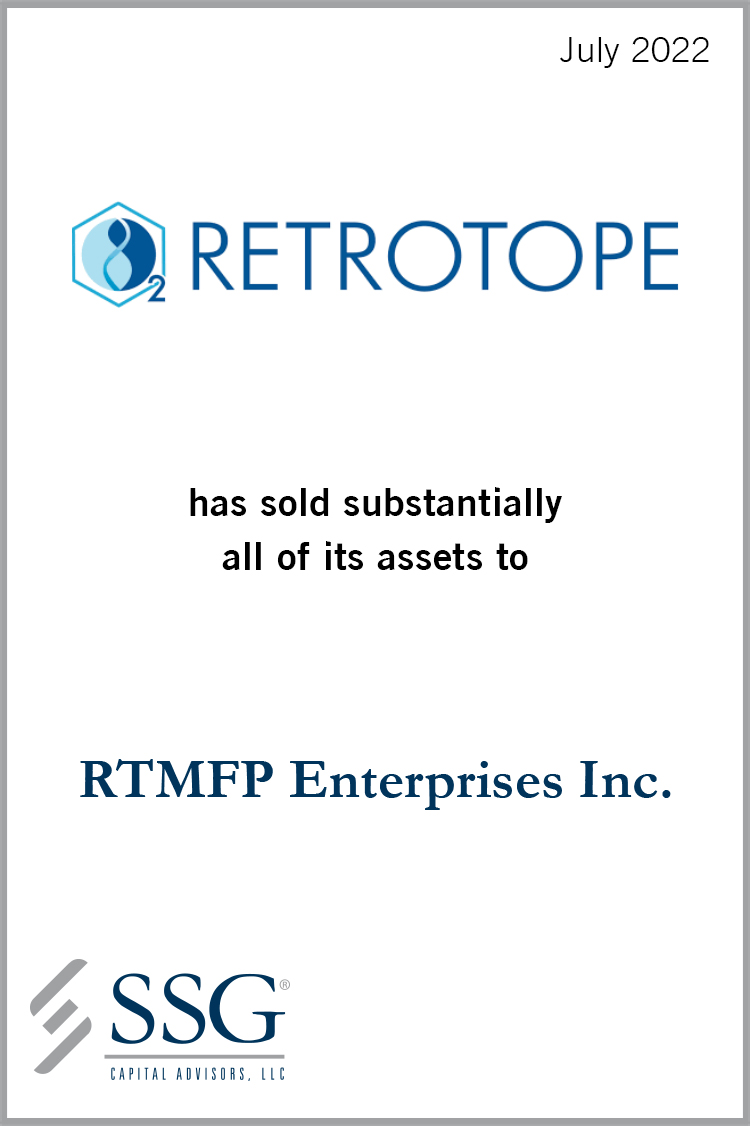 SSG Advisors, LLC ("SSG") acted as the investment banker to Retrotope, Inc. ("Retrotope" or the "Company") in the sale of substantially all of its assets to RTMFP Enterprises Inc. ("RTMFP"). The sale was effectuated through a Section 363 sale under a confirmed Chapter 11 Sub-Chapter V Plan of Reorganization in the U.S. Bankruptcy Court for the District of Delaware. The transaction closed in July 2022.
Retrotope, founded in 2006 and based in Los Altos, California, is a clinical stage biotechnology company developing drugs to combat serious and debilitating neurological and retinal degenerative diseases caused by lipid peroxidation. With three molecules under development, the Company's lead product candidates include RT-001, for the treatment of multiple progressive neurological diseases, and RT-011 for the treatment of dry age-related macular degeneration. If successful, Retrotope's drug candidates would represent the first approved therapies in several of its lead indications.
After failure to reach end points in clinical trials of RT-001 in late 2021 and early 2022, Retrotope began experiencing liquidity constraints. After shareholders were unable to resolve the terms of funding for the Company to preserve ongoing operations and existing clinical trials, Retrotope filed for protection under Sub-Chapter V of Chapter 11 on March 21, 2022.
SSG was retained just prior to filing to advise the Company on strategic alternatives and to conduct an accelerated and comprehensive marketing process to solicit interest from strategic and financial investors. The Company negotiated a DIP Loan and a Stalking Horse Agreement with RTMFP to preserve the business as a going concern and to ensure all existing human clinical trials progressed uninterrupted. After receiving a qualified overbid from a strategic biopharma company, an auction was held with multiple rounds of bidding, including a bid for cash plus future milestone and royalty payments. Ultimately, RTMFP's all-cash offer was determined by the Debtor to be the highest and best offer for Retrotope's assets and was selected as the winning bidder. The auction results were contested by objecting shareholders with the support of the competing bidder. The sale to RTMFP was approved by the Bankruptcy Court after a two-day contested bid valuation and plan confirmation trial. SSG's extensive experience in managing complex processes with multiple stakeholders, resulted in a going-concern transaction that paid all creditors in full and provided a distribution to equity holders.
Other professionals who worked on the transaction include:
Matthew P. Ward, Ericka F. Johnson, Morgan L. Patterson and Philip J. Mohr of Womble Bond Dickinson (US) LLP, counsel to Retrotope, Inc.;
James Gansman, Heidi Lipton and Brian Ayers of Rock Creek Advisors LLC, financial advisor to Retrotope, Inc.;
Dan Scouler of Scouler Kirchhein, lead Independent Director;
Jami B. Nimeroff of Brown McGarry Nimeroff LLC, Sub-Chapter V Trustee;
Scott B. Lepene of Thompson Hine LLP, counsel to RTMFP Enterprises Inc.;
Mark L. Desgrosseilliers of Chipman Brown Cicero & Cole, LLP, counsel to RTMFP Enterprises Inc.;
Jeffrey K. Garfinkle of Buchalter, counsel to Objecting Shareholders;
Adam Trigg of Bergeson, LLP, counsel to Objecting Shareholders; and
Jason C. Powell of The Powell Firm, LLC, counsel to Objecting Shareholders.