SSG advises Ronson Aviation, Inc., in the sale of its assets to Ross Aviation, a portfolio company of Centre Partners Management LLC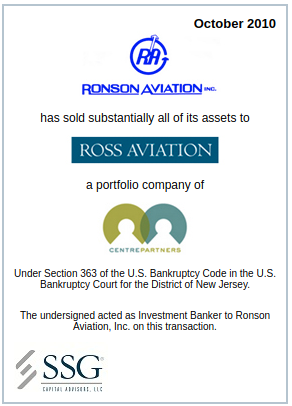 We are pleased to announce that SSG Capital Advisors, LLC ("SSG") acted as the exclusive investment banker to Ronson Aviation, Inc. ("Ronson" or the "Company") in the sale of substantially all of the assets to Ross Aviation, Inc. ("Ross Aviation" or the "Buyer"), a portfolio company of Centre Partners Management LLC ("Centre Partners"). The sale was conducted through a Section 363 auction under the United States Bankruptcy Code in the U.S. Bankruptcy Court for the District of New Jersey. The sale was approved on September 30, 2010 and the transaction closed on October 15, 2010.
Located at the Trenton-Mercer Airport in Trenton, New Jersey, Ronson is a full-service Fixed Based Operator ("FBO") operating under its holding company, RCLC. With a history tracing back to 1962, the Company began as New Jersey Helicopter Airways, Inc., a small helicopter business. Today as the sole FBO at Trenton-Mercer Airport, Ronson provides aircraft fueling, avionics, cargo handling and sales, storage and repairs of aircraft. Aircraft storage consists of hangars, T-hangars and tie-downs which accommodate general aviation enthusiasts, corporate travelers and government entity customers. Ronson also maintains a FAA repair station certification as well as an onsite U.S. Customs Office with a designated Foreign Trade Zone. Ronson is one of only two factory-authorized Hawker Beechcraft Turbine service centers and one of only three Hawker Beechcraft Piston service centers in the Northeast.
Ross Aviation, Inc., a portfolio company of Centre Partners, is a full service FBO with 13 current locations in the United States in high profile urban areas and resort destinations including Hawaii and Florida. Ross Aviation has owned and operated 22 locations since its inception. Centre Partners is a private equity firm specializing in investments in middle market companies, private family-owned companies, management buyouts, acquisitions, growth capital, management investment partnerships and going private transactions.
Ronson faced certain operational and financial challenges primarily due to the macroeconomic recession which resulted in a curtailment of both corporate and leisure private aircraft travel. Although the Company implemented cost-cutting measures to preserve cash and improve profitability, the Company was unable to generate sufficient operational liquidity. Therefore, Ronson hired SSG in May 2010 to explore strategic alternatives for its business, including a sale of substantially all of its assets. SSG immediately contacted potential strategic and financial buyers to solicit offers for the business. Ultimately, SSG helped negotiate a stalking horse Asset Purchase Agreement between Ronson and Ross Aviation. SSG worked diligently during September 2010 to re-market the Company and obtain higher and better offers in order to maximize value to the estate. As a result of SSG's marketing efforts, one additional strategic party submitted a qualified bid and participated in the auction for substantially all of the Company's assets on September 27, 2010. As a result of the bidding at the auction, the winning bid was over ten percent (10%) higher than the stalking horse bid resulting in increased recoveries to numerous estate constituents.
Other professionals who worked on the transaction include:
Michael D. Sirota, David M. Bass, Alan Rubin, Catherine E. Bostock, Gordon C. Duus, Robyn A. Pellegrino and Felice R. Yudkin, Cole Shotz Meisel Forman & Leonard, P.A., counsel to the Debtor;
Barry D. Szaferman and Janine G. Bauer, Szaferman, Lakind, Blumstein, & Blader, P.C., corporate counsel to the Debtor;
Joel I. Getzler and Robert Gorin, Getzler Henrich Associates, Pre-Chapter 11 Chief Restructuring Officer to the Debtor;
Carin M. Cutler and Edward C. Dolan, Hogan Lovells, counsel to Ross Aviation and Centre Partners;
Theodore A. Schwartz, William A. Baker, Scarinci & Hollenbeck, LLC, environmental counsel to Ross Aviation and Centre Partners;
Jeffrey M. Rosenthal, Rachel Albanese and Michael Hahn, Greenberg Traurig, LLP, counsel to the Secured Creditor;
Kenneth A. Rosen, Sharon L. Levine and Mary E. Seymour, Lowenstein Sandler PC, counsel to the Unsecured Creditors' Committee; and
Bernard D. Katz and Howard L. Konicov, J. H. Cohn, financial advisor to the Unsecured Creditors' Committee
SSG is a leading boutique investment bank dedicated to representing middle market clients in restructuring and special situations, both in and out of bankruptcy proceedings. SSG provides its clients with comprehensive advisory services in the areas of mergers and acquisitions, capital raises, financial restructurings and valuations. SSG has completed over 170 transactions since 2001 and is among the leaders in the industry.
SSG Capital Advisors, LLC (Member FINRA, SIPC) is a wholly owned broker dealer of SSG Holdings, LLC. SSG is a trade name for SSG Capital Advisors, LLC. SSG provides investment banking, restructuring advisory, merger, acquisition and divestiture services, private placement services and valuation opinions. Past performance is no guarantee of future results.