SSG Advises Safe, Inc. in the Sale of Substantially All of its Assets to Point Blank Enterprises, Inc.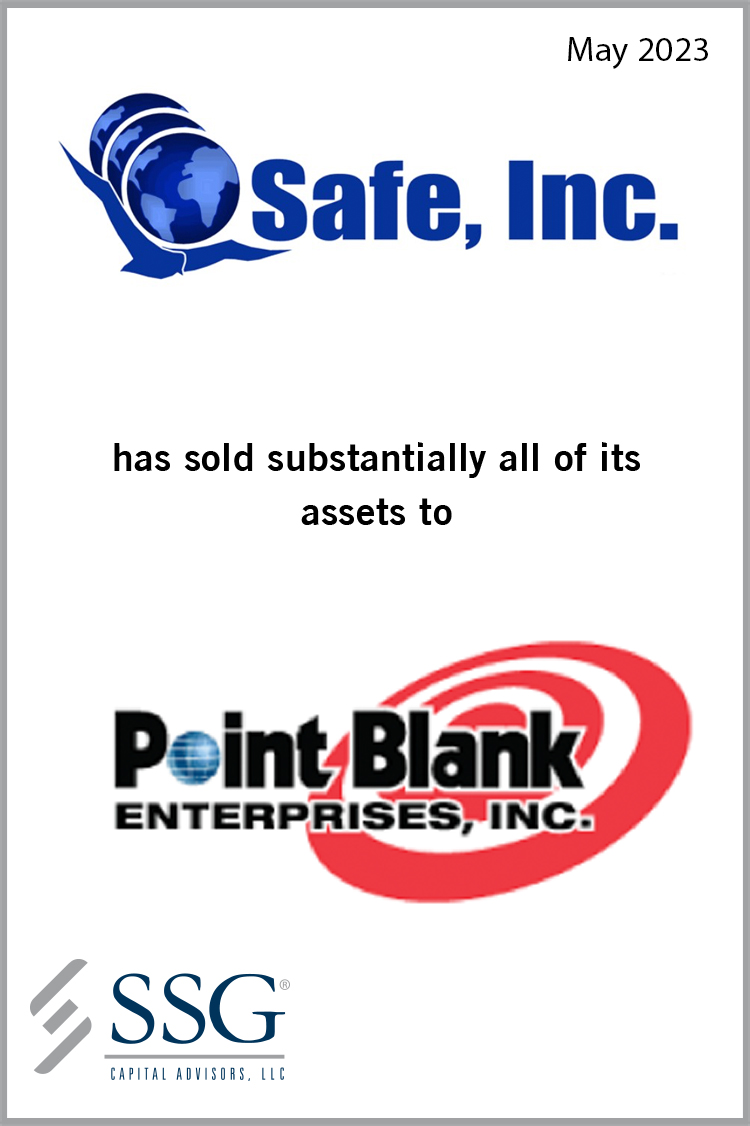 SSG Capital Advisors, LLC ("SSG") acted as the investment banker to Safe, Inc. ("Safe" or the "Company") in the sale of substantially all of its assets to Point Blank Enterprises, Inc. ("Point Blank"), a portfolio company of JLL Partners. The transaction closed in May 2023.
Safe, Inc. is a cutting-edge product development, engineering and technology research firm with a core focus on occupant protection systems including crashworthy energy absorbing seating systems, armor and safety restraint systems. The Company was founded over 20 years ago by U.S. Army Veteran, Dr. Stanley Desjardins, with a mission to protect vehicle occupants and warfighters. Through its patented technologies, the Company offers the design, prototype, modeling and testing of seat systems used by the United States Navy, Army, Air Force, Special Operations and NASA.
Since its founding in 2002, the Company has focused on research in energy absorbing seats and other safety-related technologies. Safe primarily bid on contracts through the Phase I and Phase II Small Business Innovation Research ("SBIR") Programs. While historical operations and profitability have remained strong, the Company believed an opportunity for substantial growth existed, beyond SBIR Phase I and Phase II contracts, through the enhancement of its production capacity and utilization of its intellectual property to produce products at a high volume for the U.S. Government and blue-chip defense contractors. Given potential procurement issues with third-parties producing Safe's developed products, the Company saw the opportunity to produce the products in-house and capture recurring, multi-year revenue streams. Accordingly, Safe sought to bring on an investor with industry and government contracting expertise (and potential production capabilities) to fund and ultimately inherit the Company's vision for future growth.
SSG was retained as Safe's exclusive investment banker to advise the Company on strategic alternatives and to conduct a comprehensive marketing process to solicit interest from strategic and financial investors. The process generated interest from several parties and resulted in multiple offers. The Company ultimately decided to move forward with Point Blank, as they were deemed the most synergistic and qualified strategic partner for the Company on a go-forward basis. SSG's aerospace and defense industry experience and expertise running competitive sale processes resulted in an outcome that properly capitalized the business and positioned the Company to successfully achieve its next level of growth.
Point Blank is a leading provider of high-performance protective solutions, including bullet, fragmentation and stab resistant apparel and related accessories. Through its various brands, Point Blank ranks as the largest global supplier of ballistic and soft armor systems in the world. This transaction marks the third defense contractor company SSG has sold to Point Blank.
JLL Partners is a middle-market private equity firm with a track-record of adding value to complex investments through financial and operational expertise. Since its founding in 1988, JLL Partners has committed approximately $4.7 billion across seven funds.
Other professionals who worked on the transaction include:
James M. Lawrence, J. Barry Shelley, Isabella Peek and Daniel Restrepo of Fennemore Craig, P.C, counsel to Safe, Inc.; and
Scott R. Jablonski, Geoffrey Lottenberg and Sophia Carballo of Berger Singerman LLP, counsel to Point Blank Enterprises, Inc.