SSG Advises Saladworks, LLC in the Sale of Substantially All of its Assets to an Affiliate of Centre Lane Partners, LLC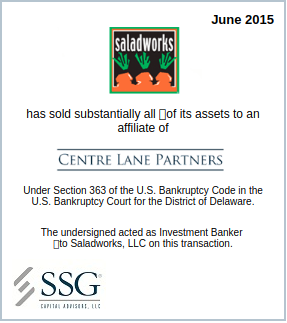 SSG Capital Advisors, LLC ("SSG") acted as the investment banker to Saladworks, LLC ("Saladworks" or the "Company") in the sale of substantially all of its assets to an affiliate of Centre Lane Partners, LLC ("Centre Lane"). The sale was effectuated through a Chapter 11 Section 363 process in the U.S. Bankruptcy Court for the District of Delaware and closed in June 2015.
Saladworks, the nation's first and largest fresh-tossed salad franchise concept operates over 100 franchise locations throughout the U.S. and internationally. The company was founded in New Jersey in 1986 and began franchising in 2001. Saladworks remains the leader in the made to order, entree sized salad category with a health conscious consumer base that lends itself to a fast casual atmosphere.
Saladworks had a stable 29-year financial history; however the Company filed for Chapter 11 protection in February 2015 following years of litigation with a minority shareholder and certain lenders. The litigation made it impossible to sell additional franchises, restructure, find a buyer or execute the Company's growth plan. SSG was retained as the Company's investment banker for the purpose of marketing the business for sale and soliciting offers. SSG conducted a comprehensive marketing process which resulted in a wide range of interest from potential strategic and financial buyers and ten stalking horse offers were received. Centre Lane's offer was ultimately deemed to be the highest and best price. SSG's experience in running efficient and timely Chapter 11 sales processes enabled the Company to maximize the value of the assets while preserving the Company's operations as a going-concern. With the litigation and bankruptcy behind it and the investment and support of Centre Lane, Saladworks is preparing for growth with such initiatives as new store design, menu enhancement and an increase in support to its franchisees.
Centre Lane is focused on making equity and debt, control and non-control, investments in North American middle market companies. Centre Lane targets companies with revenues between $20 and $500 million that have leading market positions and sustainable competitive advantages in their respective niches. Industries targeted for investment are broad and diverse with no industry excluded from their consideration.
Other professionals who worked on the transaction include:
Adam G. Landis, Kerri K. Mumford and Kimberly A. Brown of Landis Rath & Cobb LLP, counsel to Saladworks, LLC;
Edward A. Phillips and Ryan W. Farley of EisnerAmper LLP, financial advisors to Saladworks, LLC;
Richard M. Beck and Sally E. Veghte of Klehr Harrison Harvey Branzburg LLP, counsel to the Official Committee of Unsecured Creditors;
D. Stephen Antion, Paige E. Barr, John P. Sieger, Logan J. Dolph and Scott C. Cutrow of Katten Muchin Rosenman LLP, counsel to Centre Lane Partners, LLC;
Walter Weir, Jr., Jeffrey S. Cianciulli and Kenneth E. Aaron of Weir & Partners LLP, counsel to creditors, JVSW, LLC and WS Finance, LLC; and
Norman L. Pernick, Stuart Komrower and David W. Giattino of Cole Schotz P.C., counsel to CEO of Saladworks, LLC.