SSG Advises Seegrid Corporation in their Chapter 11 Plan of Reorganization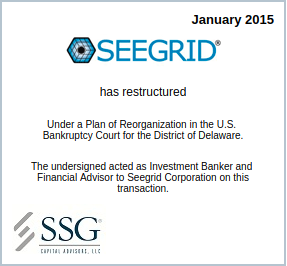 SSG Capital Advisors, LLC ("SSG") acted as the investment banker and financial advisor to Seegrid Corporation ("Seegrid" or the "Company") in the restructuring of Seegrid's multiple tranches of secured and unsecured debt pursuant to a Chapter 11 Plan of Reorganization (the "Plan") in the U.S. Bankruptcy Court for the District of Delaware. The transaction closed in January 2015.
Pittsburgh-based Seegrid, the pioneer and leader in three-dimensional vision navigation, provides unique and revolutionary automation technology for materials handling. Engineered with state-of-the-art Seegrid Vision, industrial pallet and tow trucks are transformed to vision guided vehicles. Seegrid's automation system integrates a proprietary and patented software technology to see its environment, map it in a virtual grid and guide the vehicle. Giant Eagle Inc. is the Company's largest shareholder and lender.
As Seegrid brought its product to market, it sought additional funding to further exploit its proprietary technology. Despite multiple marketing efforts by third parties and management, the Company was unable to find the funding it needed and instead relied on its existing shareholders, primarily Giant Eagle, for funding. In the summer of 2014, a large portion of Seegrid's debt matured and the Company did not have enough cash to satisfy those obligations. All but one of the lenders holding the debt agreed to extend maturity. As a result, the Company filed a Chapter 11 to effectuate a Plan of Reorganization to allow Seegrid to continue as an ongoing entity.
The Company retained SSG to provide various services to support the proposed Plan, including an enterprise valuation, liquidation valuation, feasibility analysis and expert reports and testimony. After only three months in Chapter 11, the Plan was confirmed and closed in January, 2015.
Other professionals who worked on the transaction include:
Robert J. Dehney, Curtis S. Miller, John P. DiTomo, Kenneth J. Nachbar, Megan Ward Cascio, Daniel B. Butz, Matthew R. Clark, Matthew B. Harvey, Zi-Xiang Shen and Richard J.W. Li of Morris, Nichols, Arsht & Tunnell LLP, counsel to Seegrid Corporation;
Thomas G. Buchanan, James D. Newell, Zakarij O. Thomas, Tyler S. Dischinger and Kathleen A. Murphy of Buchanan Ingersoll & Rooney PC, counsel to Seegrid Corporation;
Paul M. Singer, J. Cory Falgowski, Joseph D. Filloy and Luke Sizemore of Reed Smith LLP, counsel to Giant Eagle Inc.;
Patrick Neligan, Jr., Douglas J. Buncher and Seymour Roberts, Jr. and Douglas Dunn of Neligan Foley LLP, counsel to the Horbal Group;
Andrew Affa, Catherine A. Pastrikos, Preston Postlethwaite, Erik Harmon, Ian Shaw and John Barrett of Bickel and Brewer, counsel to the Horbal Group;
Mark D. Collins, Marcos A. Ramos, Robert J, Stearn, Jr., and Robert C. Maddox of Richards Layton and Finger, PA, counsel to the Horbal Group; and
Albert S. Conly of FTI Consulting, expert witness for the Horbal Group.