SSG advises the Senior Lender Syndicate in the restructuring of EnviroSolutions Holdings, Inc.'s credit facilities and equity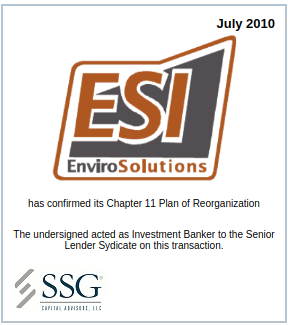 We are pleased to announce that SSG Capital Advisors, LLC ("SSG") acted as the exclusive investment banker to the Senior Lender Syndicate of EnviroSolutions Holdings, Inc. ("ESI") in the restructuring of ESI's credit facilities and equity pursuant to a pre-arranged Chapter 11 Plan of Reorganization (the "Plan") under the United States Bankruptcy Code in the U.S. Bankruptcy Court for the Southern District of New York. The Plan was confirmed on July 22, 2010 and the transaction closed on July 29, 2010.
ESI is a leading vertically integrated municipal solid waste and construction and demolition waste disposal company, serving a broad customer base, including commercial, construction, recycling and federal, state and local governments. Anchored by strategically positioned landfills in Kentucky, Virginia and West Virginia and transfer stations in Maryland and New Jersey, ESI services the Northeast and Mid-Atlantic regions, both of which are densely populated and landfill capacity-constrained. ESI operates a system of modern and highly scalable state-of-the-art waste disposal assets that drive cash flow growth through internalizing waste streams. With significant investments over the past three years to expand its infrastructure and capacity, including new transfer stations and landfill expansion, ESI is well positioned for future growth opportunities, such as new municipal contracts up for bid and coal ash.
Due to the severe economic downturn beginning in mid 2007 and continuing through 2009 and exacerbated by the contraction in the commercial and residential construction markets, ESI experienced a decline in cash flow resulting in constrained liquidity. After exploring a potential sale transaction, the Senior Lender Syndicate in conjunction with ESI decided to restructure its senior credit obligations and equity. SSG was retained by the Senior Lender Syndicate to advise, negotiate and facilitate the restructuring process through a pre-arranged Chapter 11 Plan. After exploring multiple restructuring alternatives to address the various needs of the individual members of the Senior Lender Syndicate and multiple other constituents, SSG successfully outlined a restructuring plan that provided a proper capital structure for ESI and should enable the Senior Lender Syndicate to more effectively pursue their goals.

Morris Massel, Sandy Qusba, Matthew O'Shea, Samantha S. Braunstein, Maryam Arfaania, Brett A. Pearlman, Stefanie Birkman, Daniel R. Kay, Brian M. Stadler and Edward Shen of Simpson Thacher & Bartlett LLP, counsel to the Senior Lender Syndicate;
John C. Longmire, William E. Hiller, Jennifer Hardy, Shaunna D. Jones and Jeffrey M. Goldfarb of Willkie Farr & Gallagher LLP, counsel to ESI;
Dennis Stogsdill and Larry Tate of Alvarez & Marsal, restructuring advisor to ESI;
George Mack, Kristin Healy, and Gary Sultan of Barclays Capital, investment banker to ESI;
Stephen D. Lerner, Sandra E. Mayerson and Nicholas Brannick of Squire, Sanders & Dempsey L.L.P., counsel to the Unsecured Creditors' Committee; and
Robert Nabholz and Christopher Marino of Chanin Capital Partners, investment banker to the Unsecured Creditors' Committee
About SSG Capital Advisors, LLC
SSG is a leading boutique investment bank dedicated to representing middle market clients in restructuring and special situations, both in and out of bankruptcy proceedings. SSG provides its clients with comprehensive advisory services in the areas of mergers and acquisitions, capital raises, financial restructurings and valuations. SSG's professionals have completed over 170 transactions since 2001 and are among the leaders in the industry.