SSG Advises Short Bark Industries, Inc. in the Sale of Substantially All of its Assets to an Affiliate of Point Blank Enterprises, Inc.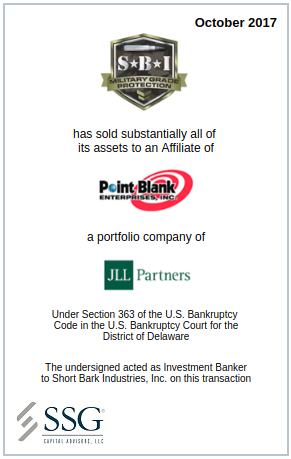 SSG Capital Advisors, LLC ("SSG") acted as the investment banker to Short Bark Industries, Inc. ("Short Bark" or the "Company") in the sale of substantially all of its assets to an affiliate of Point Blank Enterprises, Inc. ("Point Blank"), a portfolio company of JLL Partners. The sale was effectuated through a Chapter 11 Section 363 process in the U.S. Bankruptcy Court for the District of Delaware. The transaction closed in October 2017.
Short Bark is a leading made-in-America supplier and manufacturer of high performance tactical and strategic combat gear as well as uniforms. Headquartered in Vonore, TN with manufacturing facilities in Guánica, Puerto Rico, the Company's end customers include key branches of the U.S. military (Army, Navy and Marines) and global enterprises such as Wal-Mart Stores, Inc.
The Company experienced operating losses and constrained liquidity for a number of years. While Short Bark attempted to rebuild the revenue base and right-size the operating expenses, it wasn't able to do so without a significant new equity infusion. With awarded contracts and a large backlog, Short Bark was positioned well for significant revenue growth and profitability but lacked capital to fund a turnaround.
In order to effectuate a transaction, Short Bark filed for Chapter 11 protection in the District of Delaware in July 2017. SSG conducted a comprehensive marketing process to a wide universe of strategic and financial buyers leading to multiple bids. Point Blank's bid was ultimately deemed the highest and best price for substantially all of the Company's assets after topping the stalking horse bidder at an auction. SSG's experience in identifying buyers and running a thorough sale process enabled stakeholders to maximize value while preserving nearly 500 jobs.
Point Blank is a leading provider of high performance protective solutions, including bullet, fragmentation and stab resistant apparel and related accessories. Through its various brands, Point Blank ranks as the largest global supplier of ballistic and soft armor systems in the world.
JLL Partners is a middle-market private equity firm with a track record of adding value to complex investments through financial and operational expertise. Since its founding in 1988, JLL Partners has committed approximately $4.7 billion across seven funds.
Other professionals who worked on the transaction include:
David M. Klauder and Cory P. Stephenson of Bielli & Klauder, LLC, counsel to Short Bark Industries, Inc.;
Mark T. Iammartino and Pero Ogrizovich of MorrisAnderson & Associates, Ltd., Chief Restructuring Officer and financial advisor to Short Bark Industries, Inc.;
Edward P. Bond of Bederson LLP, Independent Director to Short Bark Industries, Inc.;
Patrick Walsh of Cedar Croft Consulting Ltd., Pre-Petition Chief Restructuring Officer to Short Bark Industries, Inc.;
Morton R. Branzburg and Domenic E. Pacitti of Klehr Harrison Harvey Branzburg LLP, counsel to the senior lender to Short Bark Industries, Inc.;
Andrew J. Gallo, Kevin S. Shmelzer, Barbara J. Shander, James R. Sherwood and Christopher L. Carter of Morgan, Lewis & Bockius LLP, counsel to Point Blank Enterprises, Inc.;
Wojciech F. Jung and Mary E. Seymour of Lowenstein Sandler LLP, co-counsel to the Official Committee of Unsecured Creditors;
Michael Busenkell of Gellert Scali Busenkell & Brown LLC, co-counsel to the Official Committee of Unsecured Creditors; and
Christopher Wu, Richard Mgrdechian and Jeremy de Koe of Teneo Capital LLC, financial advisor to the Official Committee of Unsecured Creditors.