SSG Advises Skinny Water® in the Sale of its Assets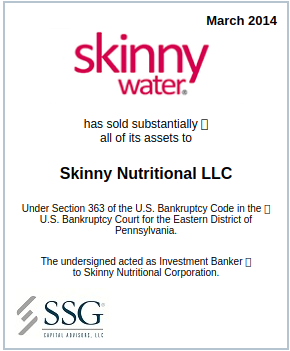 We are pleased to inform you that SSG Capital Advisors, LLC ("SSG") acted as the investment banker to Skinny Nutritional Corporation ("Skinny" or the "Company") in the sale of substantially all of its assets to Skinny Nutritional LLC. The sale was effectuated through a Chapter 11 Section 363 process approved by the Bankruptcy Court and closed in March 2014.
Skinny, founded in 2006, develops, markets, distributes and licenses enhanced beverages under the "Skinny Water" brand. While the product offerings are solely in enhanced water (flavored water with no calories, sugar, carbohydrates or sodium), the Company owns numerous Skinny trademarks in a variety of other healthy beverage and food categories, including teas, smoothies, cocktails, ready-to-drink mixers and snacks. Skinny's products are sold in national and regional retail outlets such as Giant, Acme, Duane Reade and ShopRite, among many others.
Lacking sufficient liquidity to meet growth opportunities, Skinny lost market share because of production and distribution interruptions which resulted in a Chapter 11 filing in May 2013. SSG was retained as Skinny's investment banker to explore a sale of substantially all of the Company's assets. After Skinny Nutritional LLC, a newly formed entity with interest in the beverage space, agreed to be the stalking horse bidder, SSG went to market with a comprehensive marketing process targeting a wide range of potential competing buyers, including multiple strategic and financial parties. Skinny Nutritional LLC's stalking horse offer was ultimately the highest and best price. SSG's experience in running efficient and timely Chapter 11 sales processes enabled key stakeholders to maximize the value of the assets while preserving the Company's operations as a going-concern.
Other professionals who worked on the transaction include:
Edmond George, Michael Vagnoni and Angela Baglanzis of Obermayer Rebmann Maxwell & Hippel LLP, counsel to Skinny Nutritional Corporation;
Jeffrey Hampton, Richard Frazier and Monique Bair DiSabatino of Saul Ewing LLP, counsel to Skinny Nutritional LLC;
Jennifer Maleski and Catherine Pappas of Dilworth Paxson LLP and Roberta Colton of Trenam Kemker, counsel to United Capital Funding Corporation, accounts receivable lender; and
Richard Levy, Jr. of Pyror Cashman LLP, counsel to Trim Capital, LLC, secured lender.