SSG Advises Soft Surroundings in the Sale of Substantially all of its Assets to Coldwater Creek and Gordon Brothers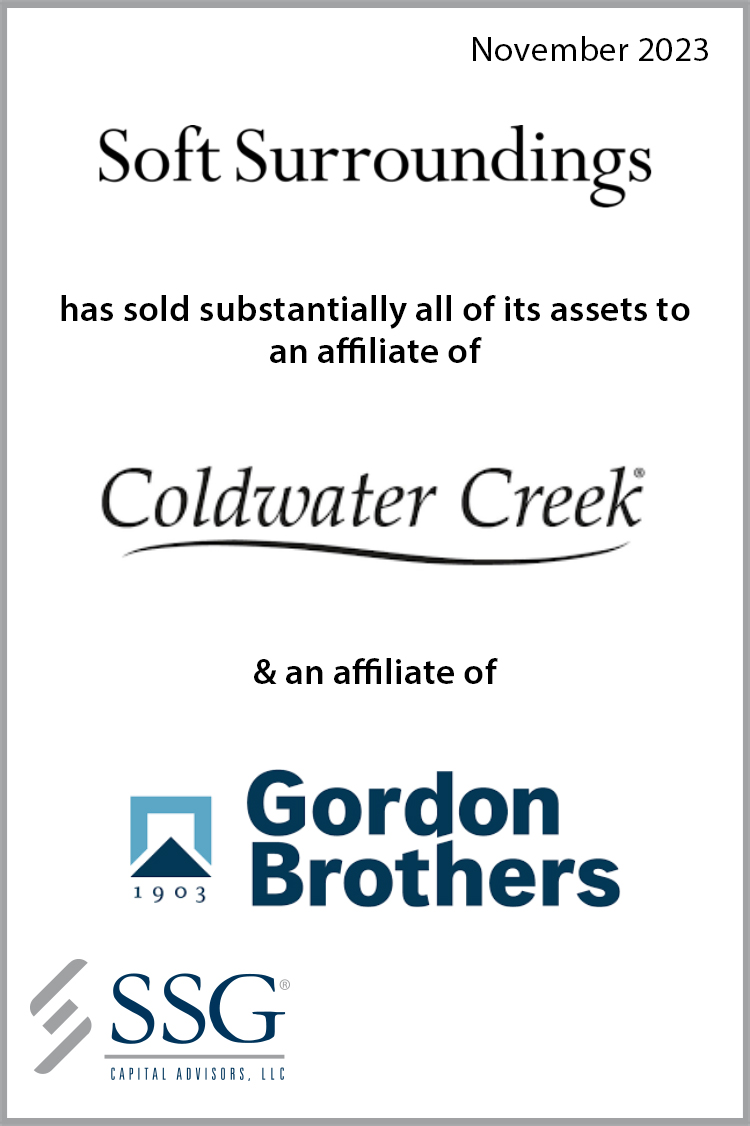 SSG Capital Advisors, LLC ("SSG") served as the investment banker to Soft Surroundings Holdings, LLC ("Soft Surroundings" or the "Company"), in the sale of substantially all of its assets to an affiliate of Coldwater Creek and an affiliate of Gordon Brothers Group ("Gordon Brothers"). The transaction closed in November 2023 pursuant to a Chapter 11 Plan of Reorganization in the U.S. Bankruptcy Court for the Southern District of Texas, Houston Division.
Founded in 1999 and headquartered in St. Louis, Missouri, Soft Surroundings is a prominent lifestyle brand and omni-channel retailer of women's apparel and accessories. The Company's products include branded dresses, tops, pants, shoes, bags, and home goods sold through its catalog, ecommerce platforms and 40+ retail locations. Soft Surroundings offers customers a constantly evolving assortment of curated products, driving repeat traffic and fostering strong customer loyalty.
The Company has had a long history of growth and financial success. However, like many other retailers, macroeconomic conditions and high fixed costs have impacted margins over the last several years. In 2022, the Company, with the support of operational advisors and a new executive management team, implemented a multifaceted cost savings and turnaround strategy that included closing underperforming retail locations and rationalizing the cost structure and inventory. Despite making significant improvements in profitability, a transaction would be needed to address liquidity and continue as a going concern.
SSG was retained in June 2023 to conduct a comprehensive marketing process and solicit interest from targeted strategic and financial investors. The Company also sought interim funding to support the business and closed on a financing facility provided by an affiliate of Gordon Brothers in July 2023. Multiple interested parties submitted offers to acquire all or a portion of the Company's business. Upon review, it was determined that a partnership between Gordon Brothers and a strategic acquirer would maximize value of both the direct-to-consumer business and the brick-and-mortar assets. SSG facilitated an introduction between Coldwater Creek and Gordon Brothers and after several weeks of arm's length negotiations, the parties put forth a solution that garnered the support of the Company's key stakeholders and creditors. In September 2023, the Company entered into a Restructuring Support Agreement ("RSA") and filed for protection under Chapter 11 of the U.S. Bankruptcy Code. The centerpiece of the transaction was the sale and transfer of the direct-to-consumer business to Coldwater Creek and a simultaneous sale of the remaining brick-and-mortar assets to Gordon Brothers for an orderly wind-down. The transaction was effectuated via a plan of reorganization that was confirmed by the Bankruptcy Court and closed in November 2023.
SSG's special situations expertise, significant experience in the consumer products and retail sectors and ability to run a robust marketing process in a highly expedited time frame driven by liquidity constraints, generated multiple alternatives for the Company and a successful outcome. The RSA and ensuing sale resulted in a value maximizing transaction that provided for payment in full of all administrative claims, maintained the Soft Surroundings brand and preserved the Company's online / catalog business as a going concern.
Coldwater Creek is a leading catalog and online retailer of women's apparel, accessories, jewelry and gift items.
Gordon Brothers is a global advisory, restructuring, and investment firm headquartered in Boston, Massachusetts.
Other professionals who worked on the transaction include:
Curt Kroll, Chief Restructuring Officer and William White and Sean Corwen of SierraConstellation Partners, LLC, financial advisor to Soft Surroundings Holdings, LLC;
Cindi M. Giglio, Michael E. Comerford, William B. Freeman, Dilen Kumar, Grace A. Thompson, Robin Evans, Quincy Wolff, Loredana B. Miranda and Constance A. Fratianni of Katten Muchin Rosenman LLP, counsel to Soft Surroundings Holdings, LLC;
Elizabeth Freeman of The Law Office of Liz Freeman, counsel to Soft Surroundings Holdings, LLC;
Ivona Smith of Drivetrain, LLC, Independent Director to Soft Surroundings Holdings, LLC;
Chad B. Simon, James V. Drew, Adele Hogan and Michael J. O'Brien of Otterbourg P.C., counsel to Gordon Brothers Group;
Sean B. Davis and Steffen R. Sowell of Winstead PC, counsel to Gordon Brothers Group;
Steven E. Fox of Riemer & Braunstein LLP, counsel to Gordon Brothers Retail Partners, LLC;
Jeffrey M. Wolf, Nicole S. Lonsway, Brian E. Greer, Shari L. Heyen, Michael T. Maroni and Margaret M. Knudsen of Greenberg Traurig, LLP, counsel to Coldwater Creek;
Eric R. Wilson, Jason R. Adams, Levi M. Downing, Wendy A. Clark, Maeghan J. McLoughlin, Allison Selick, Sean T. Wilson, Bryce T. Brenda, Jamie K. Sarmiento and Steven Yachik of Kelley Drye & Warren LLP, counsel to the Official Committee of Unsecured Creditors;
Derrick Laton, Sanjuro Kietlinski, Paul Navid, Paul Baik, Arthur Almeida, Daniel Radi and Garo Khachikian of Province, LLC, financial advisor to the Official Committee of Unsecured Creditors; and
Brian E. Schartz, Richard U.S. Howell, Mac A. Bank, Max M. Freedman and Claire Stephens of Kirkland & Ellis LLP, counsel to Brentwood Associates and BA-MOLAGERS SPV II, LLC.