SSG Advises Talalay Global in the Sale of Substantially all of its Assets to Artilat NV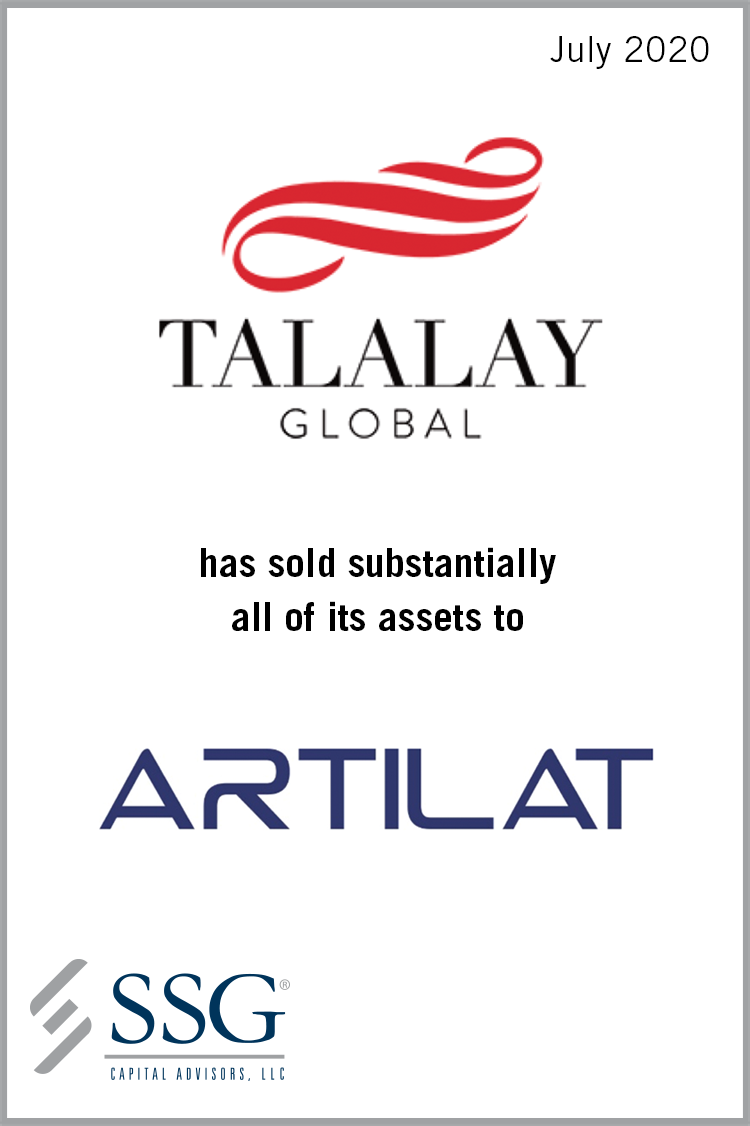 SSG Capital Advisors, LLC ("SSG") acted as the investment banker to Latex Foam International d/b/a Talalay Global ("Talalay Global" or the "Company") in the sale of substantially all of its assets to Artilat NV ("Artilat"). The sale was effectuated through a Chapter 11 Section 363 process in the U.S. Bankruptcy Court for the District of Connecticut. The transaction closed in July 2020.
Headquartered in Shelton, Connecticut, Talalay Global is the largest producer of Talalay latex in the world and the only manufacturer in North America. The Company is known for producing some of the finest latex sleep products across the globe and produces finished and semi-finished goods including mattresses, mattress components, mattress toppers, pillows, and more to provide a comprehensive sleep products portfolio.
After emerging from bankruptcy in 2015 under a plan of reorganization, the Company focused on increasing the sales of its core sleep products portfolio and lowering its overall cost structure. The Company initiated several strategic initiatives beginning in 2017, including hiring a new CEO, appointing three independent directors to its Board, refocusing on the emerging pillows segment and executing a thorough review of its operating process to drive a more efficient operating structure. However, the introduction of "bed-in-a-box" sleep products and the disintermediation of traditional retailers, combined with rising material costs, negatively impacted the sales and profitability of the Company resulting in a second Chapter 11 filing in August 2019.
SSG was retained by Talalay Global in November 2019 to conduct a comprehensive marketing process and solicit offers for the Company. The process attracted significant interest from several domestic and international strategic and financial parties. COVID-19 hit during the middle of the sale process, causing the Company to shut down until June 2020. Despite the shutdown, the sale process was accelerated and SSG was able to source and secure a stalking horse offer from a financial buyer. Several qualified overbids were received, resulting in a robust auction in June 2020 with multiple rounds of bidding. Artilat's highest and best auction bid ultimately provided the best outcome and maximized value for all stakeholders. SSG's industry knowledge and expertise running special situations sale processes enabled the transaction to be consummated on a going-concern basis and preserved hundreds of jobs.
For more than 60 years, Artilat has held a leading position as a European manufacturer of a latex foam products for the global home bedding market. Artilat has sales offices across the globe including Belgium, Czech Republic, Canada, Spain, Portugal, Italy, Greece, China, Korea, Japan, Australia and the United States.
Other professionals who worked on the transaction include:
• Eric A. Henzy, James Berman and John L. Cesaroni of Zeisler & Zeisler, P.C., bankruptcy counsel to Talalay Global;
• Michael Grundei of Wiggin and Dana LLP, corporate counsel to Talalay Global;
• Brian L. Davies, Jr., Jim Calandra, Adam Brissette and David Rychalsky of Capstone Headwaters, financial advisor to Talalay Global;
• Joseph Lubertazzi, Jr. and Joseph J. Cherico of McCarter & English, LLP, counsel to the secured lender;
• Michael E. Baum of Schafer & Weiner, PLLC, counsel for the Creditors Trust;
• Wojciech F. Jung of Lowenstein Sandler LLP and Irve J. Goldman of Pullman & Comley LLC, counsel to the Official Committee of Unsecured Creditors;
• Steven J. Fleming, Stephen T. Hammond and Mason Klement of PricewaterhouseCoopers LLP, financial advisor to the Official Committee of Unsecured Creditors;
• Charles T. Hagan III and J. Alexander S. Barrett of Hagan Barrett PLLC, corporate counsel to Artilat NV; and
• Kristin B. Mayhew of McElroy, Deutsch, Mulvaney & Carpenter LLP, bankruptcy counsel to Artilat NV.