SSG Advises The Robert Allen Duralee Group in the Sale of Substantially all of its Assets to RADG Holdings, LLC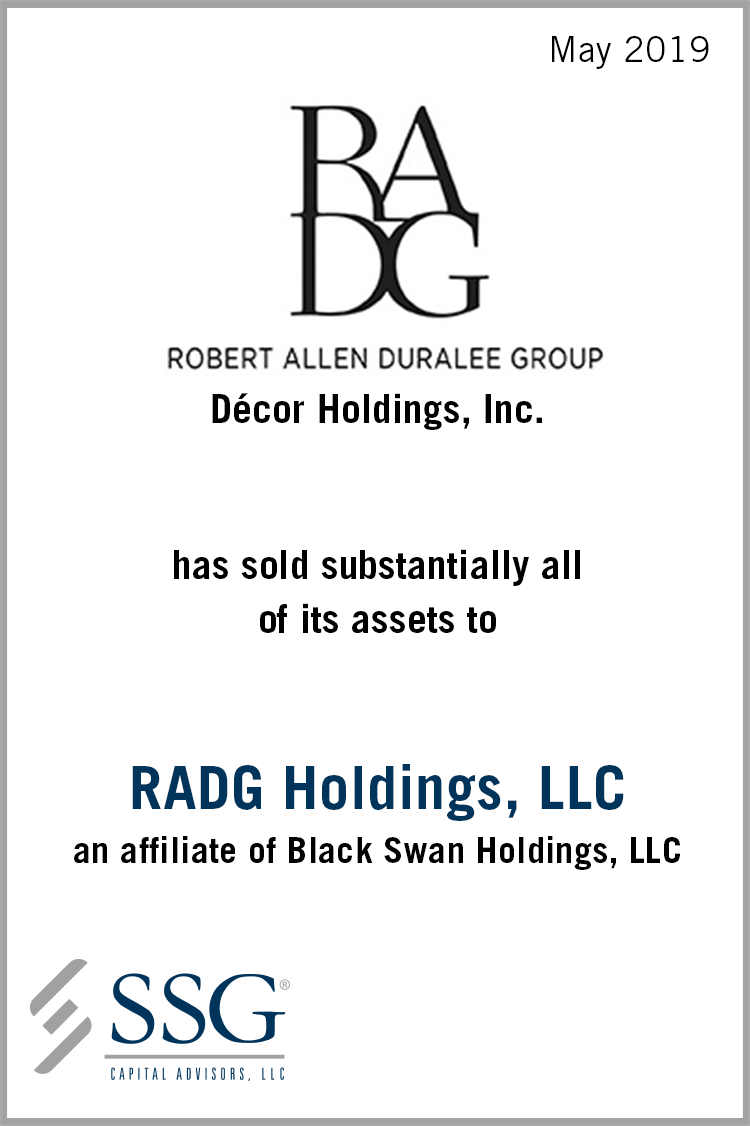 SSG Capital Advisors, LLC ("SSG") acted as the investment banker to Décor Holdings, Inc., dba The Robert Allen Duralee Group ("RAD Group" or the "Company") in the sale of substantially all of its assets to RADG Holdings, LLC, an affiliate of Black Swan Holdings, LLC. The sale was effectuated through a Chapter 11 Section 363 process in the U.S. Bankruptcy Court for the Eastern District of New York. The transaction closed in May 2019.
Headquartered in Hauppauge, New York, RAD Group is the second largest supplier of decorative fabrics and furniture to the design industry in the United States. The Company designs, manufactures and sells decorative fabrics, wall coverings, trimmings, upholstered furniture, drapery hardware and accessories for both residential and commercial applications.
RAD Group was created by the 2017 merger of Duralee Fabrics and The Robert Allen Group to achieve economies of scale and enhance competitive advantage. The Company experienced post-merger challenges including systems integration issues which negatively affected sales and failed to achieve the targeted cost reduction potential. RAD Group also suffered from a fundamental shift in demand in the custom home furnishings market which reduced sales industry-wide. Faced with a significant drop in revenue and post-merger challenges, RAD Group filed for Chapter 11 bankruptcy protection in February 2019 in the Eastern District of New York.
SSG was retained by the RAD Group to conduct a comprehensive marketing process and solicit offers from strategic and financial buyers. The stalking horse bid submitted by RADG Holdings, LLC was determined to be the highest and best price for substantially all of the Company's assets. SSG's industry knowledge and experience running efficient Chapter 11 sale processes enabled the Company to maximize the value of its assets and emerge from bankruptcy promptly as a going-concern.
Black Swan Holdings, LLC, is a management company based in Knoxville, Tennessee, with a portfolio of middle market companies.
Other professionals who worked on the transaction include:
• Timothy D. Boates, Timothy M. Puopolo, Robert J. Tetreault, Michael J. Rizzo of RAS Management Advisors, LLC, Chief Restructuring Officer and Financial Advisor to Décor Holdings, LLC;
• Mark T. Power, Don D. Grubman, Janine M. Figueiredo, Alison M. Ladd, Jeremiah Ledwidge, Jacob T. Schwartz and Jessica F. Wang of Hahn & Hessen LLP, counsel to Décor Holdings, LLC;
• Jonathan N. Helfat and Daniel F. Fiorillo of Otterbourg, P.C., counsel to the senior secured lenders;
• Schuyler G. Carroll of Perkins Coie LLP, counsel to the Official Committee of Unsecured Creditors;
• Walter N. Winchester of Winchester, Sellers, Foster & Steele, P.C., counsel to RADG Holdings, LLC; and
• Heidi J. Sorvino of White and Williams LLP, counsel to RADG Holdings, LLC.