SSG advises Thompson Publishing Holding Co., Inc. in the sale of substantially all of its assets to its Senior Lender Syndicate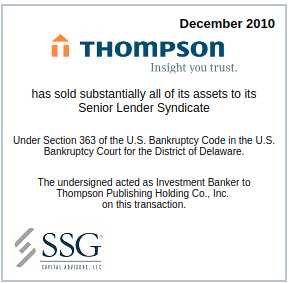 We are pleased to inform you that SSG Capital Advisors, LLC ("SSG") acted as the investment banker to Thompson Publishing Holding Co., Inc. ("Thompson") in the sale of substantially all of its assets to its Senior Lender Syndicate. The sale was conducted through a Section 363 auction under the United States Bankruptcy Code in the U.S. Bankruptcy Court for the District of Delaware. The sale was confirmed on November 19, 2010 and the transaction closed on December 23, 2010.
Thompson is a leading, value-added publisher of subscription-based regulatory, compliance and healthcare information in the United States. Thompson provides high-quality information on complex industry regulations to institutional clients. Customers rely on Thompson to provide differentiated topical insight that is unavailable from other sources. Thompson also provides executive-level conferences, interactive training programs, strategic consulting, and in-house training services for government employees. Through its four business units, Thompson serves a wide variety of professionals, including those in healthcare, financial services, education, legal, human resources, and government. With numerous products and services offered through a wide array of delivery channels, Thompson has a large, loyal customer base who exhibit high renewal rates.
With the recent economic downturn affecting Thompson's business units and the lack of major new regulations during the transition between the Bush and Obama Administrations, Thompson's operational and financial performance deteriorated. As a result, Thompson experienced a lack of liquidity and the acceleration of some of the Company's outstanding debt. SSG was retained by Thompson in June 2010 to explore strategic alternatives, including the sale of substantially all of Thompson's assets. In September 2010, Thompson filed for bankruptcy protection under Chapter 11 of the United States Bankruptcy Code in the District of Delaware and entered into an asset purchase agreement with the Senior Lender Syndicate as the stalking horse bidder. During Thompson's Chapter 11 proceedings, SSG re-marketed Thompson to a wide range of strategic and financial parties, ultimately effectuating the sale of substantially all of the assets to its Senior Lender Syndicate.
Other professionals who worked on the transaction include:
James J. Loughlin, Jr., Kevin T. Shea, Adam S. Levy, Diana Lee of Loughlin Meghji + Company, restructuring advisor to Thompson;
John F. Ventola, Lisa E. Herrington, Jolie M. Siegel, Sean M. Monahan and Michelle Maloney Friend of Choate Hall & Stewart, LLP, counsel to Thompson;
Derek C. Abbott, Chad A. Fights and Alissa T. Gazze of Morris Nichols Arsht & Tunnell, LLP, Delaware counsel to Thompson;
Bonnie Glantz Fatell and Regina Stango Kelbon of Blank Rome LLP, counsel to the Senior Lender Syndicate; and
Sean M. Cunningham and David Quackenbush of Capstone Advisory Group, LLC, financial advisor to the Senior Lender Syndicate.
About SSG Capital Advisors, LLC SSG is a leading boutique investment bank dedicated to representing middle market clients in restructuring and special situations, both in and out of bankruptcy proceedings. SSG provides its clients with comprehensive advisory services in the areas of mergers and acquisitions, financial advisory, capital raises, financial restructurings and valuations. SSG has completed over 170 transactions since 2001 and is among the leaders in the industry.