SSG advises Townsends, Inc. in the sale of all of its operations to Peco Foods, Inc. and Omtron, Ltd.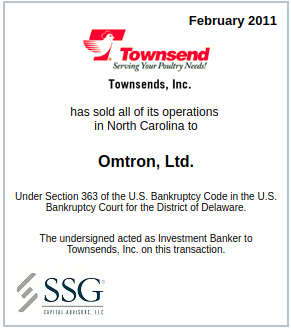 We are pleased to inform you that SSG Capital Advisors, LLC ("SSG") acted as the exclusive investment banker to Townsends, Inc. ("Townsends" or the "Company") in the sale of its Arkansas operations to Peco Foods, Inc. and the sale of its North Carolina operations to Omtron, Ltd. The sale was conducted through a Section 363 auction under the U.S. Bankruptcy Code in the U.S. Bankruptcy Court for the District of Delaware. The sale was confirmed on February 17, 2011 and the transaction closed on February 25, 2011.
Townsends is a fully-integrated, large bird poultry processor that sold nearly 700 million pounds of poultry products and generated approximately $500 million in revenue during 2010. From its corporate headquarters in Georgetown, DE and processing facilities in Batesville, AR and Siler City, Mocksville and Pittsboro, NC, the Company serves its domestic and international customer base in several niche market segments such as antibiotic-free, organic, ethnic, par-fried and fully cooked poultry lines. Townsends' products are sold under the following brand names: Chef's Select, Perfect Breast, Pristine Cuisine, Ruby Dragon, Speedy Bird and Townsend.
The Company performed profitably for much of 2010 as a new management team implemented a comprehensive operational improvement program. However, beginning in the summer of 2010 the prices of corn and soybean, which are the main inputs used for chicken feed, rose dramatically including an almost 100% increase in the price of corn from July 2010 to February 2011. In addition, industry overcapacity precluded any pass-through of these higher input costs to customers. The Company's margins deteriorated along with the rest of the poultry industry and as a result, Townsends filed for relief under Chapter 11 in the U.S. Bankruptcy Court for the District of Delaware on December 19, 2010.
During Townsends' Chapter 11 proceeding, SSG marketed the Company to a wide range of domestic and foreign strategic buyers as well as financial buyers. SSG delivered a stalking horse bidder for the Arkansas operations and produced multiple bidders for both the Arkansas and North Carolina operations, including two large foreign strategic buyers, culminating in an all-night 363 auction with robust bidding. Peco Foods, Inc., a domestic competitor, acquired the Company's Arkansas operations and Omtron, Ltd., an affiliate of a Ukrainian agricultural conglomerate, acquired the Company's North Carolina operations. The combined final purchase price of just over $76 million was approximately $30 million in excess of the stalking horse bid. The transaction closed on February 25, 2011 and over 3000 jobs in Arkansas, North Carolina and Delaware were preserved.
Other professionals who worked on the transaction include:
Derek C. Abbott, Annie C. Cordo, Chad A. Fights and Alissa T. Gazze of Morris Nichols Arsht & Tunnell, LLP, bankruptcy counsel to Townsends;
Wayne N. Bradley and Jeffrey C. Phillips of McKenna Long & Aldridge, LLP, corporate counsel to Townsends;
Dalton T. Edgecomb, Brian S. Buebel and Alexandra Mahnken of Huron Consulting Group, restructuring advisor to Townsends;
Diane E. Vuocolo, Joseph P. (Jody) Davis, III, Kevin P. Ray, Dennis A. Meloro, Rachel Kipnes, David DeVito and Phillip A. Pillar of Greenberg Traurig, LLP, counsel to the Senior Lender Syndicate;
Bruce D. Beuchler, Jeffrey D. Prol, Bruce S. Nathan and Timothy R. Wheeler of Lowenstein Sandler P.C., counsel to the Unsecured Creditors Committee;
Thomas M. Horan and Steven K. Kortanek of Womble Carlyle Sandridge & Rice LLC, Delaware counsel to the Unsecured Creditors Committee;
Howard Konicov, Clifford A. Zucker and Roberta Probber of J.H. Cohn LLP, Financial Advisor to the Unsecured Creditors Committee;
Mark D. Collins and Christopher M. Samis of Richards, Layton & Finger, P.A., Delaware counsel to Peco Foods, Inc.;
Walter S. Weems and James A. McCullough, II of Brunini, Grantham, Grower & Hewes, counsel to Peco Foods, Inc.; and
Raymond H. Lemisch, Julie M. Price and Michael J. Barrie of Benesch, Friedlander, Coplan & Aronoff LLP, counsel to Omtron Ltd.
About SSG Capital Advisors, LLC SSG Capital Advisors, LLC ("SSG") is a nationally recognized boutique investment bank that assists middle market companies, as well as their stakeholders, complete special situation transactions. As a specialist in mergers and acquisitions, financial advisory, capital raises, financial restructurings and complex valuations, we offer the expertise our clients need in today's complex and fast-moving financial markets. As an independent firm with a clear focus, we offer the personal attention of our senior partners, entrepreneurial spirit, and agility in the marketplace that middle-market businesses expect. Since 2001, SSG has successfully completed over 170 special situation investment banking assignments on behalf of clients in North America and Europe.