SSG advises Trade Secret, Inc. in the sale of substantially all of its assets to Pure Beauty Salons & Boutiques, Inc. and BeautyFirst Franchise Corp.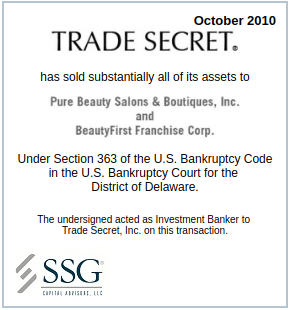 We are pleased to announce that SSG Capital Advisors, LLC ("SSG") acted as the exclusive investment banker to Trade Secret, Inc. ("Trade Secret" or the "Company") in its sale to Pure Beauty Salons & Boutiques, Inc. and BeautyFirst Franchise Corp. pursuant to Section 363 of the United States Bankruptcy Code in the U.S. Bankruptcy Court for the District of Delaware. The sale was approved on September 16, 2010 and the transaction closed on October 11, 2010.
Trade Secret is a leading operator of beauty salons throughout the United States and Puerto Rico. Prior to filing for Chapter 11, the Company operated nearly 612 beauty salons in shopping malls and strip centers. Trade Secret salons are designed to emphasize the sale of hair care and beauty products in a retail setting while providing high quality hair care services. The Company's salons offer one of the most comprehensive assortments of hair and beauty products in the industry as well as a full range of custom styling, cutting and hair coloring services. All stores sell a wide selection of professional hair care, skincare, cosmetics and sundry beauty products. Trade Secret consists of stores operating under four trade names: Trade Secret, Beauty Express, BeautyFirst and PureBeauty. For more information on Trade Secret, visit the Company's websites at at www.tradesecret.com, www.beautyfirst.com and www.purebeauty.com.
The transaction was supported by Regis Corporation ("Regis"), the Company's secured creditor, whose claims were assumed by the buyer. Regis operates hairstyling and hair care salons in the United States and around the world under the following brands: Regis Salons, Supercuts, MasterCuts, SmartStyle, Cost Cutters, Hair Masters, First Choice Haircutters, Magicuts and Hair Club.
SSG's deep relationships with potential strategic and financial buyers helped ensure a rigorous sale process and maximize recoveries to all key stakeholders. If you would like to learn more about SSG or would like to inquire about the Trade Secret transaction, please contact one of the SSG deal team members.
Other professionals who worked on the transaction include:
James L. Patton, Jr., Joseph M. Barry, Kenneth J. Enos, Ryan M. Bartley and Andrew L. Magaziner of Young, Conaway, Stargatt & Taylor, bankruptcy counsel to Trade Secret;
Rob von der Porten and Jim Cooke of Stoney Bridge Partners, restructuring advisor to Trade Secret;
Cathy R. Hershcopf, Jay R. Indyke, Michael A. Klein, Lesley A. Kroupa and Alex Velinsky of Cooley LLP, counsel to the Unsecured Creditors' Committee;
Kenneth A. Simon, Daniel O'Brien, Jesse Millner and Seth Kirner of Loughlin Meghji + Company, financial advisors to the Unsecured Creditors' Committee; and
Michael L. Meyer of Ravich Meyer Kirkman McGrath Nauman & Tansey, counsel to Regis Corporation
About SSG Capital Advisors, LLC
SSG is a leading boutique investment bank dedicated to representing middle market clients in restructuring and special situations, both in and out of bankruptcy proceedings. SSG provides its clients with comprehensive advisory services in the areas of mergers and acquisitions, capital raises, financial restructurings and valuations. SSG's professionals have completed over 170 transactions since 2001 and are among the leaders in the industry.
SSG Capital Advisors, LLC (Member FINRA, SIPC) is a wholly owned broker dealer of SSG Holdings, LLC. SSG is a trade name for SSG Capital Advisors, LLC. SSG provides investment banking, restructuring advisory, merger, acquisition and divestiture services, private placement services and valuation opinions. Past performance is no guarantee of future results.