SSG Advises Tri-Wire Engineering Solutions, Inc. in the Sale of Substantially all of its Assets to ITG Communications, LLC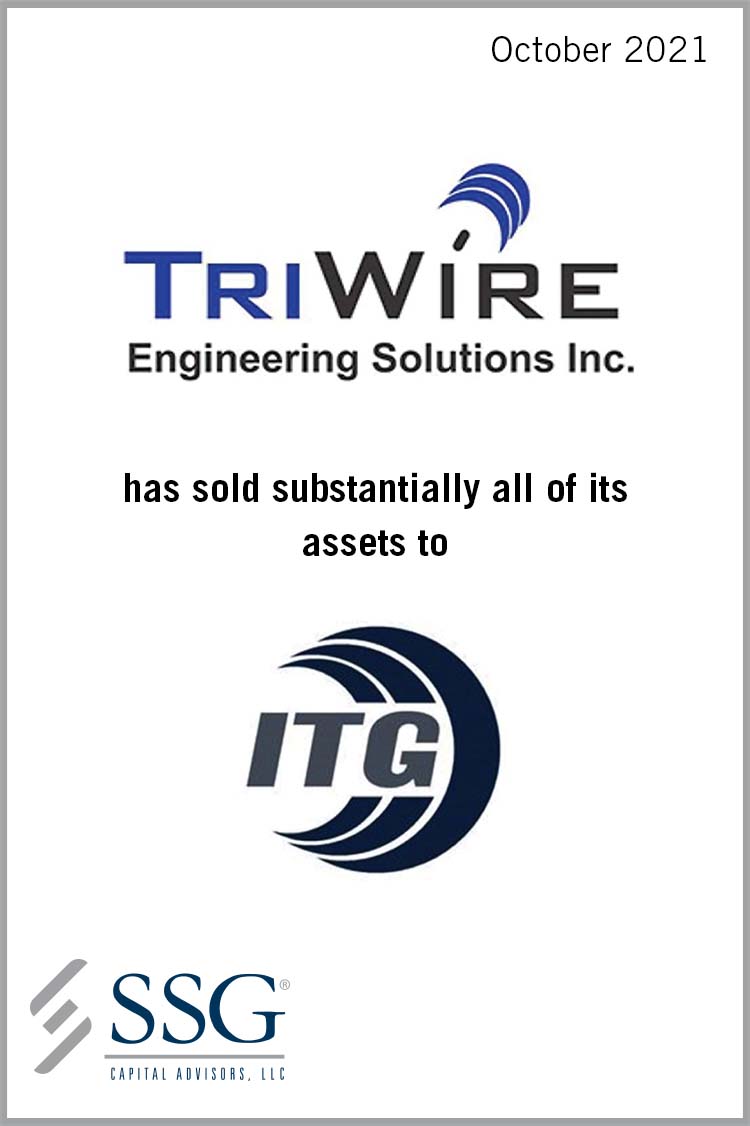 SSG Capital Advisors, LLC ("SSG") acted as the investment banker to Tri-Wire Engineering Solutions, Inc., ("Tri-Wire" or the "Company") in the sale of substantially all of its assets to ITG Communications, LLC ("ITG"). The sale was effectuated through a Chapter 11 Section 363 process in the U.S. Bankruptcy Court for the District of Massachusetts (Eastern Division). The transaction closed in October 2021.
Tri-Wire is one of the largest independent providers of consumer broadband installation and maintenance for large cable operators. The Company's skilled technicians operate in 13 competitive regions throughout the Northeastern and Mid-Atlantic United States. The Company leveraged its large base of technical services talent to expand into fiber construction, fiber-to-the-home ("FTTH"), and enterprise services.
For over twenty years, Tri-Wire successfully met its financial and growth targets. However, shortly after the completion of an ESOP transaction, the Company experienced operational and working capital issues, as well as unforeseen legal expenses. A new senior management team was brought in to accelerate the Company's strategic vision, expand its market position, and focus on communication services with higher margins and recurring revenues. Despite strong consumer demand for faster internet and fiber optic services, including new installation requests as consumers worked from home or relocated during the lockdown, revenue decreased as larger multiple-system operators restricted installation services and delayed buildouts of new FTTH networks during the COVID-19 pandemic.
SSG was retained in July 2021 to conduct an expedited marketing process and solicit interest from both strategic and financial buyers. The marketing efforts resulted in several offers, with the bid from ITG ultimately determined to be the highest and best offer for substantially all of the Company's assets. The Company filed for Chapter 11 protection in the District of Massachusetts (Eastern Division) in September 2021 with ITG as the proposed stalking horse purchaser. While several parties conducted extensive due diligence up until the bid deadline, ultimately no competing bids were received and the sale to ITG was approved by the bankruptcy court and closed in October 2021. SSG's extensive experience managing the competing priorities of multiple key stakeholders while effectuating accelerated transactions in Chapter 11 resulted in a process that maximized value, preserved hundreds of jobs and enabled thousands of cable customers to continue service without interruption.
ITG Communications, LLC, headquartered in Hendersonville, Tennessee is a national provider of fulfillment, construction and project management services to the cable and telecommunications industries.
Other professionals who worked on the transaction include:
Michael J. Goldberg, A. Davis Whitesell, Michael F. Zullas and Hanna J. Ciechanowski of Casner & Edwards, LLP, counsel to Tri-Wire Engineering Solutions, Inc.;
Robert A. Kuhn, Mark D. Podgainy and Charvi Gupta of Getzler Henrich & Associates LLC, financial advisor to Tri-Wire Engineering Solutions, Inc.;
Jonathan Motley of Safford Motley PLC, counsel to ITG Communications, LLC;
James F. Wallack and Timothy J. Carter of Goulston & Storrs PC, counsel to ITG Communications, LLC;
William J. Hanlon of Seyfarth Shaw LLP, counsel to the senior secured lender; and
Jeffrey D. Sternklar of Jeffrey D. Sternklar, LLC, counsel to the Unsecured Creditors Committee.