SSG Advises True Health Diagnostics in the Sale of Select Assets to Cleveland HeartLab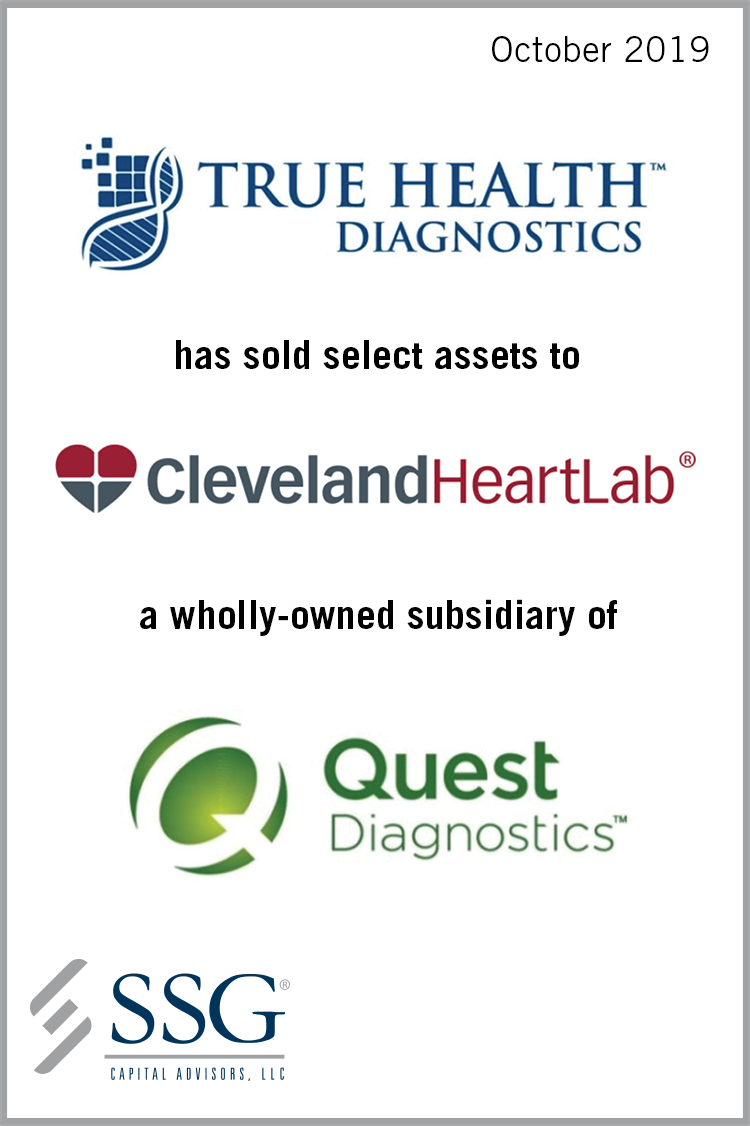 SSG Capital Advisors, LLC ("SSG") acted as the investment banker to THG Holdings LLC ("True Health" or the "Company") in the sale of select assets to Cleveland HeartLab, a wholly-owned subsidiary of Quest Diagnostics ("Quest"). The sale was effectuated through a Chapter 11 Section 363 process in the U.S. Bankruptcy Court for the District of Delaware. The transaction closed in October 2019.
True Health is a laboratory provider of diagnostic and disease management solutions. Headquartered in Frisco, Texas and with operations in Richmond, Virginia, True Health provides nationwide diagnostic testing services through a network of primary care physicians. The Company delivers high clinical value to the medical community through scientific and product innovation by leveraging its unique patient-centric care model to engage patients in their own health management. Starting with a clinical focus on chronic diseases, True Health's comprehensive testing for biomarkers can indicate risks for chronic diseases earlier than traditional tests. The company offers more than 400 tests and has handled over 1.5 million patient samples.
Starting in June 2017, True Health became subject to a series of payment suspensions from the Centers for Medicare & Medicaid Services ("CMS"). The withheld Medicare reimbursements accounted for a large portion of the Company's business, and without this source of revenue, the Company had to absorb continuing financial losses. By June 2019, the Company was facing severe liquidity constraints imposed by the CMS suspensions and was forced to seek relief under Chapter 11.
After evaluating strategic alternatives, SSG was retained to conduct an expedited marketing process and solicit offers from potential strategic and financial parties. Through extensive diligence and discussion with interested parties, Quest's bid for select assets of the business was determined to provide the best recovery for the Company.
SSG's healthcare industry expertise, experience in identifying buyers, and running an accelerated sale process enabled stakeholders to maximize value.
Quest Diagnostics (NYSE:DGX) is a leader in diagnostic services for cardiovascular and metabolic disorders and provides services across the United States and internationally.
Other professionals who worked on the transaction include:
• Clifford A. Zucker, Jennifer Byrne, and Blake Lueder of FTI Consulting, Inc., Chief Restructuring Officer and financial advisor to THG Holdings LLC;
• Derek C. Abbott, Curtis S. Miller, Daniel B. Butz, Paige N. Topper, and Tamara K. Mann of Morris, Nichols, Arsht & Tunnell, LLP, bankruptcy counsel to THG Holdings LLC;
• Charles A. Dale of Proskauer Rose LLP, counsel to the secured lenders;
• Jeffrey S. Sabin of Venable LLP, counsel to the equity sponsor;
• Richard Kanowitz, Evan Lazerowitz, and Cullen Drescher Speckhart of Cooley LLP, counsel to the Official Committee of Unsecured Creditors;
• Eric M. Sutty and Rafael X. Zahralddin-Aravena, of Elliot GreenLeaf, P.C., counsel to the Official Committee of Unsecured Creditors;
• Wayne P. Weitz, Susan Smith, and Adam Lampert of GlassRatner Advisory & Capital Group LLC, financial advisor to the Official Committee of Unsecured Creditors; and
• Jessica Liou, Michael E. Lubowitz, and Hayden Guthrie of Weil, Gotshal & Manges LLP, counsel to Quest Diagnostics.