SSG Advises True Textiles, Inc. in its Sale to Duvaltex, Inc., the Holding Company which also owns Victor Textiles, Inc.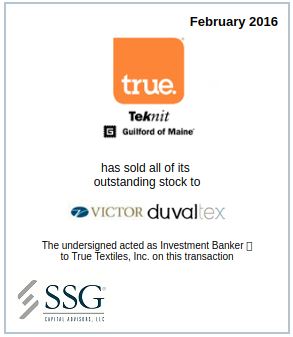 SSG Capital Advisors, LLC ("SSG") acted as the investment banker to True Textiles, Inc. ("True Textiles" or the "Company") in the sale of all of its outstanding stock to Duvaltex, Inc. ("Duvaltex"). The transaction closed in February 2016.
True Textiles, Inc. is a leading designer and manufacturer of proprietary, custom and open line contract textiles. With roots tracing back over 150 years, the Company has one of the most recognized names in the industry and is one of the few U.S. mills that is vertically integrated and capable of internally designing and producing its yarns and fabrics from start to finish.
The Company is a market leader in the sale of innovative fabrics for the office market and also has established a presence in the healthcare, education, hospitality, congregational and other high-traffic institutional environments. Products include aesthetically beautiful, high performing textiles for vertical surfaces such as office systems furniture, acoustic wall panels, cubicle/privacy curtains, wall coverings and upholstery seating as well as other specialty applications. The Company goes to market under three brands: True Textiles, Guilford of Maine and Teknit. True Textiles is headquartered in Grand Rapids, MI and also has operations in Guilford, ME; Elkin, NC and New York, NY.
True Textiles had been private equity owned for several years and the owners were seeking an exit. SSG was retained to leverage its deal experience in the textile industry to run a comprehensive and global sale process.
Duvaltex is a Quebec-based holding company which owns Victor Textiles, Inc., a leading North America-based textile company specializing in sustainable and innovative fabrics designed for the corporate, healthcare, apparel, and specialty markets. As a result of this acquisition, Duvaltex becomes the largest manufacturer of commercial or contract interior fabrics in the U.S. and Canada.
Other professionals who worked on the transaction include:
Barbara J. Shander, Mark L. Opitz, David A. Gerson, Christopher B. Amandes and James R. Sherwood of Morgan, Lewis & Bockius, LLP, counsel to True Textiles, Inc.;
Jawad H. Salah of Klehr Harrison Harvey Branzburg, LLP, real estate counsel to True Textiles, Inc.; and
Andrew Croxford and David E. Suprenant of Mirick, O'Connell, DeMallie & Lougee, LLP, counsel to Duvaltex, Inc.