SSG Advises U.S. Tobacco Cooperative in Chapter 11 Reorganization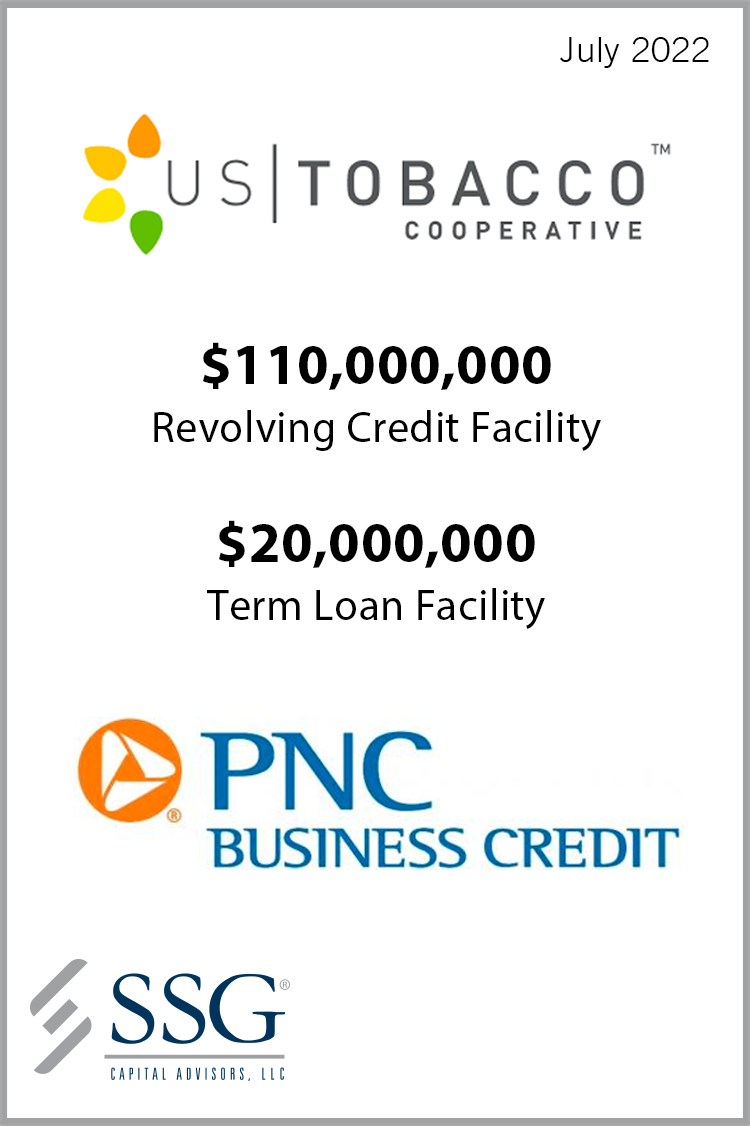 SSG Advisors, LLC ("SSG") acted as the investment banker to U.S. Tobacco Cooperative Inc. and its affiliates (collectively "USTC" or the "Cooperative") in the placement of exit financing pursuant to a confirmed Chapter 11 Plan of Reorganization (the "Plan") in the U.S. Bankruptcy Court for the District of North Carolina, Raleigh Division. The Plan was confirmed and subsequently became effective in July 2022.
Founded in 1946 and headquartered in Raleigh, North Carolina, USTC is a flue-cured tobacco processor, manufacturer and wholesale distributor of processed tobacco leaf, cigarettes and byproducts to domestic and international cigarette manufacturers. The Cooperative is grower-owned and is comprised of 550+ tobacco farmers located in the Southeastern United States and ably led by Oscar House, Chief Executive Officer, and Keith Merrick, Chief Financial Officer.
The Cooperative had a long history of strong profitability and financial performance. In pursuing its mission to serve the interests of its member-growers, the Cooperative played an important role from 1946 to 2004 in administering the Tobacco Price Support Program ("TPSP"). The TPSP offered a combination of marketing quotas and nonrecourse loans designed to support and stabilize prices for farmers. In 2004, the Fair and Equitable Tobacco Reform Act ended all aspects of the federal tobacco marketing quota and price support loan programs that provided USTC and other producers payments under the Tobacco Transition Payment Program, and instead granted one-time lump-sum payments to participants. On July 7, 2021, USTC filed for Chapter 11 bankruptcy protection after an adverse court ruling in a North Carolina class action lawsuit led USTC's lenders to freeze the Cooperative's credit line, and to permit USTC to meet its contractual obligations to its member-growers. The Chapter 11 filing provided USTC the best path forward to meet its short-term obligations, negotiate with class action litigants and prepare for the future. The class action litigation was settled after extensive mediation efforts.
SSG was retained in August 2021 to advise the Cooperative on strategic alternatives and to identify financing partners who could provide USTC with the capital to support its Plan and successfully emerge from bankruptcy. After an extensive marketing process resulting in multiple term sheets, USTC ultimately selected PNC Business Credit to provide a new $130 million exit financing package. SSG's ability to generate interest from lenders in an efficient and timely process and its experience with refinancing enabled the Cooperative to maximize loan availability, preserve jobs, maintain the loyalty of vendors and customers, and exit bankruptcy. SSG worked with management, counsel, and BDO USA, LLP to create an extraordinary result for all constituents with all creditors in all classes paid in full.
PNC is a commercial bank based in Pittsburgh, Pennsylvania, offering personal, business and institutional banking services.
Other professionals who worked on the transaction include:
Mark E. Felger, Simon E. Fraser, David R. Doyle and Christina Sanfelippo of Cozen O'Connor, counsel to U.S. Tobacco Cooperative Inc.;
Baker A. Smith, Jamie Schwarz and Anthony Del Piano of BDO USA, LLP, financial advisor to U.S. Tobacco Cooperative Inc.;
Jason L. Hendren, Rebecca F. Redwine, and Benjamin E.F.B. Waller of Hendren Redwine & Malone, PLLC, counsel to U.S. Tobacco Cooperative Inc.;
Lee M. Whitman and Benjamin N. Thompson of Wyrick Robbins, counsel to U.S. Tobacco Cooperative Inc.;
Bart A. Norman and Philip W. Romohr of Smith Anderson, counsel to U.S. Tobacco Cooperative Inc; and
Kevin M. O'Malley, Regina S. Kelbon, Morgan E. Landy and Victoria A. Guilfoyle of Blank Rome LLP, counsel to PNC Business Credit.