SSG Advises Unilife Corporation in the Sale of its Assets to OrbiMed and Amgen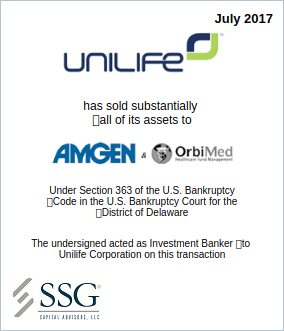 SSG Capital Advisors, LLC ("SSG") acted as the investment banker to Unilife Corporation (Nasdaq:UNIS) ("Unilife" or the "Company") in the sale of substantially all of its assets to UNL Holdings LLC, an affiliate of OrbiMed Advisors LLC ("OrbiMed"), and Amgen Inc. (Nasdaq: AMGN) ("Amgen"). The sale was effectuated through a Chapter 11 Section 363 process in the U.S. Bankruptcy Court for the District of Delaware. The transaction closed in July 2017.
Unilife designs, manufacturers and supplies innovative injectable drug delivery systems for multi-national customers with large molecule drugs. The Company's devices can enhance and differentiate the injectable therapies of its pharmaceutical and biotechnology customers through their innovative features and design functionality to optimize the safe, simple and convenient administration of injectable therapies.
In 2016, Unilife began focusing exclusively on active and new customer programs in its portfolio of wearable injector systems. The strategic shift was predicated on the number of new generation, large molecule drugs being actively developed by numerous large pharmaceutical and biotechnology companies around the world. The Company deployed significant capital on research and development to create customized devices for its customers. However, as a result of the devices not yet being commercially available, revenue was limited causing tightened liquidity. Unilife then implemented significant cost reduction initiatives to decrease additional cash burn necessary to reach commercialization. SSG was retained in August 2016 to attempt to raise capital and to restructure the Company's balance sheet. As that process played out, it became apparent that a restructuring was not feasible.
As a result, Unilife filed for Chapter 11 protection in the District of Delaware in April 2017. SSG expeditiously conducted a comprehensive marketing process, which resulted in a broad range of interest primarily from strategic parties. Credit bids from OrbiMed and Amgen on different subsets of collateral were ultimately determined to be the highest and best offers for substantially all of the Company's assets.
OrbiMed is a leading investment firm focused on the healthcare sector. OrbiMed invests globally across the spectrum of healthcare companies, from venture capital start-ups to large multinational companies, utilizing a range of investment vehicles.
Amgen is a leading biotechnology company that discovers, develops, manufacturers and delivers human therapeutics worldwide for patients with serious illnesses. Amgen offers products for treatment of illnesses in the areas of oncology, hematology, cardiovascular, inflammation, bone health, nephrology and neuroscience.
Other professionals who worked on the transaction include:
Mark E. Felger, Erik Schmidt, Eric L. Scherling and Keith L. Kleiman of Cozen O'Connor P.C., co-counsel to Unilife Corporation;
Richard A. Silfen and Chad J. Rubin of Duane Morris LLP, co-counsel to Unilife Corporation;
Jeffrey H. Davidson, Debra Grassgreen, Bradford J. Sandler and David J. Barton of Pachulski Stang Ziehl & Jones LLP, counsel to OrbiMed Advisors LLC;
James M. Wilton, Richard D. Batchelder, Jr., Patricia I. Chen and Alice Y. Lee of Ropes & Gray LLP, co-counsel to Amgen Inc.;
Norman L. Pernick of Cole Schotz P.C., co-counsel to Amgen Inc;
Erin R. Fay and Justin R. Alberto of Bayard, P.A., counsel to Hikma Pharmaceuticals LLC;
Stuart Brown of DLA Piper LLP, counsel to Sanofi Winthrop Industrie S.A.;
Gerald C. Bender and Barry Z. Bazian of Lowenstein Sandler LLP, co-counsel to the Official Committee of Unsecured Creditors; and
Richard A. Barkasy of Schnader Harrison Segal & Lewis LLP, co-counsel to the Official Committee of Unsecured Creditors.