SSG Advises United Road Towing, Inc. in the Sale of Substantially all of its Assets to an Affiliate of Medley Capital Corporation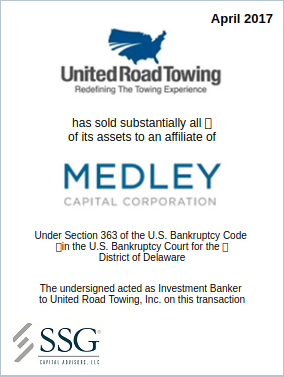 SSG Capital Advisors, LLC ("SSG") acted as the investment banker to United Road Towing, Inc. ("URT" or the "Company") in the sale of substantially all of its assets to an affiliate of Medley Capital Corporation ("Medley"). The sale was effectuated through a Chapter 11 Section 363 process in the U.S. Bankruptcy Court for the District of Delaware. The transaction closed in April 2017.
URT is the largest national provider of comprehensive vehicle management solutions. The Company is a leader in towing, recovery, impound and vehicle management solutions in both the private and public sectors. Headquartered outside of Chicago, Illinois with operations throughout ten major markets in eight states, URT operates the largest platform in the localized and highly fragmented towing and recovery services industry. Among the Company's diverse service offerings are towing / recovery, vehicle storage, shop / road service, freeway service patrol and disaster response.
Formed in 2005 following its divestment from United Road Services, Inc., URT grew rapidly, opened new operations and made multiple acquisitions. The Great Recession negatively impacted URT's customers across all segments, leading to budget shrinkage and decreasing the volume of tow service and vehicles available for storage / auction. In response, URT rationalized underperforming locations and focused on profitable operations, however the Company faced liquidity constraints which limited further expansion. A lack of capital and unresolved litigation prompted the Company to file for Chapter 11 protection in February 2017 to preserve the value of its business. SSG was retained as URT's exclusive investment banker to explore strategic alternatives, including a sale of some or all of the business. The sale process attracted significant interest and resulted in a competitive auction process, in which Medley's going-concern offer was deemed the highest and best price for substantially all of the Company's assets. SSG's ability to solicit offers in a fast-tracked process and its experience with Section 363 sale processes enabled the Company to maximize value for stakeholders while preserving jobs.
Other professionals who worked on the transaction include:
Daniel J. McGuire, Carrie V. Hardman and Grace D. D'Arcy of Winston & Strawn LLP, co-counsel to United Road
Towing, Inc.;
M. Blake Cleary, Craig D. Grear, Ryan M. Bartley, Michael S. Neiburg and Kenneth A. Listwak of Young Conaway
Stargatt, & Taylor, LLP, co-counsel to United Road Towing, Inc.;
Mark Samson of Getzler Henrich & Associates LLC, financial advisor to United Road Towing, Inc.;
Patrick J. Fodale of Loughlin Management Partners + Company, independent board member to United Road Towing, Inc.;
Steven E. Fox of Riemer & Braunstein LLP, counsel to United Road Towing, Inc.'s senior lender;
Jeffrey N. Pomerantz, Richard E. Mikels, Maxim B. Litvak and Peter J. Keane of Pachulski Stang Ziehl & Jones LLP,
counsel to the Official Committee of Unsecured Creditors;
Edward T. Gavin IV and Stanley W. Mastil of Gavin Solmonese, financial advisor to the Official Committee of
Unsecured Creditors; and
Maria J. DiConza, Ejim Peter Achi, Richard C. Kim, Airi Hammalov and Wabi Jain of Greenberg Traurig, LLP, counsel
to Medley Capital Corporation.