SSG Advises US Bentonite, Inc. in the Sale of Substantially All of its Assets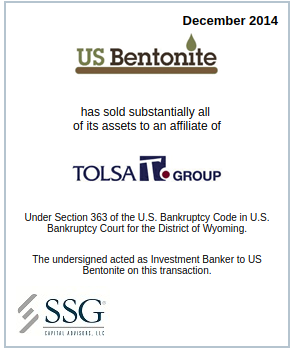 SSG Capital Advisors, LLC ("SSG") acted as the investment banker to US Bentonite, Inc., Rock Springs Mineral Processing, Rock Springs Properties, Inc. and Bucknum Properties, Inc. (collectively "US Bentonite" or the "Company") in the sale of substantially all of its assets to an affiliate of Tolsa S.A., a Madrid-based mineral products company with over 20 mining operations worldwide. The sale was consummated through a Section 363 process approved by the U. S. Bankruptcy Court for the District of Wyoming. The transaction closed in December 2014.
US Bentonite was founded in 2001 to acquire, mine, process and market high quality Wyoming sodium bentonite and related products and technologies. The Company's mineral reserves are contained on approximately 22,000 acres with an estimated 44 million tons. In order to provide a reliable and permanent power supply to US Bentonite's new processing facility in Bucknum, WY, the Company was in direct dialogue with its electricity supplier on the construction of a permanent substation. A subsequent dispute over the cost of the substation and US Bentonite's proposed contribution to its construction resulted in the supplier threatening to disconnect all power. US Bentonite filed for bankruptcy in order to maintain power and continue production at the facility.
SSG was retained as US Bentonite's investment banker in July 2014 to explore a sale of substantially all of the Company's assets. Working closely with the Company's COO, Dave Kinghorn, SSG marketed the Company to a broad spectrum of industry and financial parties, both domestically and internationally, to find a strategic partner with a significant capital base to grow the business and ensure long-term viability. In August 2014, a stalking horse bidder was approved for the Company's assets and a 363 auction was scheduled for September 2014. During the interim, SSG aggressively re-marketed the stalking horse bid and as a result, received a qualified overbid from Tolsa S.A.
Tolsa S.A. was ultimately the winner of the 363 auction and the transaction closed in December 2014. SSG's ability to move quickly and access key international industry players enabled stakeholders to maximize the value of the Company and preserve US Bentonite as a going concern.
Other professionals who worked on the transaction include:
· Bradley T. Hunsicker of Winship & Winship, P.C., counsel to US Bentonite, Inc. and debtor affiliates;
· James M. Sullivan of Moses & Singer LLP, counsel to Tolsa S.A., and
· James T. Markus of Markus Williams Young & Zimmermann LLC, counsel to secured bondholders.