SSG Advises Verengo, Inc. in the Sale of Substantially All of its Assets to an Affiliate of Crius Energy, LLC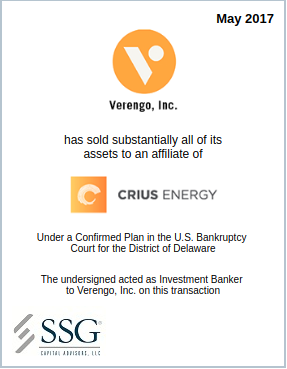 SSG Capital Advisors, LLC ("SSG") acted as the investment banker to Verengo, Inc ("Verengo" or the "Company") in the sale of substantially all of its assets to an affiliate of Crius Energy, LLC ("Crius"). The sale was effectuated through a Chapter 11 plan, which was approved by the U.S. Bankruptcy Court for the District of Delaware in April 2017. The transaction closed in May 2017.
Headquartered in Torrance, California, Verengo is one of the largest Southern California-based solar providers and is one of the most respected brands in the residential solar industry. The Company designs and installs solar photovoltaic systems for existing homes and new construction projects.
With a track record of more than 20,000 solar installations dating back to 2008, Verengo encountered difficulty related to the scale of its operations, which encompassed all of California as well as the northeastern United States. In 2015, the Company shifted its strategic direction to rationalize these operations and focus on its core market of southern California. While this operational restructuring was being implemented, constrained liquidity related to Verengo's origination business prompted the Company to file for Chapter 11 protection in order to preserve the value of its business.
SSG was retained as Verengo's exclusive investment banker for the purpose of soliciting competing offers to the stalking horse bid from Crius. After an extensive marketing process to both strategic and financial parties, the stalking horse offer from Crius was ultimately determined to be the highest and best price for substantially all of the Company's assets. In order to address all outstanding issues in the case, the proposed Section 363 sale process was changed to a sale through a confirmed plan. The sale process enabled all key stakeholders to maximize value while preserving Verengo's operations and the majority of its jobs.
With over one million residential customer equivalents, Crius Energy is a comprehensive energy solutions partner that provides electricity, natural gas and solar products to residential and commercial customers. Crius Energy connects with customers through an innovative family-of-brands including Crius Solar, TriEagle Energy, Public Power, Comcast Energy Rewards, FairPoint Energy, Cincinnati Bell Energy, and Viridian Energy. Crius is currently active in 21 markets across the U.S. and Australia.
Other professionals who worked on the transaction include:
Scott D. Cousins, GianClaudio Finizio, Evan T. Miller, and Gregory J. Flasser of Bayard, P.A., counsel to Verengo, Inc.;
Andrew De Camara of Sherwood Partners, LLP, financial advisor to Verengo, Inc.;
Jeffrey Armstrong of North Inlet Group, independent board member to Verengo, Inc.;
Paul V. Shalhoub, A. Mark Getachew and Richard Choi of Willkie Farr & Gallagher LLP, co-counsel to Crius Energy, LLC; and
Matthew B. Lunn of Young Conaway Stargatt & Taylor, LLP, co-counsel to Crius Energy, LLC.