SSG Advises Vivaro Corporation in the Sale of its Assets to Next Angel, LLC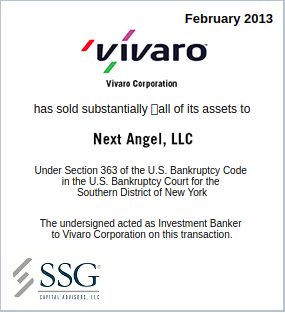 We are pleased to inform you that SSG Capital Advisors, LLC ("SSG") acted as the exclusive investment banker to Vivaro Corporation ("Vivaro") in the sale of substantially all of its assets to Next Angel, LLC ("Next Angel"). The sale was effectuated through a Chapter 11 Section 363 process and was approved by the Bankruptcy Court and closed in February 2013.
Vivaro provides innovative and favored telecommunications products that focus on the Hispanic community. With its significant market share and portfolio of over 300 prepaid calling card brands, Vivaro's customers make calls to Mexico, Central America and other parts of the world. Vivaro's prepaid calling cards provide unique advantages to its target customers when compared to alternate forms of international communications. Vivaro has the capacity to reach nearly 100,000 points-of-purchase making it one of the largest domestic distribution networks in the traditional prepaid card industry focused on Latin America.
Vivaro was formed after a series of acquisitions of companies in the prepaid calling card industry. Its financial performance was negatively affected due to a decreased demand in calling cards, delinquencies in payments from distributors and carrier refusal to extend it credit terms. As a result, Vivaro experienced constrained liquidity and struggled to repay its acquisition debt and filed Chapter 11 in the U.S. Bankruptcy Court for the Southern District of New York in September 2012.
SSG was retained as Vivaro's investment banker to explore a going concern sale of substantially all of its assets. SSG conducted a comprehensive marketing process which resulted in a wide range of potential buyers, including multiple strategic and financial parties. After a spirited auction, the bid from Next Angel, LLC, a joint venture between three telecommunications companies, was determined to be the highest and best price for Vivaro's assets. SSG's experience in running efficient and timely Chapter 11 sales processes and its knowledge of the market enabled key stakeholders to maximize their recovery while preserving a significant number of jobs.
Next Angel, LLC is a joint venture between Next Communications Inc., Angel Telecom AG's U.S. affiliate and Marcatel Telecommunications LLC.
Other professionals who worked on the transaction include:
Erik Schmidt, Joel Wagman, Hahn Huynh and Justin Singer of Herrick, Feinstein LLP, counsel to Vivaro Corporation;
Philip J. Gund, B. Lee Fletcher and Lyle Potash of Marotta Gund Budd & Dzera, LLC, financial advisors to Vivaro Corporation;
George Angelich and George V. Utlik of Arent Fox LLP, counsel to the Unsecured Creditors Committee; and
William K. Lenhart, Michele Michaelis and Purav Adiecha of BDO Consulting, LLP, financial advisors to the Unsecured Creditors Committee.