SSG Advises Whitley Products, Inc. in the Sale of Certain Assets to Tricorn Group plc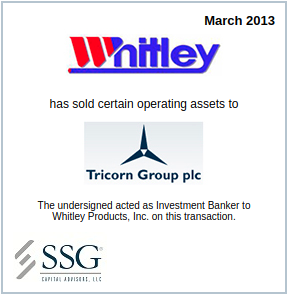 We are pleased to inform you that SSG Capital Advisors, LLC ("SSG") acted as the exclusive investment banker to Whitley Products, Inc. ("Whitley" or the "Company") in the sale of certain operating assets to Tricorn Group plc ("Tricorn"). The transaction closed in March 2013.
With a history of over 60 years, Whitley fabricates precision tubular products serving the diesel engine, agriculture and off highway construction equipment industries. Headquartered in Warsaw, IN, Whitley has manufacturing facilities located in Plymouth, IN and Franklin, NC. Whitley's products, complex assemblies, precision engineering process and state-of-the-art manufacturing capabilities make it one of the leading niche tubular products suppliers in the U. S.
The economic downturn and a significant program loss left Whitley with a legacy of excess capacity and overleverage. The Company was able to diversify its product mix, but ultimately determined that a sale of substantially all of the Company's assets and the engagement of SSG was the best path forward. During the sale process, a Receiver was appointed under Indiana state law and the sale was effectuated as a State Court Receivership asset sale.
SSG marketed the Company to a wide range of global strategic and financial parties in a compressed time frame. Ultimately, Whitley's operating assets were sold to Tricorn, a publicly traded company based in the United Kingdom, giving Tricorn a platform in the U.S. to continue its growth in the tubular products market.
Publicly listed in 2001, Tricorn Group plc is the holding company for a group of companies that develop and manufacture pipe solutions to a growing and increasingly international customer base. Under an experienced senior management team, Tricorn has grown organically and through acquisition and maintains manufacturing capabilities in Europe and Asia, in addition to its entry into North America via the purchase of Whitley.
Other professionals who worked on the transaction include:
Ken Yager, Receiver and Craig Pace of New Point Advisors;
Nicholas M. Miller and Betsy C. Thelen of Neal, Gerber & Eisenberg, counsel to the Receiver;
Tim Turek, Walt Popiel and Abhimanyu Gupta of Conway Mackenzie, financial advisor to select customers;
George J. Hartnett and Jamie K. Maher of White and Williams LLP, counsel to Whitley Products, Inc.;
Leslie A. Bayles and Eric S. Prezant, of Bryan Cave LLP, counsel to the Senior Lender;
Randall L. Klein of Goldberg Kohn and Richard M. Zucker of Stradley Ronan Stevens & Young, LLP, counsel to the Second Lien Lender;
Richard Wilkey and Christopher Cook of Harrison Clark, LLP, counsel to Tricorn Group plc; and
Paul Melville of Grant Thornton, advisor to Tricorn Group plc.