SSG Advises Wisp Resort in the Sale of its Assets to EPR Properties and National Land Partners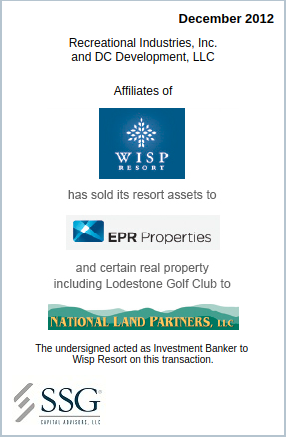 We are pleased to inform you that SSG Capital Advisors, LLC ("SSG") acted as the exclusive investment banker to Wisp Resort in the sale of its resort assets to EPR Properties ("EPR") and the sale of certain real property to National Land Partners ("NLP"). The sale was conducted through a Section 363 auction under the U.S. Bankruptcy Code in the U.S. Bankruptcy Court for the District of Maryland. The sale was approved on December 4, 2012 and both transactions closed in December 2012.
Wisp Resort is comprised of D.C. Development, LLC; Recreational Industries, Inc.; Wisp Resort Development, Inc.; and The Clubs at Wisp, LLC and is the leading year-round resort area in Western Maryland. The property includes the Wisp Resort Hotel and Conference Center; a ski area with 32 slopes; two golf courses including Lodestone Golf Club, a championship course designed by Hale Irwin; fly fishing and water sports on Deep Creek Lake; and the Mountain Coaster bobsled attraction. In addition, there are 2,200 acres of master planned land for residential and vacation units.
Despite record years for the ski resort in the 2010 and 2011 winter seasons, real estate sales of vacation and second homes struggled as a result of the real estate downturn. As a result, Wisp Resort was unable to adequately service the debt raised in February 2007 to develop the real estate parcels around the resort. Because the debt was cross-collateralized across the entities, all four entities filed for Chapter 11 in October 2011 in the U.S. Bankruptcy Court for the District of Maryland, Greenbelt Division.
Wisp Resort engaged SSG in February 2012 to explore all strategic alternatives, including a sale of substantially all of the Company's assets. SSG marketed Wisp Resort and all of its assets to a wide range of strategic and financial parties, ultimately receiving multiple offers. SSG delivered a stalking horse bidder for the resort assets and produced multiple bidders for both the resort assets and the real estate development including Lodestone Golf Club, culminating in an all-day 363 auction with robust bidding. EPR, a specialty real estate investment trust focused on entertainment, recreation, and education, acquired the Company's resort assets and NLP, one of the largest buyers and sellers of recreational and residential land in the U.S., acquired most of the developed real property. The combined final purchase price totaled $29.6 million.
Other professionals who worked on the transaction include:
Lawrence J. Yumkas, James A. Vidmar, Amy K. Snyder and Lisa Yonka Stevens of Yumkas, Vidmar & Sweeney, LLC, counsel to Wisp Resort;
Olin G. Shivers of Foley & Lardner LLP, special tax and corporate counsel to Wisp Resort;
Neil Demchick of Invotex Group, financial advisor to Wisp Resort;
Gary H. Leibowitz and G. David Dean, II of Cole, Schotz, Meisel, Forman & Leonard, P.A., counsel to the Unsecured Creditors' Committee;
Joel I. Sher and Richard M. Goldberg of Shapiro Sher Guinot & Sandler, counsel to First United Bank;
Louis J. Ebert of Rosenberg Martin Greenberg, counsel to BB&T;
Jean Lewis of Kramon & Graham, P.A., counsel to The Grant County Bank;
David Thomas of Dinsmore & Shohl LLP, counsel to Clear Mountain Bank; and
Janet M. Nesse of Stinson Morrison Hecker LLP, counsel to EPR Properties.