SSG advises WM Coffman LLC on the sale of substantially all of its assets to an affiliate of Prophet Equity LP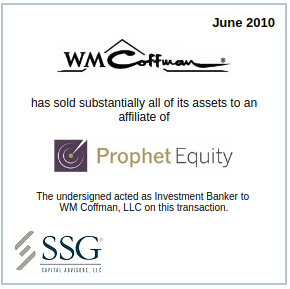 We are pleased to announce that SSG Capital Advisors, LLC ("SSG") acted as the exclusive investment banker to WM Coffman LLC ("WMC" or the "Company") in the sale of substantially all of its assets to WM Coffman Resources LLC, an affiliate of Prophet Equity LP. The sale was effectuated through a UCC Article 9 sale and closed in June 2010.
WMC is a recognized name in the stair part industry within the United States. Offering a wide range of wood and iron parts, WMC is a one-stop shop for interior residential stairway construction. Headquartered in Plano, TX, the Company operates warehouse space across the country through its locations in Plano, TX, Marion, VA and Austell, GA as well as leverages long-standing manufacturing relationships both domestically and overseas.
WMC supplies a complete collection of wood and iron stair parts and related accessories required to assemble staircases. With long- standing outsourced manufacturing partners in Asia as well as domestic manufacturing relationships, the Company is a market leader in the stair parts industry. WMC was formed by the 2009 merger of Woodmark International ("Woodmark") and Coffman Stairs, LLC ("Coffman"). With more than 135 years in business, Coffman was responsible for creating much of the terminology, part numbers and design profiles used in the industry. Woodmark's rise in the stair parts industry began in the 1980s with their specialization in outsourcing stair part manufacturing. Following the close of the transaction, Prophet Equity LP reconstituted the business as WM Coffman Resources LLC. For more information on WM Coffman Resources, visit the company's website at www.wm-coffman.com.
Headquartered in Southlake, TX, Prophet Equity LP is a private equity firm that makes control equity investments in strategically strong, asset-intensive, underperforming companies with significant value creation potential. Relevant business situations include those found in partnerships, out-of-court restructurings, corporate carve-outs from larger public companies, bankruptcies as well as the purchase of non-strategic business units from larger companies. Prophet Equity uses a collaborative approach to partner with owners and management and uses proven, data-driven analytical techniques to improve underlying business performance. For more information on Prophet Equity, visit the company's website www.prophetequity.com.
SSG ran an expedited sale process while identifying alternative deal structures, which enabled key stakeholders to maximize recoveries and preserve jobs. If you would like to learn more about SSG, or would like to inquire about the WMC transaction, please contact one of the SSG deal team members.
Other professionals who worked on the transaction include:
Michael McCauley of Phoenix Management Services, Inc., chief restructuring officer to WMC;
Edward M. Flint of SilvermanAcampora LLP, counsel to WMC;
Larry Halperin and Ryan Jackson of Richards Kibbe & Orbe LLP, counsel to Prophet Equity LLC;
Joshua I. Divack of Hahn & Hessen LLP, counsel to the senior lender to WMC
Strong>About SSG Capital Advisors, LLC
SSG is a leading boutique investment bank dedicated to representing middle market clients in restructuring and special situations, both in and out of bankruptcy proceedings. SSG provides its clients with comprehensive advisory services in the areas of mergers and acquisitions, capital raises, financial restructuring and valuation. SSG's professionals have completed over 160 transactions since 2001 and are leaders in the industry.