SSG advises Wolverine Tube in its Chapter 11 Restructuring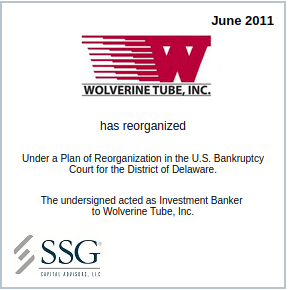 SSG advises Wolverine Tube in its Chapter 11 Restructuring
We are pleased to inform you that SSG Capital Advisors, LLC ("SSG") acted as the exclusive investment banker to Wolverine Tube, Inc. ("Wolverine" or the "Company"). SSG was retained by Wolverine to provide various services in support of its Plan of Reorganization, which included providing an enterprise valuation of both the domestic and international business segments, conducting various feasibility analyses related to the distressed termination of the Company's underfunded pension plan with the Pension Benefit Guaranty Corporation and providing expert testimony in support of Wolverine's Plan.
Headquartered in Huntsville, AL, Wolverine is a global manufacturer of copper and copper alloy tube, fabricated products and metal joining products. The Company is the premier provider of proprietary custom-engineered components for thermal management solutions serving a wide range of markets, including HVAC, refrigeration and appliance, electronics cooling, power generation and petrochemicals and chemical processing. The Company has five manufacturing facilities throughout the United States, China and Portugal as well as a distribution facility in The Netherlands. A steep rise in the prices of copper, silver and other metals that are core to Wolverine's business model significantly constrained the Company's liquidity and impacted its ability to service its existing indebtedness.
Wolverine's Plan of Reorganization (the "Plan") was confirmed in the U.S. Bankruptcy Court for the District of Delaware in June 2011.
Other professionals who worked on the transaction include:
Scott K. Rutsky and Adam T. Berkowitz, Proskauer Rose LLP, counsel to Wolverine Tube, Inc;
Mark E. Felger, Cozen O'Connor, Delaware counsel to Wolverine Tube, Inc.;
Matthew A. Clemente, Sidley Austin LLP, counsel to Ad Hoc Committee of Senior Secured Note holders;
John Little, Deloitte Financial Advisory Services LLP Reorganization Services Group, financial advisor to Wolverine Tube, Inc.
About SSG Capital Advisors, LLC
SSG Capital Advisors, LLC ("SSG") is a leading independent boutique investment bank that assists middle market companies, as well as their stakeholders, complete special situation transactions. As a specialist in mergers and acquisitions, financial advisory, capital raises, financial restructurings and complex valuations, we offer the expertise our clients need in today's complex and fast-moving financial markets. As a partner-owned firm with a clear focus, we offer the personal attention of our senior partners, entrepreneurial spirit and agility in the marketplace that middle-market businesses require. Since 2001, SSG has successfully completed over 180 special situation investment banking assignments on behalf of clients in North America and Europe.
SSG Capital Advisors, LLC (Member FINRA, SIPC) is a wholly owned broker dealer of SSG Holdings, LLC. SSG is a registered trademark for SSG Capital Advisors, LLC. SSG provides investment banking, restructuring advisory, merger, acquisition and divestiture services, private placement services and valuation opinions. Past performance is no guarantee of future results.