SSG and BB&T advise Tobacco Rag Processors, Inc. in its Sale to an ESOP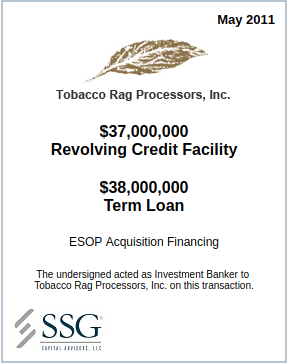 We are pleased to inform you that SSG Capital Advisors, LLC ("SSG") and BB&T Capital Markets ("BB&T") acted as co-investment bankers to Tobacco Rag Processors, Inc. ("TRP" or the "Company") in its sale to Tobacco Rag Processors, Inc. Employee Stock Ownership Trust ("ESOP"). As part of the transaction, SSG and BB&T also facilitated the private placement of $75 million in senior secured credit facilities. The transaction closed in May 2011.
TRP is the largest independent value added processor and supplier of tobacco to the lower tier cigarette, machine rolled cigar and other value priced tobacco markets. Located in Wilson, NC, the Company has experienced impressive growth due to its outstanding customer service, competitive pricing facilitated by its substantial leaf tobacco inventory and flexible operating structure. The Company currently operates the largest of three independent tobacco processing facilities in the U.S. and has also developed an extensive low cost global network of tobacco leaf suppliers.
Due to complicated shareholder issues and for estate planning purposes, SSG and BB&T were retained by TRP to explore strategic alternatives, including a potential recapitalization of the Company. After evaluating several alternative solutions, SSG and BB&T presented the equity holders with the idea of selling the Company to a newly created ESOP entity. The ESOP transaction simultaneously provided sufficient liquidity to equity holders while maintaining a strong and viable long term business for the benefit of the Company's loyal employees. A new lender group led by SunTrust Robinson Humphrey, Inc. provided the revolver and term loan facilities that enabled the ESOP to purchase the stock of TRP from its existing equity holders.
If you would like to learn more about SSG or inquire about the Tobacco Rag transaction, please contact one of the SSG deal team members.
Other professionals who worked on the transaction include:
William L. Tyson, Brian T. Tascher and Thomas I. Walton-Cale, BB&T Capital Markets;
Thomas J. Rhodes, Jr., Naron & Holdford, PA, Counsel to Tobacco Rag Processors, Inc.;
Jeffrey E. Hauser, Matt Schilpp, Keith Roberts, Robert Radke and Veronica Pierzchala, SunTrust Banks, Inc., as Administrative Agent;
Phil Peters and Manuel Diaz, BMO Harris Bank, N.A., Collateral Agent;
Michael Pugsley, Wells Fargo Bank, N.A., Member Lender Syndicate;
David K. Jacobs, David C. Kaleda and Courtney Grosenick, Alston & Bird, LLP, Counsel for the Lender Syndicate;
Lynn DuBois and Kris Motola, Sheppard Mullin Richter & Hampton LLP, Counsel to the ESOP Trustee;
Steve Whittington, Willamette Management Associates, Advisor to the ESOP Trustee; and
Ron Gilbert and Paige Ryan, ESOP Services, Inc., Advisor to the ESOP.
About SSG Capital Advisors, LLC
SSG Capital Advisors, LLC ("SSG") is a leading independent boutique investment bank that assists middle market companies, as well as their stakeholders, complete special situation transactions. As a specialist in mergers and acquisitions, financial advisory, capital raises, financial restructurings and complex valuations, we offer the expertise our clients need in today's complex and fast-moving financial markets. As a partner-owned firm with a clear focus, we offer the personal attention of our senior partners, entrepreneurial spirit and agility in the marketplace that middle-market businesses expect. Since 2001, SSG has successfully completed over 180 special situation investment banking assignments on behalf of clients in North America and Europe.