SSG and Saxenhammer Advise Alexander Technologies in the Sale of its Equity to Shard Credit Partners, Ltd. and Management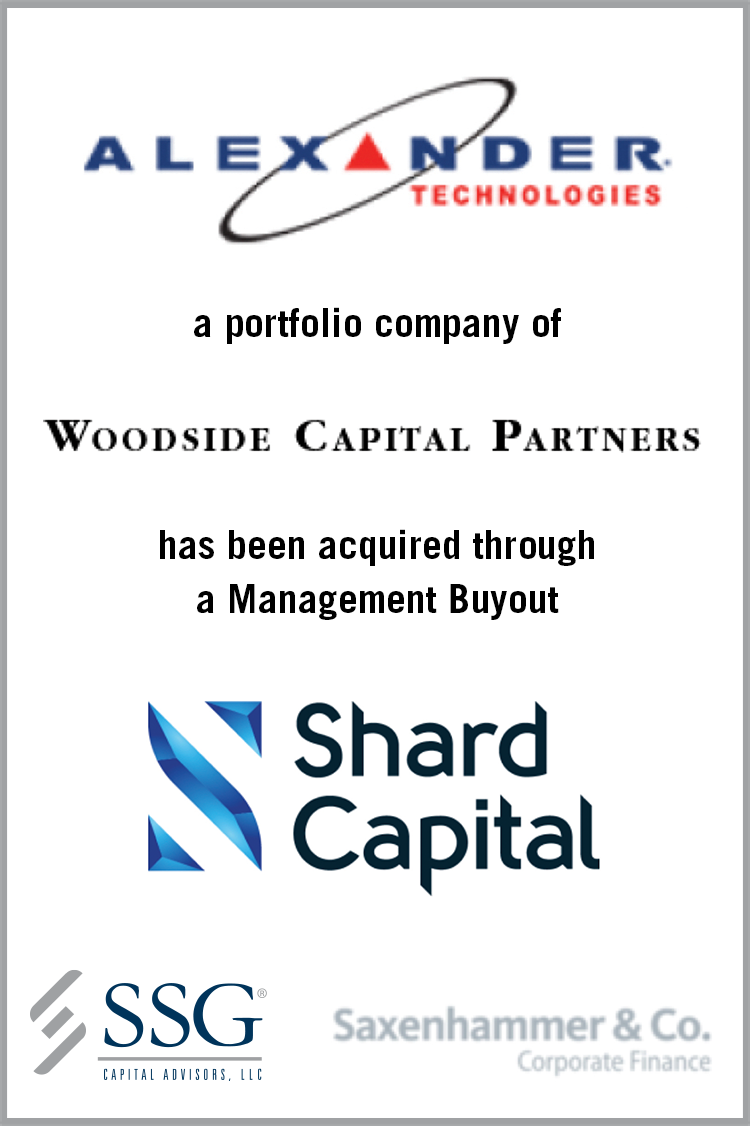 SSG Capital Advisors, LLC ("SSG") and Saxenhammer & Co. Corporate Finance, GmbH ("Saxenhammer") acted as investment bankers to Alexander Technologies Europe Ltd. ("ATEL" or the "Company"), a portfolio company of Woodside Capital Partners, in the sale of its equity shares to Shard Credit Partners, Ltd. ("Shard") and Management.
Headquartered in Peterlee, County Durham, United Kingdom, ATEL is an international designer and manufacturer of engineered, customizable battery packs and chargers for the portable power products in personal safety, medical, aviation and specialist OEM applications. ATEL uses cutting-edge design and development in delivering innovative solutions and complete compatibility between the battery and charging system.
SSG and Saxenhammer were retained to conduct a comprehensive marketing process and solicit offers from potential strategic and financial parties. The process attracted significant interest from European and American parties that engaged in a thorough review of ATEL and submitted offers for the business. The offer from Shard ultimately generated the best outcome for the Company's owners and management and provides a platform for the Company's future growth.
Shard Credit Partners is an innovative provider of alternative finance to small and medium-sized enterprises operating in the UK lower mid-market (companies having an enterprise value of below £50 million).
Alastair Brown, CEO of Shard Credit Partners said, "Alexander Technologies Europe is an example of the high quality, technology-led companies located in the Northern Powerhouse region that, through our investment and experience, will enable us to build on their previous achievements to deliver greater growth and financial success. It has established a strong position in its industry, which is testament to the expertise and experience of its workforce. We are confident, by working in close partnership with CEO Michael Shirley and the management team, that the business can achieve increased market share through the enhanced production of its innovative technologies."
Woodside Capital Partners is focused on investing in middle market companies that can benefit from strategic re-direction, operational enhancements or balance sheet realignments. Their ability to commit to a wide range of securities, industries, and investment amounts allows maximum flexibility when structuring transactions.
Other professionals who worked on the transaction include:
• Carl Swansbury, Alex Simpson, Chris Black, Simon Whiteside, Simon Hopwood, Jon Routledge, Grahame Maughan and Andrew Cameron of Ryecroft Glenton (RG) Corporate Finance, financial and tax advisors to Shard Credit Partners, Ltd.;
• Andrew Madden, Alison Davidson-Cox and Sophie Denton of Gateley, legal advisors to Shard Credit Partners, Ltd.; and
• Paul Christian and Kate McLean of Ward Hadaway, U.K. legal advisors to Woodside Capital Partners.