SSG and Statesman Advise Watson Valve Services, Inc. in the Sale of Substantially all of its Assets to MOGAS Industries, Inc.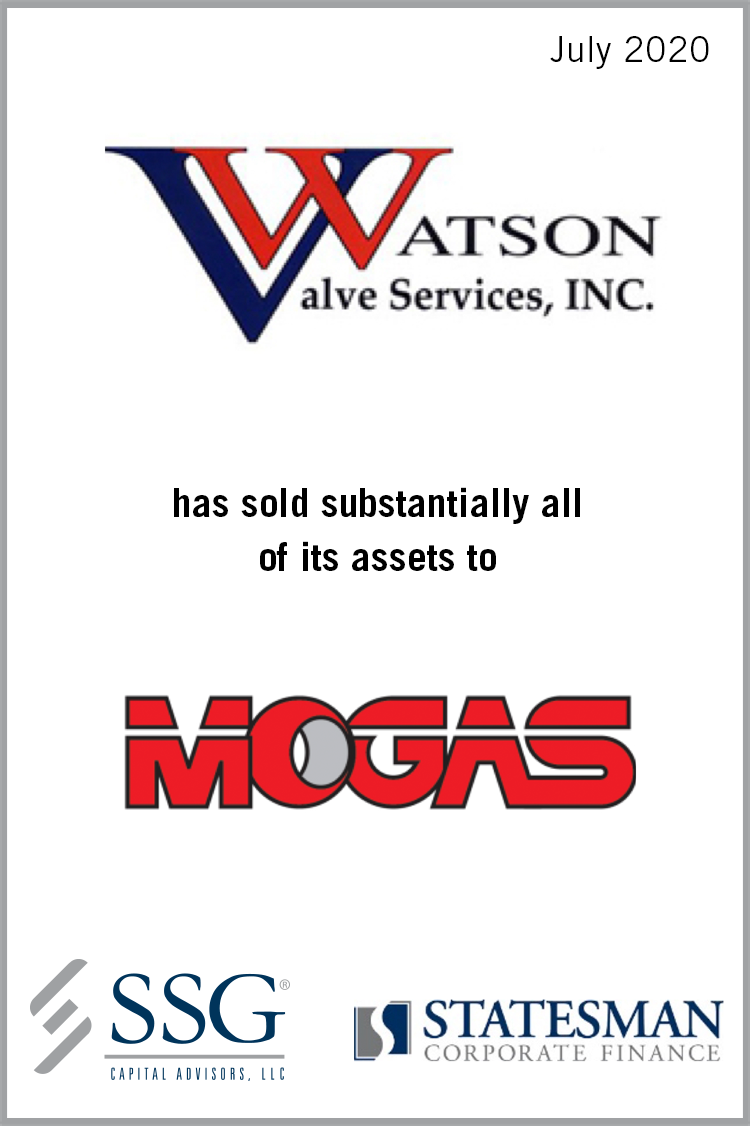 SSG Capital Advisors, LLC ("SSG") and Statesman Corporate Finance, LLC ("Statesman"), acted as the investment bankers to Watson Valve Services, Inc. ("Watson Valve") in the sale of substantially all of its assets to MOGAS Industries, Inc. The sale was effectuated through a Chapter 11 Section 363 process in the U.S. Bankruptcy Court for the Southern District of Texas. The transaction closed in July 2020.
Headquartered in Houston, Texas, Watson Valve is a manufacturer of proprietary and non-proprietary ball valves. The Company mainly works with the mining, chemical and petro-chemical industries, servicing customers with autoclave operations and those operating in settings characterized by fluid products under severe pressures or in a highly corrosive environment. In addition, the Company provides maintenance, repair and refurbishment services to its own and other manufacturers' valves, which are returned to their original specifications or modified to improve valve performance and life cycle.
In January 2020, a catastrophic gas explosion at its exclusive supplier's plant abruptly shuttered Watson Valves' primary manufacturing channel and severely disrupted its capabilities to fulfill existing project contracts and open customer orders. Watson Valve filed a petition for voluntary Chapter 11 reorganization due to the significant disruption.
SSG and Statesman were retained to conduct a comprehensive and expedited marketing process to solicit offers from strategic and financial buyers. The process attracted interest from several strategic parties. MOGAS Industries' bid ultimately was deemed the highest and best offer following a robust auction. SSG's and Statesman's industry knowledge and experience running efficient special situations sale processes enabled a transaction of the remaining assets to be consummated.
MOGAS Industries is the dominant severe service technology company, providing world-renowned services and the best severe service, application-specific products for critical applications in power, mining, oil & gas, refining, chemical / petrochemical and specialty industries.
Other professionals who worked on the transaction include:
• Robert E. Ogle of The Claro Group, LLC, Chapter 11 Trustee for Watson Valve Services, Inc.;
• Matthew S. Okin and Edward A. Clarkson III of Okin Adams LLP, counsel for the Trustee;
• Jarrod B. Martin of Chamberlain, Hrdlicka, White, Williams & Aughtry, bankruptcy counsel to Watson Valve Services, Inc.;
• MACCO Restructuring Group, LLC, financial advisor to Watson Valve Services, Inc.;
• Michael J. Simmons of Vantage Associates-West, Inc., financial and strategic advisor to MOGAS Industries, Inc.; and
• Holland N. O'Neil, Susan E. Pravada, Erika L. Morabito, Thomas C. Scannell and Paige M. Moscow of Foley & Lardner LLP, counsel for MOGAS Industries, Inc.