SSG Capital Advisors, LLC advises Advanced Communications, Inc., in successfully securing a $28 million senior credit facility.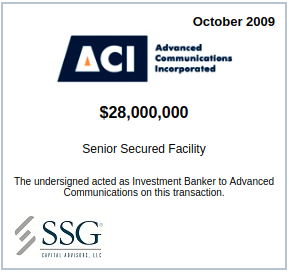 We are pleased to inform you that SSG Capital Advisors, LLC ("SSG") acted as the exclusive investment banker to Advanced Communications, Inc., ("ACI" or the "Company") in the private placement of a $28 million senior secured credit facility. The proceeds of the credit facility were used to refinance debt obligations, support working capital needs and fund the future growth of the Company. The transaction closed in October 2009.
ACI was founded in 1983 and is headquartered in Canton, MI. ACI is a leading, solution-oriented provider of outsourced services to the communication services industry. The Company provides fulfillment and construction services to cable companies and multiple system operators throughout the Midwestern and Northeastern United States. Over the past 18 months, ACI experienced liquidity constraints driven by challenging market dynamics involving industry consolidation, rising fuel prices as well as the bankruptcy filing of one of its largest customers.
SSG was retained by ACI to explore strategic alternatives – focusing on securing additional capital for the Company. SSG marketed ACI to a wide variety of traditional and alternative lenders and investors, ultimately closing on a $28 million facility provided by PNC Business Credit secured by a first lien on all the assets of the Company. SSG's ability to successfully navigate the current credit environment and to facilitate and close the transaction enables the Company to implement its strategic initiatives to expand its service footprint.
Michael Falsetti, Chief Executive Officer of ACI commented "Today, as a team, we are enthusiastic about the possibilities of ACI in a post-closing environment. We are thankful to SSG and to all of the professionals who worked with us – they all played a key role in the Company's survival. They worked hard and smart as if it were their own Company".
If you would like to learn more about SSG or inquire about the ACI transaction, please contact one of the deal team members listed.
About SSG Capital Advisors, LLC
SSG is a leading boutique investment banking firm dedicated to representing middle market clients in restructuring and special situations, both in and out of bankruptcy proceedings. SSG provides its clients with comprehensive advisory services in the areas of mergers and acquisitions, financing, financial restructuring and valuation. SSG's professionals have completed over 150 transactions since 2001 and are