SSG Capital Advisors, LLC advises Bamboo Abbott, Inc. d/b/a Prestige Window Fashions on its acquisition by Ventanas Acquisition Corporation.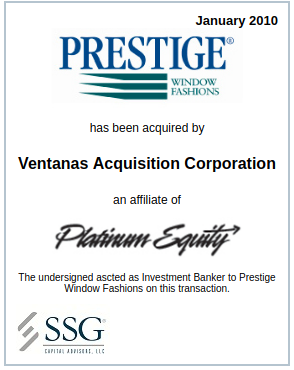 We are pleased to inform you that SSG Capital Advisors, LLC ("SSG") acted as the exclusive investment banker to Bamboo Abbott, Inc. d/b/a Prestige Window Fashions ("Prestige" or the "Company") in its sale to Ventanas Acquisition Corporation, a private equity sponsored firm, under Section 363 of the U. S. Bankruptcy Code in the U. S. Bankruptcy Court for the District of New Jersey. The transaction closed in January 2010.
Prestige is one of the largest independent fabricators of custom window coverings in the United States. Headquartered in Edison, New Jersey, the Company distributes its products through internet firms, independent retailers, interior designers and home decorating catalogs. The Company has a strong and diversified customer base that includes over 3,000 different distribution points and has branded sample books at over 4,000 brick and mortar retail locations. Prestige manufactures private label blinds on behalf of the Company's various channel partners and also sells under its own brand names, including Prestige® and Insignia by Prestige®.
SSG was retained a few months after the Company filed Chapter 11 and had to act quickly to go to market to sell Prestige as a going concern. Facing a very limited sale window while the Company survived on cash collateral with no DIP financing facility, SSG's experience in expeditiously identifying alternative solutions and buyers and in navigating a very contentious Chapter 11 enabled all key stakeholders to maximize recoveries while preserving the jobs of the majority of Prestige's employees.
If you would like to learn more about SSG, or would like to inquire about the Prestige Window Fashions transaction, please contact one of the SSG deal team members.
Other professionals who worked on the transaction include:
Michael D. Sirota, David M. Bass, Alan Rubin, Felice R. Yudkin and Wylie D. Van Ness of Cole, Schotz, Meisel, Forman & Leonard, P.A., counsel to the Debtor;
Brian T. May, Craig E. Reimer and Nina L. Flax of Mayer Brown LLP, counsel to Ventanas Acquisition Corporation and its affiliates;
Jeffrey M. Rosenthal and Alan J. Brody of Greenberg Traurig, LLP, counsel to Wells Fargo Bank;
Anthony Sodano III, John F. Newman and Adam D. Wolper of Trenk, DiPasquale, Webster, Della Fera & Sodono, P.C., counsel to the Creditors' Committee; and
Charles N. Persing of Bederson & Company LLP, financial advisor to the Creditors' Committee.
About SSG Capital Advisors, LLC
SSG is a boutique special situations investment bank with offices outside of Philadelphia and in New York dedicated to representing middle market companies in restructuring situations, both in and out of bankruptcy proceedings. SSG provides its clients with comprehensive advisory services in the areas of mergers and acquisitions, financing, financial restructuring and valuation. Since its founding in 2001, SSG has completed over 160 special situation transactions throughout the U. S. and Europe.