SSG Capital Advisors, LLC advises Big 10 Tire Stores, Inc., in the sale of substantially all of its assets to an affiliate of Sun Capital Partners, Inc.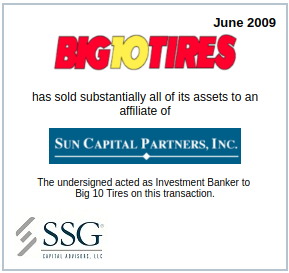 We are pleased to inform you that SSG Capital Advisors, LLC ('SSG') acted as the exclusive investment banker to Big "10" Tire Stores, Inc. ('Big 10' or the 'Debtor') in its sale to an affiliate of Sun Capital Partners, Inc. under Section 363 of the Bankruptcy Code in the U.S. Bankruptcy Court for the District of Delaware. The transaction closed in June 2009.
Big 10 Tires is one of the largest independent tire dealers in the Southeastern portion of the United States. Headquartered in Mobile, Alabama, the Company specializes in offering its recurring customer base with the broadest selection of tire products and competitive pricing. Over Big 10's 54-year history, the Company has built a portfolio of retail stores defined by their strategic location in major metropolitan areas. Big 10's stores are free standing and are often in high traffic areas or in close proximity to shopping centers, highways, and well-known roads. As a result of their broad product suite and deep market penetration, Big 10 has become the "tire dealer of choice" through its stores in Alabama, Florida, and Georgia.
Sun Capital Partners, Inc. is a leading private investment firm focused on leveraged buyouts, equity, debt, and other investments in market-leading companies that can benefit from its in-house operating professionals and experience. Sun Capital affiliates have invested in and managed more than 200 companies worldwide since Sun Capital's inception in 1995, with combined sales in excess of $40 billion and more than 170,000 employees. On a consolidated basis, Sun Capital's affiliated portfolio companies would rank in the top 100 of Fortune Magazine's listing of the 500 largest companies in the United States.
SSG's experience identifying alternative solutions and buyers and in navigating difficult waters enabled all key stakeholders to maximize recoveries while preserving the jobs of the majority of Big 10's employees.
If you would like to learn more about SSG, or would like to inquire about the Big 10 transaction, please contact one of the SSG deal team members.
Other professionals who worked on the transaction include:
Robert J. Dehney, Gregory W. Werkheiser, Gregory T. Donilon, Chad A. Fights and Andrew R. Remming of Morris, Nichols, Arsht & Tunnell LLP, counsel to Debtor
Howard S. Beltzer, Wendy S. Walker, W. Ryan Davis and Jeffrey A. Robinson of Morgan, Lewis & Bockius LLP, counsel to Sun Capital Partners, Inc. and its affiliates
Jay R. Indyke, Jeffrey L. Cohen and Leslie Kroupa of Cooley Godward Kronish LLP, counsel to the Creditors' Committee
James W. Fox, Dan Kerrigan and Chris O'Callaghan of Executive Sounding Board, financial advisor to the Creditors' Committee
About SSG Capital Advisors, LLC
SSG is an investment bank dedicated to representing middle market clients in restructuring situations, both in and out of bankruptcy proceedings. SSG provides its clients with comprehensive advisory services in the areas of mergers and acquisitions, financing, financial restructuring and valuation. SSG's professionals are well versed in all areas of restructuring and include former bankruptcy attorneys, senior credit officers, M&A professionals and commercial lenders.